The vast majority of Palestinians killed in recent months were assailants who successfully wounded or killed their victims, or who were stopped while trying to do so. As reported by Meir Amit Terrorism and Intelligence Information Center, from March 1 through March 22, for example, out of the 17 Palestinians killed in Jerusalem and the West Bank as they carried out attacks, attempted to carry out attacks, or were suspected of carrying out attacks, 14 had managed to attack their victims. Another three were killed as they "tried" to carry out attacks. None were killed merely for being "suspected" of attempting to attack.
Yet, two New York Times stories in recent days downplay Palestinian violence and mischaracterize most Palestinians killed in the last several months as "either attempting attacks or were suspected of doing so" (emphasis added). The stories ignore Palestinians killed as they succeeded in carrying out attacks.
Likewise, Isabel Kershner's March 25 article also completely ignores the vast number of killed Palestinians who had actually carried out attacks. She wrote: "Israeli forces or civilians have shot dead 180 Palestinians during the same period, most of whom were either attempting attacks or were suspected of doing so" ("Israeli Soldier Held in Shooting of Palestinian Captured in Video," emphasis added.)
Following communication with CAMERA's Israel office, last December Times editors commendably corrected a similar error by Hadid which wrongly alleged referred to "15 women who have tried, or are accused of trying, to stab Israeli soldiers or civilians," as if none had actually succeeded.
The Times noted in its Dec. 5 correction:
An earlier version of this article referred incompletely to the location of the attacks and to the actions of the young women who have joined the violence. The attacks have been in Jerusalem as well as the West Bank, not just the West Bank, and the women have stabbed, tried to stab or, the Israeli authorities contend, intended to stab soldiers and civilians; they have not just tried or been accused of trying to attack. The second incomplete reference also appeared in an earlier version of the capsule summary with this article. (Emphasis added.)
In the more recent case, as Kershner and Hadid themselves report, Yusri al-Sharif, the Palestinian assailant shot dead in the March 24 Hebron incident stabbed and wounded an Israeli soldier a few minutes before he was killed. Kershner correctly noted:
The episode began, the military said, on Thursday morning when two Palestinian men stabbed and wounded an Israeli soldiers at a checkpoint. . .

Later, graphic video footage emerged showing a soldiers cocking his rifle and shooting one of the Palestinians for a second time . . .
Other recent Times stories last month noted that the vast majority of Palestinians killed by Israelis in recent months were assailants. Thus, Isabel Kershner reported on Feb. 19: "
Israeli forces have killed at least 160 Palestinians during the same period, as many as two-thirds of them assailants, according to the Israeli authorities."
Likewise, Kershner correctly reported on Feb. 4: "
More than 155
Palestinians
have been killed in the same period, according to the Israeli authorities, who said most were
assailants
and others were killed in clashes with Israeli forces."
Furthermore, other media outlets, such as the leading wire services, clearly note that most of the Palestinians killed were carrying out attacks (and not merely "attempting" attacks, or "suspected" of attempting attacks). Agence France Presse reported March 25:
A wave of violence has seen 200 Palestinians and 28 Israelis killed since October 1.

Most of the Palestinians have been killed while carrying out attacks, though others were shot dead during protests and a few killed in Israeli air raids in Gaza. (Emphasis added.)
Over the same time, at least 188 Palestinians have died by Israeli fire. Israel says most of them were attackers, and the rest died in clashes with Israeli security forces. (Emphasis added.)
Finally, in a related misrepresentation, the March 25 International New York Times headline (page 8) deceptively identified Sharif as a suspect, not an assailant: "Israeli soldier is detained after shooting immobile Palestinian suspect." But, as clearly reported by Kershner and later Hadid, Sharif carried out the stabbing. He was not merely a suspect. He was an assailant.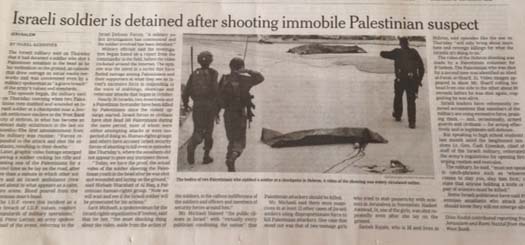 CAMERA has contacted editors to request a correction. Stay tuned for an update.