The New York Times has found itself at the center of widespread online mockery after depicting Israelis and their country in overwhelmingly gloomy language—despite Israel consistently ranking among the happiest countries in global surveys.
The October 26 story, "Whose Promised Land? A Journey into a Divided Israel," by the paper's Jerusalem bureau chief Patrick Kingsley, promised to show readers "what it means to be Israeli today," but his report prompted laughter in Israeli society.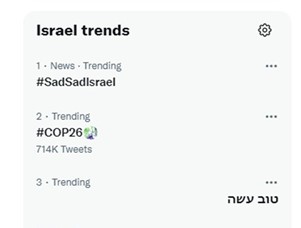 Lampooning the Times's report, the media watchdog organization CAMERA launched a social media campaign on November 1st ironically called "Sad Sad Israel" that went viral in the Jewish state, the 12th happiest country in the world.
Israelis are now ridiculing the Times's report by tweeting happy photos of themselves—at weddings, on hikes, at bars, on beaches, at concerts, in restaurants, enjoying family and friends—with the satirical hashtag #SadSadIsrael, which quickly shot to the number one slot for trending hashtags in the country.
"The Times's article seemed to be asking for ridicule," said CAMERA analyst Gilead Ini, who first posted the #SadSadIsrael hashtag after writing a widely read critique of the Times's report. "After ten days of traveling throughout the country, Kingsley somehow only stumbled upon Israelis who viewed their country as a land of 'tensions,' 'inequities,' 'divisions,' 'unrest,' 'fury,' 'ambivalence,' 'illegitimacy,' 'alienation,' 'injustice,' 'discrimination,' 'bias,' and 'abuse,' with 'shabby,' 'tired,' and 'garish' towns—and hardly a bright spot to be found. It's actually pretty hilarious."
Judging by the overwhelming response in Israel to CAMERA's social media campaign, Israelis from across the political spectrum seem to agree.
Popular Israeli writer Sarah Tuttle-Singer tweeted a photo at the beach with the comment, "We stay out all night and swim in warm sea water, or argue with our friends on crowded corners, or drink whiskey until sunrise or dance until our feet hurt and then stop for a minute and keep on dancing… we chose life with our arms and eyes wide open. #SadSadIsrael"
One Israeli mom poked fun at the New York Times by posting a photo of her cute smiling daughter at a café with a cup of hot chocolate: "Life is just so hard and so-so sad here in #SadSadIsrael—we are forced to forage for a decent cup of hot coco at a coffee shop in a mall—the horror—please Patrick Kingsley and New York Times share our sad sad story with the world."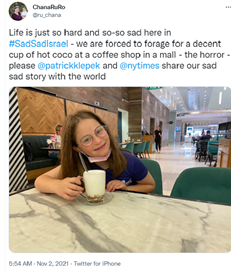 Another Israeli, Yair Mintus, tweeted a picture of excited Israeli fans enjoying a professional basketball game with the words, "So sad here in Israel, watching incredibly good basketball games of Maccabi Tel Aviv, 6 times European champions. #SadSadIsrael."
Asher Fredman posted a poignant photo of Israelis dancing in a bomb shelter with the words: "The irony of Patrick Kingsley's piece is that one of the most noticeable traits of Israelis is the ability to remain positive & optimistic despite our great challenges. Israelis are so so sad. The New York Times is just sad. #SadSadIsrael"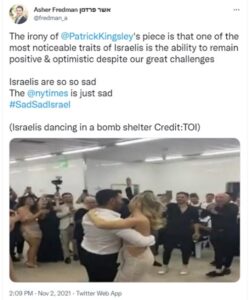 Yoseph Haddad, an Arab Israeli, tweeted: "The New York Times published an article that portrayed Israel as a polarized state whose citizens are resentful and angry. To my delight, social media is full of Israelis proving otherwise. Even if there are things to fix, we love our country. #SadSadIsrael"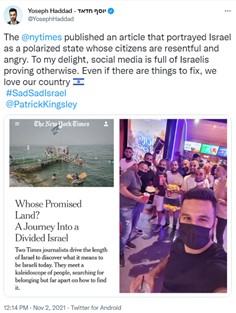 Even the official twitter page for the state of Israel joined in on the fun at the New York Times's expense, posting a photo of smiling Israelis chowing on falafel sandwiches, with a tweet telling the New York Times, "we're sooo sad. #SadSadIsrael."
Summing up the Israeli response to the New York Times, Israeli diplomat Yiftah Curial tweeted, "When the New York Times's coverage of Israel reaches that tipping point, when bias spawns parody. Check out #SadSadIsrael for some of the best tweets of the day."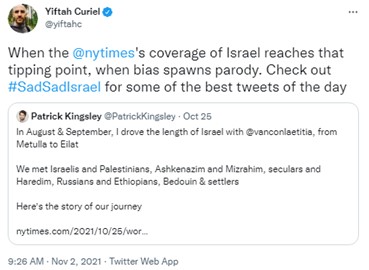 "No wonder Israelis are laughing," Ini said. "Kingsley's 'journey,' and the five-thousand-word essay that followed, said a lot more about the ideological agenda of the New York Times than it did about Israel."
"To sell his false story, Kingsley ignored the general truth of Israel's happy civil society and instead misleadingly, microscopically focused on extreme examples of unhappy people, as though they were the norm," added CAMERA Executive Director Andrea Levin. "All joking aside, the story is yet one more disturbing example of the New York Times's warping of reality and hostility toward the world's only Jewish country and its people."