Leila Fadel, NPR's Cairo bureau chief, knows a thing or two about intimidation of journalists. In March 2011, when she reported for the Washington Post's Cairo bureau, Fadel was arrested, interrogated and threatened by Egyptian authorities. The Post reported at the time:
[Photographer] Davidson and Post reporter Leila Fadel had gone to the Cairo morgue to count bodies from the violence in the square. They were turned away by authorities who said, "There are no bodies here." Minutes later, the pair were arrested by the Egyptian military.

They were "very, very thoroughly searched" in public by a female bystander ordered to do so by soldiers. After being held in temporary locations and driven around in vans, they were blindfolded, handcuffed, taken to a military intelligence unit and separated from each other and their translators. While detainees were entering the interrogation center single-file, one of the soldiers told Fadel that if she didn't keep her eyes focused on the floor as ordered, he would shoot her.

The two women were interrogated separately – Davidson's interrogator had spent time in Philadelphia and was courteous; he was Mr. Facebook. Davidson was forced to sign a statement in Arabic, which she couldn't read, and she, Fadel and other detainees were finally released, taken by van to an unfamiliar part of the city and dumped unceremoniously near a hotel at 10 p.m. The hotel wouldn't give them rooms because they now had an arrest record. Davidson and Fadel made their way across the city to Fadel's apartment. Their translators were held overnight, beaten and released the next day.
Perhaps her harrowing experience in Egypt raised her sensitivies about intimidation of foreign journalists. Perhaps, also, it impaired her judgment about sound coverage of the issue. Sunday (Nov. 18), reporting on NPR about the latest Gaza-Israel developments, Fadel states:
The Israeli bombardment of Gaza continued today by sea and air. According to local sources, one strike left a family of at least 10 – mostly women and children – dead. Another struck a media building and injured six journalists, raising concerns that journalists in Hamas-run area are now targets.
She does not provide any more information about the strike on "a media building," leading listeners to believe that, in fact, Israel does have journalists in its sights. She conceals from listeners that Israel targeted Hamas' communications infrastructure. She does not mention that Israel targeted communications on the roof of the building, which along with housing several foreign media outlets, also houses Hamas' Al Aqsa TV and the Al-Quds TV. About Al-Aqsa TV, which the United States designated as a terrorist entity, the Intelligence and Terrorism Information Center wrote in 2009:
Al-Aqsa TV is Hamas's main propaganda tool. It broadcasts vicious anti-Israeli incitement and calls for attacks on the Israeli civilian population. For example, it recently broadcast a speech by Mahmoud al-Zahar, who claimed that the IDF attacks provided Hamas with justification for attacking Israeli hospitals and ambulances and killing Israelis (Al-Aqsa TV, January 5).
Our colleagues at BBC Watch report the following about Al-Quds TV:
Al Quds TV – housed in the Showa Housari building in the Rimal neighbourhood of Gaza City – was established by Hamas in 2008 and is registered in London. The director of its Gaza office, Imad Efranji, is a member of the board of the Hamas-affiliated Palestinian Journalist's faction. It therefore comes as no surprise to find Efranji spinning this morning's incident as "a new crime against the media" in an all too transparent effort to recruit worldwide public opinion and sympathy.
In a statement about the strikes, the Israeli army noted:
Overnight, the IDF targeted two Hamas operational communication sites that were identified by precise intelligence.

The first site was targeted at approximately 01:40 a.m. and was a part of Hamas' operational communications infrastructure, located inside a civilian building. As a result, and in order to minimize the damage to non involved persons, the IDF only targeted the communication devices which were located on the roof of the building, and not the operations room of Hamas that is located on one of the floors.

The second site was targeted at approximately 06:50 a.m. and was also part of Hamas' operational communications that was deliberately located on the roof of the building, in which several international media bureaus reside.

The IDF calls on international journalists and correspondents who operate in the Gaza Strip carrying out their duties, to stay clear of Hamas' bases and facilities- which serve them in their activity against the citizens of Israel.
The IDF also released a video showing the strike precisely targeting equipment on the building's roof:
The NPR reporter, a genuine victim of Egyptian harassment of journalists, raises the false charge of Israel targeting journalists, all the while ignoring a report issued by Israel's Foreign Ministry that Hamas detained six Japanese tourists in Gaza, not allowing them to exit.
Journalists as Hamas' Human Shields
She also ignores the fact that Hamas has repeatedly used foreign journalists as human shields, firing rockets within close proximity to where they are located within crowded civilian neighborhoods. Thus, Anderson Cooper of CNN tweets:
And BBC Watch flagged the following: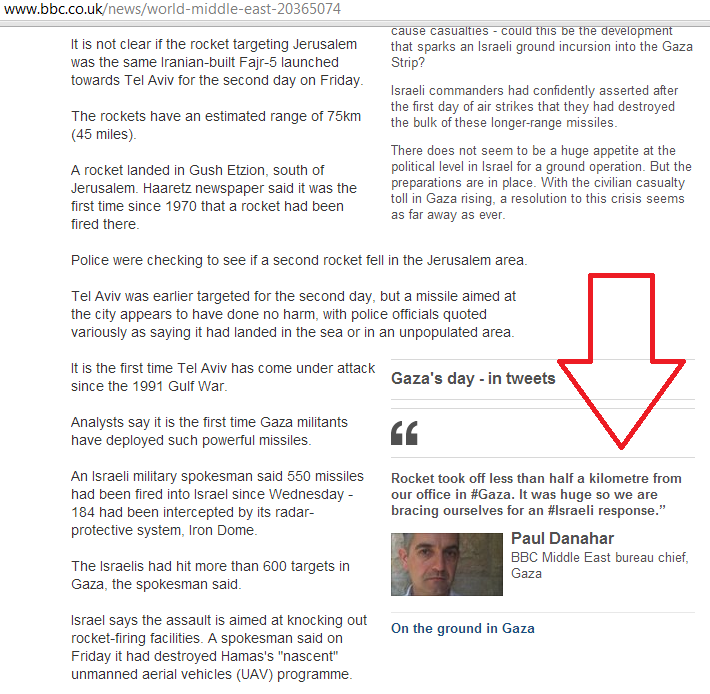 About that Blockade
The victim of Egyptian authorities does not contradict the official government line. Fadel's report includes a statement by Egyptian President Mohamed Morsi, of the Muslim Brotherhood:
Up till now, we did not have exact guarantees, but what I would like to point out and to affirm is that in this matter, war, aggression and the blockade that has been imposed on Gaza, all of this can acheive neither peace. . .
Fadel reiterates the Hamas-Egyptian-Turkish demand for lifting the blockade, without informing listeners that Israel permits virtually everything aside from weapons and dual use items to enter the Gaza Strip. (Construction materials, which can be used to build terror infrastructure, are permitted under the supervision of international organizations.) She reports:
Today, [Turkish Prime Minister] Erdogan again called for an immediate cease-fire on both sides and called for talks to begin to lift the Israeli blockade on Gaza.
While it is perfectly reasonable to report Hamas demands, it is not reasonable to mislead readers about the nature of the blockade, in which requested goods readily reach the Gaza Strip. On the day of Fadel's report, Israel
transferred 80 truckloads
of medical equipment and food into the Gaza Strip via the Kerem Shalom and Erez crossings. This was on the very same day that Hamas launched 70 rockets at Israeli towns and cities,
in just the first half of the day
. Yet, Fadel, who notes that "the Israeli bombardment of Gaza continued today," has nothing to say about the Hamas bombardment of Israel. In his introduction to the segment, host Guy Raz mentions:
Earlier today, an Israeli air strike on a suspected Hamas target killed at least 10 people, and Hamas fired dozens of missiles into Israel.
While Fadel repeats the information about the Israeli air strike, saying "According to local sources, one strike left a family of at least 10 — mostly women and children — dead," she is mum about the scores of rocket attacks on Israel's women and children. Her Egyptian interrogators must be proud.