Antisemitism, history's oldest hatred, has re-emerged decades after the Holocaust in the guise of hostility toward Jewish nationalism and a Jewish state. While efforts have been increasing around the world to marginalize and defeat this new anti-Jewish bigotry, those who engage in it are fighting to make it a socially sanctioned form of discrimination and exclude it from the accepted definition of antisemitism.
Natan Sharansky, a human rights activist who was imprisoned in the Soviet Gulag for almost a decade before immigrating to Israel and serving in its parliament, first attempted to distinguish between antisemitism and valid criticism of Israel in 2004. Intimately acquainted with Soviet antisemitism, he understood that antisemitism was on the rise globally, increasingly disguised as criticism of Zionism and the Jewish state. He decided to spell it out clearly, describing what he called the "3 D's of anti-Semitism" – "Demonization," "Delegitimization," and "Double Standards."
About "Demonization," he wrote: "When the Jewish state is being demonized; when Israel's actions are blown out of all sensible proportion; when comparisons are made between Israelis and Nazis and between Palestinian refugee camps and Auschwitz – this is anti- Semitism, not legitimate criticism of Israel."
Regarding "Delegitimization," he explained: "When Israel's fundamental right to exist is denied – alone among all peoples in the world – this too is anti-Semitism."
And about "Double Standards," he noted: "When criticism of Israel is applied selectively; when Israel is singled out by the UN for human rights abuses while the behavior of known and major abusers is ignored – this is anti-Semitism."
These 3 D's became a very useful and widely accepted litmus test to gauge antisemitism masquerading as criticism of Israel.
At around the same time, the European Monitoring Centre on Racism and Xenophobia – known as the EUMC – conducted a study of antisemitism in Europe and came out with a "working definition of antisemitism" intended as a guideline for identifying the growing number of antisemitic incidents there, and for legislation against antisemitism."
The EUMC defined antisemitism as follows:
"A certain perception of Jews, which may be expressed as hatred toward Jews… Accusing Jews as a people of being responsible for real or imagined wrongdoing committed by a single Jewish person or group, or even for acts committed by non-Jews."
The examples given included both classic antisemitism and antisemitism that targeted the state of Israel "conceived as a Jewish collectivity." It included, among other things:
Making mendacious, dehumanizing, demonizing, or stereotypical allegations about Jews or the power of Jews as a collective — such as the myth about a world Jewish conspiracy or of Jews controlling the media, economy, government, etc.
Accusing Jewish citizens of being more loyal to Israel, or to the alleged priorities of Jews worldwide, than to the interests of their own nations.
Denying the Jewish people their right to self-determination, by claiming, for example, that the existence of a State of Israel is a racist endeavor.
Applying double standards by requiring of it a behavior not expected or demanded of any other democratic nation.
Drawing comparisons of contemporary Israeli policy to that of the Nazis. and
Holding Jews collectively responsible for actions of the state of Israel.
In 2009, the EUMC was replaced by a different organization whose mandate did not include defining antisemitism, so the International Holocaust Remembrance Alliance (IHRA), a global organization that combats Holocaust denial and antisemitism, took formal ownership of "The Working Definition of Antisemitism" with just minor changes from the original EUMC document. This IHRA definition was widely adopted around the world, by the Persian Gulf country of Bahrain in addition to Argentina, Uruguay, Australia, Cyprus, Canada, England, Scotland, France, Germany, Italy, Spain, Greece, and almost two dozen other European countries. Numerous other entities, including the European Union Parliament, universities around the world, and the Global Imams Council, an international body of Muslim leaders, adopted this definition as well.
In the US, the definition was adopted by the State Department and the Commission on Civil Rights and was used as the working definition in a bipartisan bill introduced in the House and Senate to combat antisemitism on campus. Under the bill, called the Antisemitism Awareness Act, the IHRA definition was to be used to help the Department of Education determine whether incidents of harassment in schools and on campus are anti-Semitic in nature and thus in violation of Title VI, the US anti-discrimination law.
The bill was first introduced in 2016, during the Obama administration, and passed the senate unanimously. It was then referred to the House Judiciary Committee, where it got stuck after several witnesses spoke out against it, attacking the bill as infringing on free speech rights. Since then, the Antisemitism Awareness Act has been reintroduced several times – once in 2018 and twice in 2019 – and remains mired in debate spurred by those who want to narrow and limit the definition of antisemitism.
Attacking the IHRA Definition of Antisemitism
Those who attack the IHRA definition of antisemitism are those who discriminate against Jews, practicing antisemitism, as defined by the IHRA. They are primarily proponents of the BDS movement. Among the bill's fiercest adversaries are leaders and members of a BDS organization inaptly called "Jewish Voice for Peace" (JVP), who try to put a "Jewish" seal of approval on antisemitism, misrepresenting their own antisemitic campaigns and rhetoric as human rights activism and valid criticism of Israel. The group actively agitates against the use of the IHRA definition of antisemitism and attacks the anti-BDS legislation introduced in Senate and Congress, as well as other efforts to raise awareness of antisemitism. They write op-eds and circulate petitions that falsely claim the bills are "intended to codify criticism of Israel as antisemitic" and to "make dissent about Israel illegal" when, in fact, neither the definition of antisemitism nor the bills proposing its use would outlaw criticism or dissent about Israel. On the contrary: The definition includes language specifying that "criticism of Israel similar to that leveled against any other country cannot be regarded as antisemitic."
JVP leads the charge that the widely-accepted IHRA definition of antisemitism is undemocratic. The group substitutes its own alternate definition that restricts age-old hatred against Jews to Christian theology-based or Nazi white supremacist-based racial theories alone. This disingenuous propaganda is aimed at those who are unacquainted with antisemitism or with the proposed legislation against it, as it sounds an alarm against any practical attempt to hold people accountable for anti-Semitic racism and persecution of others. JVP demands that:
It is vital that Jewish organizations across the globe stand united against harmful definitions of antisemitism and together for human rights and the freedom to protest. We at JVP are proud to have initiated this historic effort.
In November 2017, Former Executive Director Rebecca Vilkomerson joined Linda Sarsour—a vitriolic, anti-Israel, BDS activist who has been accused of outright antisemitism—on a panel that redefined antisemitism to exclude the panelists' own activities.
On November 29, 2020, the Guardian published a letter signed by 122 leaders and supporters of the BDS movement expressing their opposition to the widely-accepted IHRA definition of antisemitism, substituting their own accepted definition of antisemitism that excludes their own hostility against Zionism and a Jewish state. (For a more detailed analysis of the letter, see here.)
On December 15, 2020, several BDS and anti-Israel organizations are convening a panel made up of those who seek the demise of the Jewish state, in order to redefine antisemitism. The panelists include Rashida Tlaib—a U.S. congress member accused of using antisemitic tropes of dual loyalty, spreading anti-Jewish blood libels, singling out politicians for criticism because of their Jewish identity, and having close ties to a Holocaust denying, conspiracy theorist and terror-supporting anti-Zionist activists; Barbara Ransby — a university professor in History, African American Studies and Gender and Women's Studies who is prominent player in the BDS movement, supporting violent anti-Israel terrorists and using her platform to spread false and vicious anti-Israel propaganda; Marc Lamont Hill— BDS proponent and one-time CNN journalist who advocates the elimination of a Jewish state, justifies anti-Israel terrorism, and is associated with the notoriously antisemitic Louis Farrakhan. The single Jew on the antisemitism panel is Peter Beinart — an "as a Jew" Jew who has made a career of vilifying the Jewish state and advocating its abolition.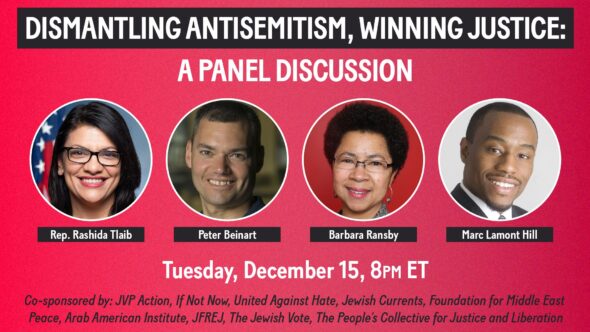 Smearing Civil Rights Expert Kenneth Marcus
When the U.S. Senate confirmed the appointment of civil rights lawyer and expert Kenneth Marcus as the Department of Education's Assistant Secretary for Civil Rights in 2018, JVP released a statement slurring him as "eminently unqualified" and "likely to use his power to violate [civil rights]."
In fact, Marcus has an extensive background in civil rights law. His qualifications for the position include his service as the Chair in 'Equality and Justice in America' at Baruch College, four years as staff director of the US Commission on Civil Rights, a 7-year tenure as president and general counsel of the Louis D. Brandeis Center for Human Rights Under Law, and a previous appointment as assistant secretary for civil rights under President George Bush, in addition to his authoring of several books and articles about antisemitism.But Marcus opposes the BDS campaign, exposing its antisemitic underpinnings. JVP threatened, therefore, that if the Antisemitism Awareness Act became law, it would "give Marcus the power to falsely and maliciously label advocacy for Palestinian rights as anti-Semitic."
Siding With UK's Jeremy Corbyn
JVP's efforts to allow antisemitism to flourish is not limited to the US. In the UK, it took up the cudgel for Jeremy Corbyn and the antisemitism coming from within the Labour Party under his leadership.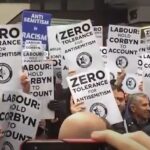 From September 2015, when Corbyn took the helm of the UK's Labour Party until he was replaced as leader in April 2020, the party was beset with complaints and internal divisions about the antisemitism manifested by party members, as well as Corbyn's tolerance of it and his own association with antisemites. In July 2018, the UK's major Jewish newspapers warned that a Jeremy Corbyn-led government would pose an "existential threat to Jewish life".
JVP sided with Corbyn and the antisemites within his party and turned their fire instead on those who called out the party's antisemitism. A statement put out by JVP's board of trustees again tried to turn the tables by mischaracterizing the increasing antisemitism coming from the Labour Party as mere "criticism of Israel."
When the UK's Labour Party soon afterwards changed course by adopting the IHRA definition of antisemitism – after initially rejecting it – JVP attacked the party's shift toward the IHRA definition. Writing in London's Independent, then-Executive Director Vilkomerson employed falsehoods to support the views of Jeremy Corbyn, complaining that the IHRA definition of antisemitism was just a weapon "to target organisations campaigning for Palestinian rights" and claiming that it would shut down legitimate criticism of Israel's "racist" policies of "segregated road systems" and "dual justice systems." In fact, there are no racially segregated roads in Israel. Nor does the Israeli justice system differ for those of different races or religions. These are all part of the litany of falsehoods that form the basis of the JVP campaign to thwart opposition to antisemitism while promoting its agenda against the existence of a Jewish state.
In May 2019, the Equality and Human Rights Commission (EHRC) – Great Britain's national equality body – announced its investigation into allegations of antisemitism in the Labour party. The resulting report, published on Oct. 29, 2020, concluded that the party was responsible for several breaches of the Equality Act:
a) political interference in antisemitism complaints
b) failure to provide adequate training to those handling antisemitism complaints and
c) harassment, including the use of anti-Semitic tropes and the dismissal of complaints about antisemitism as fake or smears.
The investigation found evidence of 23 instances of inappropriate involvement by Corbyn's office. Corbyn's response was to cast doubt on the EHRC results by claiming that the numbers of antisemitic complaints were "exaggerated" and that the scale of antisemitism within Labour was "dramatically overstated for political reasons by our opponents inside and outside the party." As a result of this response, the Labour party suspended Corbyn, who, in turn, contested his suspension from the party. He was later reinstated into the party, but not as a member of parliament.
JVP again sided with Corbyn. Deputy Director Alissa Wise condemned the UK Labour Party for its suspension of Jeremy Corbyn as it denounced the US Secretary of State's criticism of Oxfam, Human Rights Watch and Amnesty International for antisemitic actions:
When the U.S. State Department was considering ending aid for BDS-supporting groups like Oxfam, Human Rights Watch and Amnesty International for what it perceived as antisemitism, JVP denounced the state department and accused the Special Envoy for Monitoring and Combating Antisemitism, Elan Carr, of "cynically using the International Holocaust Remembrance Alliance (IHRA) working definition of antisemitism" and of a "coordinated and documented campaign to silence and censor advocacy and activism for Palestinian rights."
Targeting the ADL
JVP also targets the 106-year-old Anti-Defamation League (ADL), a civil rights organization founded by Jews to combat antisemitism and racism of all kinds. In 2018, the ADL was to have participated in a nationwide racial bias education day for Starbucks employees following the arrest of two black men who had entered a Starbucks café to use the washroom. Among those slated to give diversity training to the company's employees was Jonathan Greenblatt, a progressive liberal former Obama staffer who heads the ADL.
JVP immediately launched a campaign to remove Greenblatt, the only Jew, from the list of speakers. They smeared the ADL with baseless slurs of Islamophobia and racism, falsely accusing it of being anti-black, anti-Muslim, and anti-Palestinian. They demanded that the ADL director be excluded from the anti-racism teaching initiative, even though combating racism is precisely ADL's mission. A JVP website page was devoted entirely to demonizing the ADL.
JVP's attacks on the ADL echoes historic attacks on that veteran organization by such anti-Semitic organs as Henry Ford's The International Jew during the 1920's. For example:
"Let the Jew end forever the disgrace of an anti-defamation committee [the ADL] which grows frantic over innocent remarks on the part of "Gentiles," and is absolutely indifferent to the misdeeds of thousands of Jews who do more damage to the Jewish name than all the "Gentile" critics and newspapers could do in twenty years. No one can give the Jews a bad reputation but the Jews themselves." (The International Jew, Vol 4, Chapter 79)
BDS groups on campus, like Students for Justice in Palestine and JVP, continuously work to thwart the adoption of the IHRA definition of antisemitism at universities. Following the defeat of a resolution against antisemitism at Butler University on October 21, 2020, for example, JVP tweeted the following self-congratulatory statement: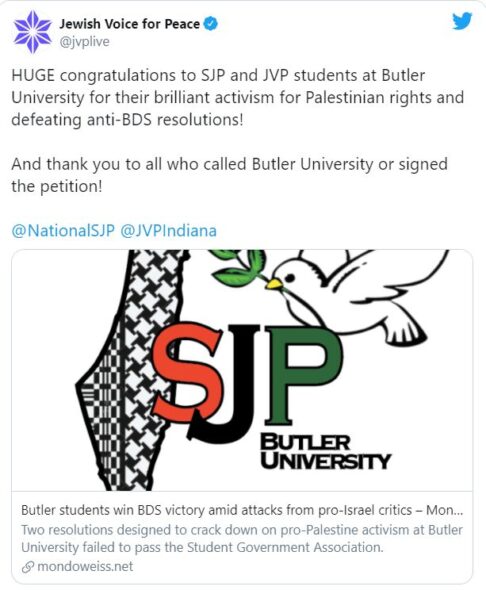 The battle continues between those who aim to defeat anti-Jewish bigotry and those who seek to deny Jews the right to self-determination in their ancestral homeland, who demonize supporters of the Jewish state, who discriminate against them and campaign to render such antisemitism socially acceptable.