"The death this week of a Palestinian prisoner, Khader Adnan, who starved himself in Israel to protest his detention, threw a spotlight on a method of nonviolent resistance, part of a history of protest that turns the captive's body into a tool to achieve change," so wrote Cora Engelbrecht today in a New York Times' "explainer," "How Prisoners Use Fasting to Gain World's Attention."
In his life before his death, Palestinian Islamic Jihad's Adnan Khader had plenty to say on the question of using the body as "a tool to achieve change," none of it "nonviolent."
"Who among you is the next suicide bomber? Who among you will carry the next explosive belt? Who among you will fire the next bullets? Who among you will have his own body parts blown all over?" Adnan urged his followers to martyrdom in 2007, rallying them to volunteer for grisly deaths so as to murder as many Israelis as possible.
A tool to achieve change to be sure, but definitely not one in the spirit of venerated peace activist Gandhi, notwithstanding Engelbrecht's earnest efforts to put the two on the same footing. Following her "tool to achieve change" insight, Engelbrecht continues:
As a tactic of activism, [hunger-striking] was used most famously by Mohandas K. Gandhi, who staged several hunger strikes while leading India's struggle for independence from Britain. Detainees around the world have refused food to call attention to an array of causes, ranging from opposing dictatorships to improving conditions in prisons where they are held.
.@NyTimes has once again jumped the shark. @CoraEngelbrecht compares Islamic Jihad leader Khader Adnan to Gandhi!

Khader is a person who called for people to kill Israelis & blow themselves up in suicide bombings (see vid below). The opposite of Gandhi. https://t.co/gGC94F75wh

— Ari Ingel (@OGAride) May 3, 2023
Bolstering the false narrative depicting Adnan as an innocent political detainee, Engelbrecht falsely implies that Adnan was being held under administrative detention, meaning without being charged. Thus, after noting in the introduction that he "starved himself in Israel to protest his detention," she reports later in the article: "Mr. Adnan, the Palestinian prisoner, was protesting Israel's practice of holding people in administrative detention without filing charges or revealing what evidence there is against them."
While Adnan had in the past been held under administrative detention, that was not the case during this latest imprisonment. Rather, Adnan was indictedin February, a key fact in his case which neither Engelbrecht, or a second New York Times article on Adnan mentions ("Palestinian Detainee Dies in Israeli Prison After Hunger Strike," Raja Abdulrahim).
Haaretzreported: "Adnan, 45, was arrested by Israeli security forces in February and charged with terror-related offences."
Similarly, Reuters reported:
According to the Palestinian Prisoners Association, Adnan was arrested by Israel 12 times, spending around eight years in prison, mostly under so-called "administrative detention" – or detention without charges.

Israel says such detentions are required when evidence cannot be revealed in court due to the need to keep intelligence sources secret. Palestinians and rights groups say Israel routinely uses such detentions, which deny due process, to hold hundreds of Palestinians for prolonged periods of time.

This time, Adnan was arrested and indicted in an Israeli military court on charges that included links to an outlawed group and incitement to violence, the Prisons Service said. (Emphasis added.)
In her article, The Times' Abdulrahim skirts around Adnan's indictment, never sharing that relevant information with readers. Instead, she conceals:
Mr. Adnan, 44, was arrested by Israel on Feb. 5 on suspicion of membership in a terrorist organization, support for terrorism and incitement as a member of the Palestinian armed group Islamic Jihad. He had been on a hunger strike since his arrest.</p?
And later she adds, still without acknowledging that he had been charged for his suspected crimes:
He had helped pioneer the practice of individual hunger strikes by Palestinian prisoners, conducting a 66-day strike in 2011 that inspired others to use it as a means of protesting Israel's incarceration of Palestinians, especially the practice of administrative detention, which Israel uses to indefinitely detain people without charges or trials, based on secret evidence.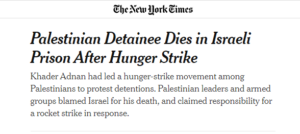 In a second misrepresentation which bolsters the favored false narrative, the digital headline on Abdulrahim's story falsely states: "Palestinian Detainee Dies in Israeli Prison After Hunger Strike."
As the accompanying article itself made clear, Khader Adnan was found unconscious (not dead) in his prison cell, then brought to the hospital for resuscitation, and was declared dead at the hospital:
Mr. Adnan was being held at the Israel Prison Service medical center when he was found unconscious in his cell on Tuesday, prison authorities said. He was given cardiopulmonary resuscitation and then transferred to a hospital, where he was pronounced dead.
Notably, the print edition's headline accurately reports today: "Palestinian Detainee Dies After Hunger Strike."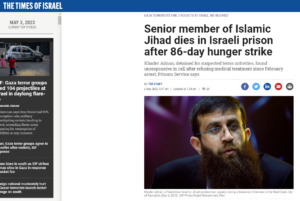 While Israeli media outlets were not immune from misreporting on Adnan's death and the nature of his imprisonment, they were highly responsive to correction requests. (As of this writing, The Times has failed to correct.) Thus, Times of Israel promptly corrected a headline which initially misreported: "Senior member of Islamic Jihad dies in Israeli prison after 86-day hunger strike." In response to correspondence from CAMERA, editors corrected the headline to accurately report: "Senior member of Islamic Jihad dies in Israeli custody after 86-day hunger strike."

Haaretz
, for its part, had erroneously reported in
today's article, "
Israel, Gaza Groups Reach Ceasefire After Night of Hostilities
": "The flare-up came after the death in an Israeli prison of Khader Adnan, a senior Palestinian Islamic Jihad member in the West Bank, who launched a 86-day hunger strike to protest his administrative detention." Elsewhere, Haaretz had previously correctly reported on both points. Haaretz editors were quick to correct when alerted to this instance of misreporting. The amended text now accurately states: "The flare-up came after the death of Khader Adnan, a senior Palestinian Islamic Jihad member in the West Bank, who launched a 86-day hunger strike to protest his arrest."
The violence that Adnan preached during his life quickly came to fruition with his death. Upon the announcement of Adnan's death, Islamic Jihad, a designated terror organization, quickly fired off three rockets and a mortar from Gaza at communities in southern Israel. Hours later, Israel responded with tank fire directed at terror infrastructure belonging to Hamas, which governs the coastal territory, and Islamic Jihad subsequently launched 22 rockets at Israeli kibbutzim and towns, injuring three foreign workers, damaging a home in Sderot and sending tens of thousands of Israelis, including children on their way home from school, running for cover. By the time that the Egyptian-brokered ceasefire came into effect early Wednesday morning, terrorists in Gaza fired 104 rockets and mortars at Israeli communities.
A tool to achieve change, indeed.
June 25 Update: Times of Israel Correction on Administrative Detention
In May, CAMERA also prompted correction at the Arabic edition of the Times of Israel which had wrongly reported that Adnan was being held under administrative detention.