On June 24, 2022, an ad appeared on page 26 of the Washington Post calling for "Justice for Shireen." The ad all but accused Israel of killing Shireen Abu Akleh, an al-Jazeera correspondent who was shot to death while covering Israeli counterterror raids in Jenin on May 11, 2022. The ad's appearance is revelatory. Indeed, the details surrounding its publication speak volumes about where journalism is headed. And it's nowhere good.
The ad, from the Committee to Protect Journalists (CPJ), declared that Abu-Akleh was "killed in the West Bank, part of a worrying pattern of Israeli forces targeting journalists." CPJ also asserted that since 1992 "at least 19 journalists and media workers have been killed on assignment in Israel and the Occupied Palestinian Territories—none have seen justice." CPJ added: "Israeli authorities refuse a criminal investigation. The U.S. and international authorities have a responsibility to investigate and stop attacks on the press."
CPJ's ad, however, couldn't even spell its own organization's name correctly. Instead of "Committee to Protect Journalists," the ad referred to CPJ as the "Committee to Project Journalists."[emphasis added] Indeed, the ad itself was replete with errors, misrepresentations and other signs of sloppiness that wouldn't have made it past a copy editor in another era, back when journalism meant something more than partisan advocacy.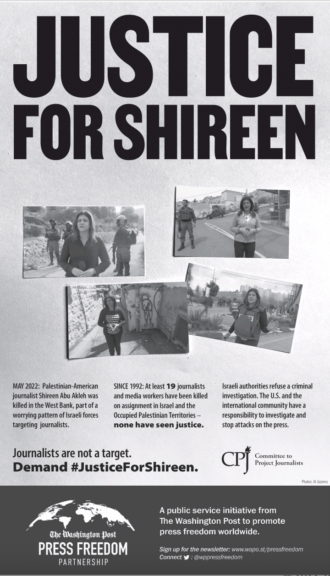 In fact, Israeli authorities have called for a joint investigation with the United States and the Palestinian Authority. Evidence for that is abundant and has even been reported, on several occasions, in the Washington Post itself. The PA's cooperation, however, is another matter entirely. For nearly two months—until the beginning of July 2022—the PA refused to turn over the bullet that it claims was taken from Abu Akleh's body. The PA's decision to do so should draw suspicion and attention from actual journalists.
Ditto for the Authority's claim, made shortly after Abu Akleh's death, that not only had it determined that Israel had intentionally targeted the AJ correspondent, but that they had somehow managed to identify the weapon used: a Ruger Mini-14. Yet, matching a bullet to a weapon is quite difficult without access to the weapon and, importantly, the IDF doesn't even use Ruger Mini-14s.
Yes, you read that correctly. As Reuters, among other news outlets, reported, the PA's Attorney General, Akram Al-Khatib, has said that the Authority's investigation determined that Israel "directly and deliberately" targeted Abu Akleh and that the IDF used a Ruger Mini-14 to shoot her. But the IDF doesn't even use Ruger Mini-14s. Indeed, the Mini-14s have an entirely different operating system—known as a "manual of arms"—than the M4 and M16 variants that are commonly used by Israel. Nor does the Ruger Mini-14 share parts compatibility with the M4 variants—a key consideration for militaries that use professional armorers and which seek to standardize their weaponry.
And unlike other rifles that the IDF currently fields, such as Tavor X95 rifles or modern Galils, the Mini-14 doesn't even have magazine interchangeability with M4/M16 variants. This means that a soldier in a platoon wouldn't be able to use the Mini-14 magazines of a fellow soldier—a key consideration in the event of a firefight or contact with the enemy.
Importantly, anti-Israel activists have sought to boycott Ruger, a U.S. arms company, for supplying the Ruger 10/22 rifle to the IDF for crowd control. That model, however, fires an entirely different type of bullet than the 5.56 which is alleged to have killed Abu Akleh. Could it be that the PA's claim was motivated more by a desire to assist the BDS movement and not by an actual impartial investigation? Journalists haven't even bothered to ask.
It should have attracted attention, from the Washington Post and others, that the PA's "investigation" was making easily disprovable claims. Yet not a single major Western news outlet bothered to note that the IDF doesn't even field the weapon that the PA says was used. Nor has the CPJ bothered to highlight the inconsistency.
Additionally, CPJ's statement that "19 journalists and media worked have been killed on assignment in Israeli and the Occupied Palestinian Territories" but "none have seen justice" is similarly misleading. As my CAMERA colleague Adam Levick pointed out, a search of CPJ's own database, using the filter of "Israel" and intentional killings of journalists, doesn't show a single instance of CPJ accusing the Jewish state of murdering reporters. So CPJ's own claim is belied by its own database. Apparently, CPJ is as good at fact checking as it is at using spell check.
The Washington Post's decision to run the ad is equally revealing. After questioning, the newspaper acknowledged that the ad was published "complimentary" since CPJ is a partner in the Washington Post's Press Freedom Partnership, which "seeks to highlight organizations working vigilantly to promote press freedom and raise awareness of the rights of journalists worldwide."
This is certainly a worthy initiative. Journalists face threats worldwide. And a quick look at the Post's Press Freedom Partnership shows numerous articles and reports highlighting dangerous censorship and violence that journalists are confronting throughout the world. But the promise of "complimentary" ad space raises some questions when some of the partner organizations in the initiative have a history of bias and discrimination.
For example, Reporters Without Borders, is one organization that, along with CPJ, inaugurated the Press Freedom Partnership in 2018. Yet, Reporters Without Borders has a long and documented history of anti-Israel bias, as Abraham Foxman has highlighted (see, for example, "Reporters Without Borders and the Rush to Blame Israel," May 6, 2015). Indeed, NGO Monitor, an organization that works to ensure nonprofits are honest and accountable, has thoroughly highlighted numerous instances of the organization making questionable and misleading statements and omitting key evidence in an attempt to castigate the Jewish state (see here for multiple examples).
Yet, Reporters Without Borders, which has been accused of "engaging in a reflexive rush to blame Israel" before "all of the facts are known" can now get free ad space in the Washington Post. That's a problem. So is the questionable company who have associated with the Post's Press Freedom Partnership.
On June 16, 2022, CPJ and others took part in a ceremony to rename a street in front of Saudi Arabia's Washington D.C. embassy after Jamal Khashoggi, the Saudi-born journalist who was murdered in a Turkish embassy in 2018. Khashoggi, a Washington Post columnist, was a fierce critic of Mohammad bin Salman, who has been accused of engineering his gruesome death.
Khashoggi's murder is a tragedy. But it also worth noting that not only was he a vocal supporter of Hamas, a U.S.-designated terrorist group, he didn't even write his own columns. Yes, you read that correctly. The man being lamented as a fallen journalist didn't even write his own columns for the Post—and the newspaper has even admitted it.
Buried in a Dec. 22, 2018 article, the Post revealed that "text messages between Khashoggi and an executive at Qatar Foundation International show that the executive, Maggie Mitchell Salem, at times shaped the columns he submitted to The Washington Post, proposing topics, drafting material and prodding him to take a harder line against the Saudi government." The newspaper also acknowledged that Khashoggi "appears to have relied on a researcher and translator affiliated with the organization." Further, as the Security Studies Group, a Washington D.C.-based think tank, noted: "We heard from reliable sources familiar with the investigation [into his death] that documents showing wire transfers from Qatar were found in his apartment in Turkey," but were "immediately put out of reach by Turkish security services, so they did not show the collusion between Khashoggi, Qatar, and Turkey prior his death."
Whether or not Khashoggi was an asset of Qatar, a Saudi enemy and supporter of terror groups like Hamas, the Post's inability to properly vet his submissions and to tell the full truth about the columnist, reflects poorly on the newspaper. It is standard practice for submissions to be both original and for columnists to disclose conflicts of interest.
As the late writer Petra Marquardt-Bigman noted in Haaretz in 2018, Khashoggi kept close company with Azzam Tamimi, a Hamas promoter who has praised suicide bombings. And in 2014, during Operation Protective Edge, Khashoggi described "smuggling 7 metre-long Grad rockets" into Gaza as "a miracle." He praised the "distinguished combat performance of [Gaza's] men and the huge network of tunnels that extends for miles under Gaza and the borders with Israel and Egypt," saying they "were used brilliantly." Hamas, he said, "wasted no time while ruling in Gaza."
None of this stopped several NGOs and D.C. City Councilmen from holding a ceremony naming a street "Jamal Khashoggi Way"—after a Hamas supporter who didn't even write his own columns and violated the Washington Post's own standards. Indeed, those attending the ceremony included other anti-Israel activists from organizations like Code Pink and Amnesty International.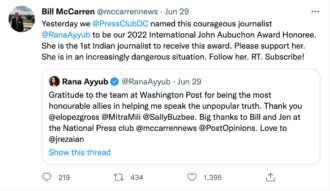 The event was also promoted by the National Press Club, which as CAMERA has documented, has gone so far as to hide the knife of a Palestinian "journalist" who was shot while trying to stab IDF soldiers at a checkpoint. In late June 2022, NPC bestowed the John Aubochon Award to Washington Post columnist Rana Ayyub. As CAMERA highlighted, Ayyub has indulged in conspiracy theories and blood libels, claiming that the Jewish state wantonly and intentionally murders Palestinians and journalists.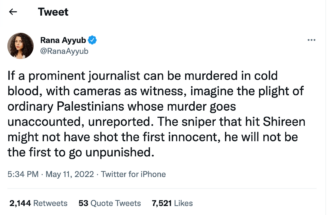 This is the state of journalism in 2022. Not writing one's own columns gets one memorialized as a "journalist." And blood libels aren't an impediment to getting awards from formerly prestigious bodies. And anti-Israel activists and allegations get free ad space and platforms.