Last updated March 14, 2016.
Some correspondents and headline writers are doing a fine job reporting on the outbreak of terror in Israel, but all too many others are failing at this task. Journalists in the latter category have relied on the passive voice, euphemism, and imprecision — reportorial smoke and mirrors — to obscure Palestinian terror attacks and even recast terrorists as victims of arbitrary Israeli violence. Below are a few examples. (This piece will be continuously updated.)
---
The Forward: 3 Palestinians Killed in Attacks
Nobody should have to explain this to headline writers and editors, but here it goes: If you state that three people were killed in a gun attack, readers will understand that the three people were targets of an armed attack, not the perpetrators of one. That's just how our language works.
So if "three Palestinians carried out back-to-back gun and car-ramming attacks on Israelis … and were shot dead by the army," as the first sentence of your
article
notes, then the following headline is inappropriate and highly misleading: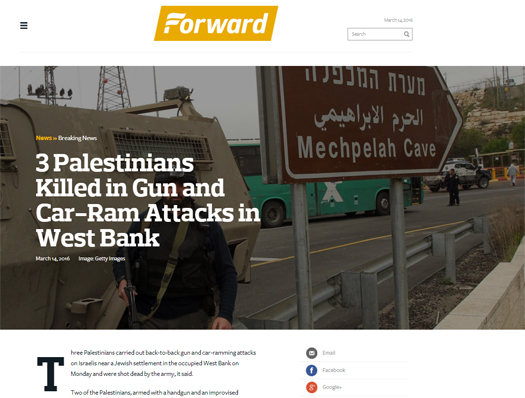 It turns out that the article in question comes from Reuters. But the Reuters headline is as follows: "Three Palestinians attack Israelis in West Bank, shot dead: army." Isn't that much more straightforward and clear? Why, then, did The Forward opt for a different, misleading headline?
See also…
Voice of America: Three Palestinians Killed in Attack

When a Voice of America
headline
stated, "Afghan IS Leader Killed
in Drone Strike
," it of course didn't mean the ISIS leader was busy piloting a drone when he was killed. It meant he was on
the receiving end
of a drone strike.
Likewise, the VOA
headline
"180-200 Kenyan Soldiers Killed
in January Attack
" was not a story about an attack
by
the Kenyan troops. It was an attack
against
the soldiers, who were at their base when al-Shabab militants targeted them in an offensive.
So when the VOA announces in a headline that "Three Palestinians Killed in West Bank Attacks," it informs people — wrongly — that Palestinians were attacked, when in fact they were the perpetrators of the attacks against Israelis.
USA Today: "American murdered dies in Palestinian Israel stabbing attack"
How best to whitewash the fact that a Palestinian terrorist indiscriminately targeted every civilian he could attack and actively murdered an innocent American tourist, a young US army vet, who was taking a peaceful stroll in the city of Jaffa? First, erase the identity of the perpetrator, and definitely do not identify him as Palestinian. Second, use the passive voice when mentioning the tourist's death, as if it were accidental, without association to any specific perpetrator. And voila, you can distort the news to whitewash the disturbing truth about Palestinian terrorism.

The article, as well, conceals the identity of the Palestinian perpetrator until near the end (the 10th of 14 paragraphs) and then presents it as an Israeli claim.
Army Times.com: "Army vet stabbed to death in Palestinian Israel attack"
The Army Times.com takes similar pains to conceal the identity of the perpetrator, referring only to an "Israel" attack in the headline and saving mention of the perpetrator's Palestinian identity until well into the 5th paragraph of the article.
International Business Times: "Three Palestinians Shot Dead" as They Attack Israelis "as Joe Biden Arrives"
The International Business Times headline
writers
apparently don't want you to know that each of the three Palestinians were shot as they were attacking, wounding and killing Israelis. So instead they made it sound like some sort of twisted welcome message to the US vice president:
>
Update: The Editor-in-Chief agrees. Responding to a query by a CAMERA researcher on Twitter, IBT's top editor Peter Goodman wrote,
Thanks for flagging. Your react legit. We have addressed https://t.co/rJoCXagdJS

— Peter S. Goodman (@petersgoodman) March 8, 2016
The corrected headline now reads, "Israel: US tourist killed and others wounded in series of attacks as Joe Biden arrives."
New Zealand Headline Ignores Attacks on Israelis, Casts Attackers as the Victims
AP Headline: Israeli Soldiers Killing Lots of Palestinians
Philadelphia Inquirer: Israeli Police Pick "Fight" With Faultless Palestinians
CBS Headline: 3 Palestinians Killed "as Daily Violence Grinds On" — AKA As They Shot Female Police Officers
Times Headline Omits Anti-Israel Attack, Text Omits Israeli View
New York Times Headline: Teen Girl Shot Without Cause
LA Times Readers in Headline Confused
AP Headline: Palestinian Attackers Are the Only Victims
Two Israelis died Dec. 23 after a stabbing attack by Palestinians outside Jerusalem's Old City. The attackers were shot and killed by Israeli police, as was one of the Israeli victims, who was mistakenly hit as police tried to neutralize the attackers. The other Israeli died of multiple stab wounds, and a third was badly injured.
Haaretz: Car Deliberately Rams Soldiers, Then Flees
What happens when Pixar's "Cars" meet a Haaretz news story about a Palestinian attack? Anthropomorphic vehicles ram soldiers and flee the scene:
New York Times: Palestinians Killed After Hit-and-Run Attacks
EuroNews: John Kerry Calls Everything Terrorism
SFGate Headline: "Palestinians Shot in Assaults" — Because Palestinians Shot While Perpetrating Assaults
Reuters: Palestinians "Died at scene of attack on Israelis"
Haaretz Headline: "Palestinian woman shot dead"
CNN Headline: "Israel's New Terror"