Agence France Presse, with the failure of a headline yesterday to note that three slain Palestinians were involved in terror activity ("
Israeli troops kill three Palestinians in West Bank raid
"), was an outlier among Western news outlets, which did carry headlines acknowledging that key information.

While AFP's headline (in English, French, Arabic and Spanish) withheld the basic data that those killed were terrorists, the article itself indicated that the three engaged in terror activity. The accompanying article reports that Fatah's Al Aqsa Martyrs Brigade acknowledged two were members, and Israel identified them all as terrorists involved in shooting attacks:
Three Palestinians were killed by Israeli forces in the occupied West Bank city of Nablus on Tuesday during what Israel described as an operation against a "terrorist cell" …
The border police said the dead were "armed terrorists who were… killed during clashes with the security forces". It said the three were responsible for recent shooting attacks on Israeli troops and civilians. …
Sources in the Fatah movement of Palestinian president Mahmud Abbas identified two of the dead as Adham Mabrouk and Muhammad Al-Dakhil, adding that they were affiliated with the militant Al-Aqsa Martyrs Brigades.
Given that many casual news consumers don't read beyond the headline, AFP's failure to include that essential information in the headline greatly misleads on the key question of "who."
(It should also be noted that other sources reported that the Al-Aqsa Martyrs Brigade, a designated terror organization, identified all
three
as its members, not just two, as AFP reported. For instance,
Haaretz
reported
("Israel Kills Three Palestinian Militants Suspected of West Bank Shootings"):
The Al-Aqsa Brigades, Fatah's military wing which controls the West Bank, said the three men were its members, identified as Ashraf al-Mubaslat, Adham Mabrukeh and Mohammed al-Dakheel.

The militant group said the three men are "heroic martyrs" and vowed revenge in a statement circulated on a Fatah-affiliated social media group.)

Unlike AFP, other media outlets published headlines clearly indicating that the three slain Palestinians were not innocent civilians quietly going about their own business when they were gunned down by Israeli forces, as one could wrongly conclude from AFP's headline. Thus,
Reuters
' headline states:
"Israeli forces kill three Palestinian militants in West Bank."
Similarly,
CNN
's headline is: "Three Palestinian militants killed in Nablus in Israeli counter-terror operation."
AP's is "Israel says it killed 3 suspected militants in West Bank."
It's not only AFP's headline which which obscured the casualties' terror involvement. AFP captions both yesterday and today cast their terror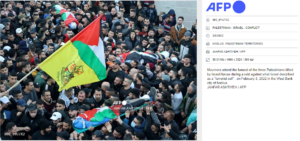 involvement as an Israeli claim, despite the fact that the terror organization in question itself has confirmed the information. Thus, multiple captions captions from the French news agency yesterday and today refer to "
a daytime raid against what Israel described as a 'terrorist cell.'" By attributing the information only to Israel and employing scare quotes, AFP captions conceal from readers that the Al Aqsa Martyrs Brigade terror organization has also confirmed that the three are members. Incidentally, in the funeral image at left, the Al Aqsa Martyrs Brigade flag is visible.
AP
captions, while opting for the euphemism of "militant" over "terrorist," nevertheless report as fact the slain Palestinians' violent activity, referring to "three Palestinian militants killed by Israeli forces."