Numerous April 11 Agence France Presse captions accompanying photographs from the funeral of 17-year-old Palestinian Muhammad Zakarneh, fatally wounded by Israeli fire, omit the key information that according to the Israeli army, the teen had fired upon Israeli soldiers.
As Haaretz reported: "The Palestinian, 17-year-old Muhammad Zakarna, was shot and wounded after opening fire on soldiers, according to the Israeli army."
Similarly, Times of Israel
noted
:
According to the IDF, the soldiers entered the area, in the northern West Bank, in order to arrest two brothers of Ra'ad Hazem, the terrorist who killed three Israelis in a terror attack in Tel Aviv on Thursday.

The military said it shot Zakarneh after he fired at the soldiers from a passing motorcycle.
About the circumstances of his death, AFP's captions selectively reported that Zakarneh, 17 "died of injuries sustained a day earlier during a raid by Israeli soldiers, during his funeral in Jenin in the occupied West Bank, on April 11, 2022." There is no mention about the army's information that he opened fire on troops.
Examples of the captions follow: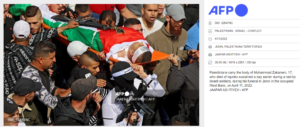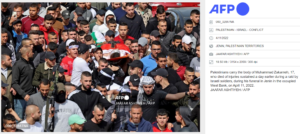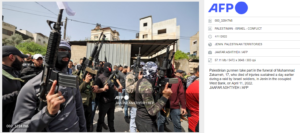 AFP's article April 11 ("Israel army launches news raids around flashpoint W. Bank city") likewise neglects to report this key information about Zakarneh, reporting: "
In Jenin, thousands of mourners flooded the streets, many carrying Palestinian
flags or rifles, for the funeral of Mohamed Zakarneh, 17, who according to the Wafa news agency died of gunshot wounds overnight." (For more on egregious shortcomings in that story, see "How AFP Buries Palestinian Violence With Body Bags.")