The New Yorker, the elite journal which boasts that it is "considered by many to be the most influential magazine in the world, renowned for its in-depth reporting, political and cultural commentary, fiction, poetry, and humor," just became renowned for something else entirely: calling for the obliteration of the Jewish state.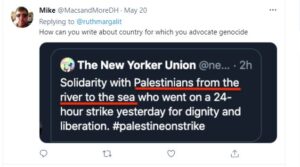 In a May 20 tweet, now deleted, The New Yorker Union account declared: "Solidarity with Palestinians from the river to the sea who went on a 24-hour strike yesterday for dignity and liberation. #palestineonstrike."
As CAMERA's Gilead Ini previously explained, the "river to the sea" mantra isn't "much of a coded message":
One doesn't need a cipher, but just a simple map, to understand that the passage refers to the elimination of Israel. The river is the Jordan. The sea is the Mediterranean. And the land between the river and the sea currently includes three territorial units: Israel, the West Bank, and the Gaza Strip. The latter two territories are sometimes collectively (though sloppily) referred to as Palestine, a term meant to describe land presupposed as belonging to the Palestinians. Extending Palestine to the territory between the river and the sea, as called for by the well-worn anti-Israel mantra, means there is no Israel in that swath of land, and thus no Israel anywhere.

As Hamas's Ismail Haniyeh put it at a rally in the Gaza Strip this summer, "Palestine is from the sea to the river! And we will never, never, never recognize Israel!"
Later that day, The New Yorker Union deleted its "river to the sea" tweet, deeming it a distraction, while failing to disavow the call for the elimination of the Jewish state, which many Jews understand as nothing less than genocide. As American Jews are being beaten on the streets of New York and Los Angeles for their refusal to support demands that Israel should simply disappear, The New Yorker Union found it appropriate to churlishly dismiss its previous tweet calling for the Jewish state's destruction: "We stand in solidarity with the Palestinians who went on strike for dignity and rights. We've removed our original post, which used a phrase with connotations that distracted from our intended message of solidarity." There was no apology or reassuring explanation that the genocidal tweet, which was entirely in line with Hamas and Iranian calls for the destruction of the Jewish state, was the work of an inexperienced, uninformed social media underling who did not understand the significance of his/her words and was not appropriately supervised.
Our solidarity message with the Palestinians had a little genocidal aspirations mixed in. It's no big deal. It's just us intellectuals at the @NewYorker magazine not knowing that *from the river to the sea* is a call for the destruction of Israel.

Never mind. Just a distraction.

— Joel M. Petlin (@Joelmpetlin) May 19, 2021
Given that The New Yorker has made it clear that Israel has no right to exist, it should come as no surprise that reporter Ruth Margalit the same day depicted as "murder" the killing of an Israeli Arab in Lod who was part of a violent mob that was attacking Jews ("The Tensions Inside A Mixed Arab-Jewish City in Israel"). She cited "the murder of the Arab man, thirty-two-year-old Mousa Hassuna," and continued:
Four Jewish suspects had been arrested in Hassuna's death but were promptly released from custody after citing self-defense. Lawmakers from the right denounced their arrest as "awful" and "morally despicable."
While Margalit dedicates numerous paragraphs to Hassuna's family morning tent, noting, for example, "Mousa's wife had been traumatized by his murder," she completely ignores the circumstances which belie the assertion that Hassuna's killing was "murder."
In a Channel 13 (Israel) interview, Hassuna's own relatives acknowledged that Moussa was involved in the violent riots. His uncle, for instance, stated: "Mousa took a stone, threw it at them, and told them: leave this place, leave."
About Hassouna's killing, Haaretz had reported:
One possibility being investigated is that he was shot by residents after Arab rioters threw stones at Jewish homes, tore down traffic signs and set objects on fire.

A video of the event shows people running towards a car, one with a firebomb in hand, followed by gunshots and screams of "Allahu akbar."

Local resident Meir Layosh said that the mob tried to break into homes while the police took a long time to arrive. "The residents shot into the air before the mob, which didn't divert them, until [the residents] shot towards them and two of the rioters were wounded." . . .

Yoel Frandberg, a Lod resident who was there, said "It was terrifying. If they hadn't opened fire, [the rioters] would have gotten into our houses." He added that their likely target was a group of buildings housing members of Garin Torani, a religious Zionist group that sets up communities in underdeveloped areas.

Frankenberg told Haaretz that a few dozen masked Arab men gathered on the nearby Hahashmonaim Street and started setting trash cans on fire.


"We couldn't walk around there, it was clear that we were their target." Frankenberg said that he and his neighbors called the police dozens of times over 40 minutes, but they did not come.
Subsequent Haaretz coverage noted that 1) the suspects are not facing charges of murder; and 2) contrary to Margalit's depiction, they are not off the hook, but are still being investigated for reckless homicide:
The suspicion against them was downgraded from murder to reckless homicide in the death of Musa Hasuna, 32. They were issued a one-week restraining order to stay out of Lod. The Lod Magistrate's Court rejected the police's request to keep them under house arrest.

Hasuna was shot to death on the night between Monday and Tuesday, when violent confrontations between Jews and Arabs began countrywide. The suspicion is that Hasuna was hit by a bullet from a distance of tens of meters after throwing stones, vandalizing public property and throwing Molotov cocktails. Two others suffered minor injuries.

The four claimed during their investigation that they were defending themselves after some young people had drawn near them and were trying to hurt them. The four all have gun licenses. The police suspect that at least one of them aimed at the crowd of Arabs and didn't fire in the air.
Elsewhere, Haaretz reported:
Police suspect that Hassouna, 32, was hit by one bullet shot by a Jewish resident from dozens of meters away and two others were injured as masked Arab protesters hurled stones and firebombs and vandalized property in Lod.
Margalit dedicated at least half a dozen paragraph's to the Hassuna's family loss of Mousa (while concealing information pointing to the fact that his killing was not "murder"), informing readers that he had three children who are now staying with the grandparents and haven't yet been told of their father's death, that his father Malek is angry that "My son isn't allowed to carry a weapons, but the settlers? 'Of course! It's self-defense," that his "sister-in-law Azia Sultan, a forty-one-year-old lawyer, was frustrated with Israeli television crews for focussing [sic] only on the violence that the Arabs committed against the Jews," and that a group of visitors promised to come again, among other humanizing details.
Mousa Hassuna, an Arab, 'Murdered': Unnamed Jew 'Dies'
In contrast, Margalit provided just 28 words about a Jewish man who actually was murdered when an Arab mob in Lod hurled rocks at his car, fatally wounding him in the head. She wrote: "The following night, a Jewish electrician driving home from work was pulled out of his car by a rioting mob and beaten; he later died from his wounds." That's it. She doesn't name him (Yigal Yehoshua), his age (56), the number of children he had (two); the names or views of his siblings (brother Efi Yehoshua Yehoshua: "You believed in coexistence"); his traumatized wife ("Yigal was a paragon of coexistence," Irena has said of her husband). Margalit didn't report that Yehoshua's family decided to donate Yigal's organs, giving new life to Randa Aweis, a grateful Christian Arab from Jerusalem, among other recipients whose lives he saved.

Mousa Hassuna was killed as he took part in a violent riot in which a mob was attacking Jews. Yigal Yehoshua was killed as he was driving home from synagogue. Yet, while Margalit twice described Hassuna's killing as "murder" she didn't apply that term to Yehoshua's.
Presumably the murder of an innocent Jew known to his Arab neighbors is a distraction from solidarity with the Palestinians. The murdered Yigal Yehoshua, just like the "river to the sea" mantra, required deletion.
Selective Reporting on Incitement
In the spirit of "journalism in the service of the revolution," Margalit engages in selective reporting when it comes to incitement in the city of Lod. About Lod Mayor Yair Revivo (Jewish), she wrote:
Malek [Mousa's father] blamed the mayor of Lod, Yair Revivo, for inciting ethnic tensions and for allowing settlers groups from outside the city to come in and patrol the streets, even as city residents has been placed under nighttime curfew . . . . This was a sentiment that kept coming up in my conversations with the city's Arab residents: that Revivo, who is affiliated with Likud and is seen as close to the Prime Minister, Benjamin Netanyahu, bears responsibility for instigating the riots. (A spokesman for Revivo said that the mayor has "called on every platform for the tamping down of tensions" and immediately directed the security forces and the police to expel from Lod all extremist elements, Jews and Arabs, and anyone who is not a resident of the city and has come to stoke the fire.") Earlier this month, Revivo hosted in Lod the leader of the far-right Religious Zionist Party, a man who has said that Arabs are "citizens of Israel–for now, at least." Revivo called him an "excellent parliamentarian."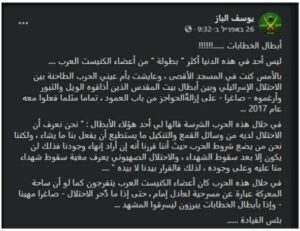 Meanwhile, here's what the Iman of Lod, Sheikh Yusuf Al-Baz, posted on Facebook on April 26 (screenshot at left):
I was at Al Aqsa to see the war playing out between the Israeli occupation and the heroes of Jerusalem. . . . We will determine the terms of the war. We decided that the occupation that wants to end our presence will not succeed until after martyrs fall, and the Zionist occupation will feel in the deaths that we bring it upon it and upon its existence — and so the decision is in our hands and not their hands.
Subsequently, Iman Al-Baz appeared on Israel's Channel 12, supposedly in a call for reconciliation, but then reaffirmed and repeated his Facebook incitement, calling Israel an "enemy state."
Incitement for ethnic tension is only worthy of New Yorker coverage if the source is Jewish. Arab incitement for ethnic tension distracts from solidarity with Palestinians.
Falsehood: No New Arab Settlements
Perhaps out of a sense of solidarity, journalist Margalit invented:
Although the Arab population is now seven times the size that it was in 1948, the state has not built a single new Arab settlement since then, while it has added seven hundred Jewish communities, according to the Israel Democracy Institute.
As CAMERA's Ini noted when B'Tselem made the same false assertion earlier this year, Israel in fact founded the following Arab communities since its founding: Rahat, Kuseife, Shaqib al-Salam, Ar'arat an-Naqab, Lakiya, Tel as-Sabi, Hura, Tirabin al-Sana, Mulada, Abu Krinat, Bir Hadaj, Qasr al-Sir, Makhul, Umm Batin.
In another fallacious land claim, Margalit wrote: "By law, Arab citizens of Israel are entitled to equal rights; in practice, though, many are barred from buying land or property." It's hard to know specifically what she had in mind with the second half of her unspecified claim. To the contrary, "many" Arabs buy land or property not only in mixed Arab-Jewish cities like Haifa and Acco, but they also purchase homes in "Jewish" cities like Beersheva, Carmiel, Upper Nazareth, Nahariya, Kfar Saba, Afula, Hadera and more. As a result, some previously Jewish locations like Maalot-Tarshiha and Upper Nazareth (Nof HaGalil) are now considered "newer mixed cities."
History of Lod, Rewritten
About Lod's 1948 history, Margalit maintained: "In 1948, Jewish battalions, fighting a war for independence, entered the city, expelled the Palestinian population, and killed two hundred and fifty men, women and children inside a mosque… " This is not the first time that The New Yorker has falsified the city's 1948 history. In fact, as CAMERA's Alex Safian previously wrote in a detailed response to a 2013 New Yorker essay by Israeli journalist Ari Shavit, the city's Arabs surrendered to the Jewish forces once the Arab fighters were overwhelmed. The surrender terms entailed the disarming and surrender of the fighters and enabled the civilian population to remain in their homes in peace. Yet, after the Arab leadership accepted these terms, Jordanian armored cars entered the city and began shooting, and the Arab fighters again picked up their arms against the just 500 remaining Israeli troops, in violation of the surrender terms. A second ferocious battle ensued, in which five Jewish guards standing outside the Dahmash Mosque were the first killed, at which point shooting erupted across the entire city. Safian wrote:
Fighting house-to-house to root out snipers, and this time giving no quarter, within an hour much of the town was once again under control, and an estimated 200 Arabs were dead.

But the Dahmash Mosque, was still fighting, held by an estimated 70 fighters, and with an unknown number of others inside. Rather than launch a costly frontal assault, Lt. Col. Kelman decided to breach the mosque's walls with an anti-tank weapon, known as a PIAT, and then have a platoon rush the building.

After the PIAT was fired, the men that stormed the building found that the defenders were dead, killed by the effects of the armor piercing projectile in the confined space of the mosque. (Kurzman, p. 515-516)
As for Jews' long, rich biblical history in the city of Lod, Margalit reduced it down to the Jews' departure: "It is mentioned in the Bible as the place from which Jews fled after the destruction of Solomon's Temple."
By subordinating professional journalism to solidarity with Palestinians in pursuit of "Palestine from the river to the sea," The New Yorker further emboldens senseless hatred of and violence with American Jews.