"It's clear these leaders have no clue what's happening in Israel's largest city," veteran Ha'aretz writer Akiva Eldar charges in his March 22 Op-Ed, referring to Prime Minister Benjamin Netanyahu and President Shimon Peres. But one wonders whether it's not Eldar himself who hasn't got a clue when he writes in the very same paragraph:
For 17 years, since the days of the Peres-Yitzhak Rabin administration, holy places in the Old City have been closed to Muslim and Christian believers from the occupied territories. The only East Jerusalem residents allowed to enter the Temple Mount compound are women and the elderly.
In general, the thousands of West Bank Palestinians with permits to enter Israel (for work, study and other purposes) and all east Jerusalem Arabs, including men, have had free access to the Temple Mount over the last 17 years. There have been periods of heightened violence which prove to be the exception; at those times, access is usually limited to men over the age of 45 or 50 and women of all ages. An example of this restricted period fell earlier this month, as Hamas called a "day of rage," inciting violence on the Temple Mount and beyond. The fact that intermittent closures and restrictions are the exception, as opposed to the rule, is apparent from the media reports which note the beginning or the end of a more restrictive period. Thus, Akiva Eldar's own newspaper reported March 17, 2010:
Earlier Wednesday, Israel lifted its closure on the West Bank and granted open access to the Al-Aqsa mosque, with police saying that thousands of troops will remain on high alert but reported no disturbances. Israel originally sealed off the territory last week.
There are also periods of complete closure on the West Bank, such as during Jewish holidays, in which West Bank Arabs may not enter Israel aside from humanitarian cases. Yet even during a period of closure during the Jewish new year (Rosh Hashanah) which fell on September 2009, nearly 60 percent of the West Bank Palestinian population still had access to Jerusalem, according to the U.N.'s Office for the Coordination of Humanitarian Affairs (OCHA). The Sept. 16-29 "Protection of Civilians Report" by OCHA details:
While official figures are not yet available, observers report that fewer people were able to enter Jerusalem on the last Friday of Ramadan than the previous week. During the first, second and third Fridays, the Israeli authorities report that 60,000, 130,000 and 190,000 people entered, respectively. Access continued to be restricted to men over 50 and women over 45 years of age, and boys and girls under 12, who could pass without permits, and men between 45- 50 and women between 30-45 years of age, who are allowed to enter with special permits.
While periods of violence are accompanied by more stringent entry rules, Christian and Muslim holidays often are marked by a laxity in restrictions. Thus, on Dec. 23, 2009, the Israeli army spokesperson issued the following announcement regarding the unlimited quota of permits issued to Christian Palestinians:
Goodwill gestures include issuing an unlimited quota of one month-long permits for Palestinian residents of the Judea and Samaria region, allowing them entry to Israel for religious and family gatherings. More than 10,000 permits, valid between December 20th and January 20th were issued up to now.
Moreover, numerous photographs over the years from major news photo services show West Bank Palestinians on their way to the Al Aqsa Mosque. The following is a sampling of some of these images, reproduced with their original captions: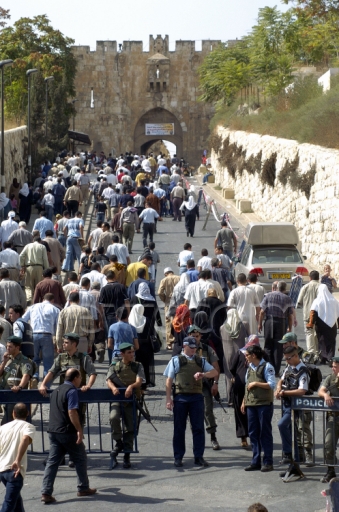 Tens of thousands of Muslim worshippers plow through the narrow streets of Jerusalem's Old City en route to the Al Aqsa Mosque on the Temple Mount for prayers marking the first Friday of the holy month of Ramadan. Israeli officials are concerned about worshippers praying in an area known as Solomon Stables, for fear of a catastrophic collapse from the weight of a great many people. Zuma photo, Oct. 15, 2004 (CAMERA notes: Even if all of these people are from eastern Jerusalem, and there is no way to know from the image, note the many men among them).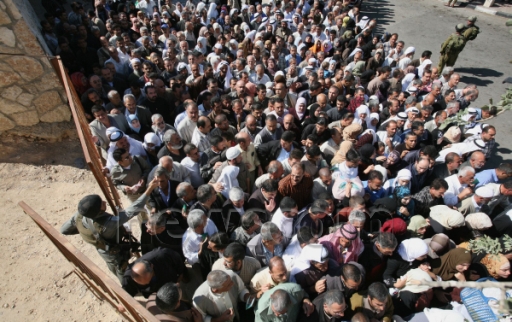 Palestinian worshippers wait to cross into Jerusalem at the West Bank town of Bethlehem checkpoint October 20, 2006. Thousands of Palestinians from West Bank are streaming to Jerusalem's Al-Aqsa mosque for Friday prayers on the last Friday of the Muslim fasting month of Ramadan. Reuters photo by Oleg Popov
Holding their ID cards Palestinian Muslim worshippers wait to cross at the Qalandia checkpoint in the West Bank between Ramallah to Jerusalem 08 October 2007, on their way to al-Aqsa mosque compound in Jerusalem's Old City to participate in the Al-Qadr (Qader) night which takes place on the last week of the holy Muslim month of Ramadan. . . . AFP photo by Menahem Kahana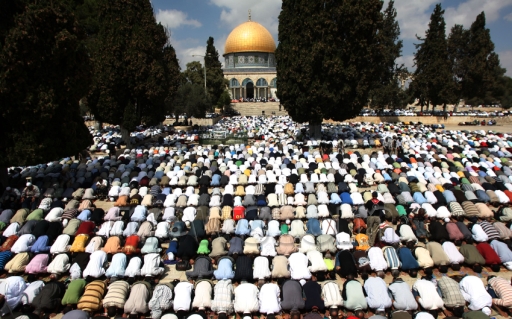 Palestinian worshippers pray outside the Dome of the Rock at the Al-Aqsa mosque compound in Jerusalem on September 19, 2008. Thousands of Muslim faithful have been crossing every week from the West Bank to attend Friday prayers at the Al-Aqsa, Islam's third holiest shrine, since the start of the holy month of Ramadan three weeks ago. AFP photo by Ahmad Gharabli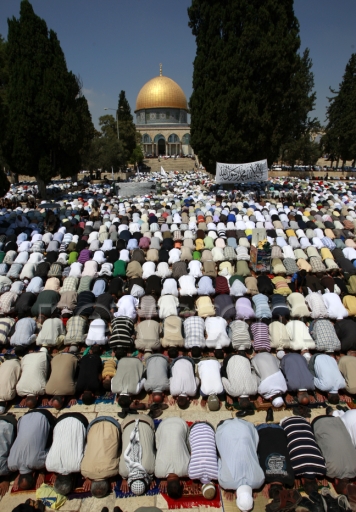 Palestinian worshippe rs pray outside the Dome of the Rock at the Al-Aqsa Mosque compound in Jerusalem during the second Friday prayers of Ramadan on September 4, 2009. Thousands of faithful Palestinians thronged the Al-Aqsa mosque compound in Jerusalem's old city to perform the second Friday prayers of the holy fasting month of Ramadan. AFP photo by Ahmad Gharabli
Before berating Israeli leaders and American-Jewish activists, most of who, in Eldar's words "have never come close to the Shoafat refugee camp," the Ha'aretz writer would do himself and his readers a service by visiting the Temple Mount and speaking with the thousands of West Bank Palestinians and east Jerusalem Arabs who regularly pray there.