UPDATE 7:30 am EST:
AP Corrects
In response to communication from CAMERA, AP a short time ago published a correction of the false report that Russia said Israel nearly shot down a passenger jet. See below for a detailed update.
AP coverage last week of Russia's claim concerning alleged Israeli involvement in the alleged near-downing of a passenger jet over Syria egregiously errs: "Russia says Israel nearly shot down passenger plane in Syria."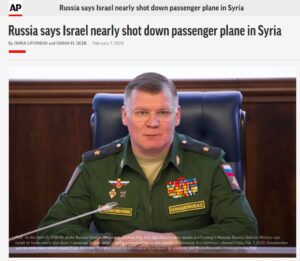 Likewise, the accompanying article errs: "Russia's Defense Ministry said Friday that Israeli air forces nearly shot down a passenger jetliner in Syria during a missile strike on the suburbs of Damascus a day earlier."
As was reported in countless other media outlets, and contrary to AP, Russia's claim was not that Israel nearly shot down the passenger plane. Rather, Russia charged that Syrian anti-aircraft defense systems nearly shot down the passenger plane while attempting to respond to Israel's attack on military targets.
The Russian army on Friday accused Israel of using a civilian plane carrying 172 passengers as a shield against Syrian anti-aircraft fire while carrying out air strikes near Damascus.

Israel's air force hit targets in the capital area at dawn on Thursday sparking a Syrian riposte, Russia's defence ministry said in a statement.
"At the time of the attack by Israeli planes... an Airbus-320 airliner was on approach to landing... in the death zone of air strikes and artillery," it said.

The "quick reaction" of air traffic controllers at Damascus airport enabled the A320 to leave the zone "which was in the firing line of Syrian anti-aircraft defence systems." (Emphasis added.)
Reuters likewise reported ("Passenger plane makes emergency landing to avoid coming under Syrian Fire: Russia"):
A passenger plane carrying 172 passengers from Tehran to Damascus made an emergency landing at the Russian-controlled Hmeimim Air Base in Syria on Thursday to avoid coming under fire from Syrian air defenses, Russia said on Friday.

The Syrian forces were responding to Israeli strikes on targets in Syria, Defense Ministry spokesman Igor Konashenkov was quoted as saying by Interfax and other Russian agencies.
A passenger plane with 172 people aboard made an emergency landing at a Russian military base in Syria on Thursday after drawing fire from Syrian air defenses in the aftermath of an Israeli airstrike in the area, Russian state news agencies reported on Friday.

A spokesman for the Russian Defense Ministry, Gen. Igor Konashenkov, blamed Israel for the near miss, accusing its military of habitually using civilian aircraft to "cover" its airstrikes and "block" Syrian air defenses from retaliating.
The Times account includes extensive rebuttal from Amos Yadlin of the Russian allegation that Israel uses passenger planes as civilian shields to carry out attacks in Syria.
CAMERA yesterday notified AP editors about the story's basic error, but as of this writing there is not yet a correction of this misreporting in which the news agency is more Russian than the Russians.
Update, 7:30 am EST: AP Corrects
A short while ago, in response to communication from CAMERA, AP has published a forthright correction noting that Russia had accused Syrian anti-aircraft, not Israeli fire, of nearly downing a passenger plane. Today's correction states:
In a story published Feb. 7, 2019, about a civilian airliner endangered by military action in Damascus, Syria, The Associated Press erroneously reported that a Russian Defense Ministry spokesman claimed Israeli military aircraft nearly shot down the airliner during a missile attack on Damascus suburbs. The spokesman, Maj. Gen. Igor Konashenkov, said the airliner was approaching landing at the Damascus airport while Syrian anti-aircraft units were firing to repel the Israeli attack.
We commend AP's responsible move to set the record straight. AP's correction appears on leading news sites including The New York Times, Washington Post, and Miami Herald.