Madonna's recent Eurovision performance, not easily viewable within the US, was widely reported to be, well, objectively not that good. Tragically, multiple sources reported that she sang off-key. Yet, in a May 19 article, Rolling Stone described her performance as "haunting."
The article itself was titled "Watch Madonna and Quavo Perform 'Future' in Controversial Eurovision Set," yet the embedded video of that song is blocked, ostensibly on copyright grounds.
The fact that the music magazine failed to inform readers about the music at a music event, however, is the least of the problems with the reporting in the article.
During her appearance, Madonna talked about "the power of music to bring people together." Reporter Ilana Kaplan characterized this statement as an "acknowledge[ment]" of the "divisiveness" of her performance, even though there's no evidence that is what Madonna meant. It seems more likely that was another expression of the same sentiment as when Madonna featured dancers with Israeli and Palestinian flags walking arm in arm.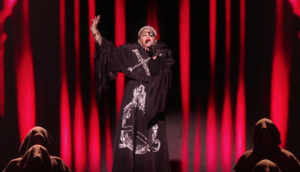 In fact, Madonna tweeted after the performance that she was "grateful. For the opportunity to spread the message of peace and unity with the world." Madonna used her performance to call for coexistence and engagement, which is, in fact, the opposite of what Boycott, Divestment, and Sanctions (BDS) proponents advocate. Rolling Stone, however, in covering the story, opted instead to amplify the divisive campaign for boycotting Israel.
Kaplan uncritically quoted the Palestinian Campaign for the Academic and Cultural Boycott of Israel, without any rebuttal, and even wrote in her own words that "Palestinians are being brutally oppressed" by Israel. It's unclear what makes Ms. Kaplan, an entertainment reporter, qualified to make such a determination. She failed, moreover, to quote any opponents of BDS, such as StandWithUs or Creative Community for Peace, to get a rebuttal to PACBI's statement. The effect was that Rolling Stone promoted BDS, a movement that has been called antisemitic by, among others, Senate Minority Leader Chuck Schumer and the German Parliament.
Earlier this year, Rolling Stone featured Congresswoman Ilhan Omar, a BDS supporter who has made numerous statements deemed by many to be antisemitic, on its cover. The publication then defended her in at least two articles from claims that she is anti-American, while ignoring that Omar herself made the exact same types of comments about American Jews. Is amplifying the claims of the antisemitic far-left going to be a new strategy for the publication going forward? Glamour and Teen Vogue, who both went down this road, both recently ceased print publication. Will Rolling Stone follow? Time will tell.