(See March 11 and March 12 Updates below.)
The cover of Rolling Stone is a place where we expect to see celebrities. It has featured icons such as Prince, Madonna, Jerry Garcia and Ringo Starr. But this month's cover features someone who is well on her way to becoming an iconic anti-Semite – Congresswoman Ilhan Omar.
In addition to the cover photo, and a cover line calling Omar a woman "shaping the future," the magazine features an interview with Omar, and she is one of four subjects of a glamorous video.
Despite a media attempt to downplay them, Ilhan Omar's anti-Semitic comments are by now well-known. In the congresswoman's fevered imagination, the world's only Jewish state has "hypnotized the world;" here in the US, AIPAC pays off American politicians. American citizens and lawmakers who support the world's only Jewish state and the Middle East's only democracy have pledged "allegiance" to a foreign power. These stereotypes are not just "hurtful" or "offensive" as they frequently have been characterized. They are dangerous.
Rahm Emanuel, former aid to Presidents Clinton and Obama and Democrat Mayor of Chicago, noted in the Atlantic that he "had to produce [his] U.S. birth certificate in [his] first run for Congress to disprove false assertions about [his] background and loyalties." He further wrote:
Whether consciously or not, Representative Omar is repeating some of the ugliest stereotypes about Jews—tropes that have been unleashed by anti-Semites throughout history. She is casting Jewish Americans as the other, suggesting a dual loyalty that calls our devotion to America into question. …

For centuries, this trope has been aimed at Jews in countries around the world. In embracing it, Omar is associating herself with calamities from the Spanish Inquisition to the Russian pogroms to the Holocaust. That's not historical company that any American should want to keep.
As the controversy over Omar's comments plays out, bookstores around the country are featuring her photo on the Rolling Stone cover. And just yesterday, Rolling Stone doubled down on its support for Omar by reposting, as a stand-alone item, its video in which she is featured.
Rolling Stone is a print and digital publication that marked its 50th year in 2017. That same year, according to the Financial Times, its founder Jann Wenner put his controlling interest in the publication up for sale due to:
circulation and revenue declines as the publishing industry moves from print to digital. In addition to those industry-wide trends, a scandal over its 2014 reporting of an alleged gang rape at the University of Virginia, which was found to be largely false, led to lawsuits, financial settlements and a tarnishing of the magazine's reputation.
Despite such setbacks, Rolling Stone told the Financial Times in 2017 it reached 60 million people per month. As of January of this year, the publication came under the full ownership of Penske Media Corporation.
Rolling Stone interviewed Omar, according to an Editor's Note, in January, prior to her comments about AIPAC and her comments about dual loyalty, but after her comments about Israeli hypnosis were known. Also known at the time was her admission, only after her election, that she supports BDS. BDS is a movement whose goal is to turn the world's only Jewish-majority state into the world's 57th Muslim-majority state; it has been called a "reinvented form of anti-Semitism" by Senate Majority Leader and fellow Democrat Chuck Schumer.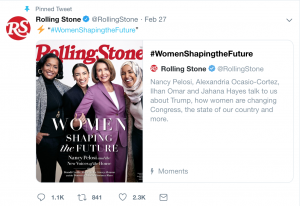 Since Omar's more recent comments, and even with former KKK Grand Wizard David Duke calling her "the most important member of the US Congress," Rolling Stone seems to be standing by its cover. The publication hasn't issued any statement distancing itself from Omar and is even keeping the cover pinned to the top of its Twitter page. As mentioned above, Rolling Stone reposted the video in which she is featured just yesterday.
Omar has been duly elected and is in our government, where she has already used her perch on the House Foreign Affairs Committee to accuse a Jewish government official of thinking that a massacre is a "fabulous achievement." (Bloodlust, of course, is another characteristic of the imaginary Jewish cabal that hypnotizes the world and buys politicians.) That she is in Congress is not something that Rolling Stone should necessarily ignore. But she should not be treated as a celebrity.
March 11 Update: Rolling Stone had no problem quickly condemning bigoted statements made about Congresswoman Omar, and pointing out that the statements were not accurate. On March 10, Politics Writer Peter Wade wrote:
Fox News's Jeanine Pirro is trying to use Islamophobia to make Americans fear Rep. Ilhan Omar (D-MN). In the opening segment of her show Saturday night, the fear-mongering former judge tried to connect Omar's hijab to sharia law, which she said is "antithetical to the U.S. Constitution."

Omar has recently been under attack for making anti-Israel remarks, which many have conflated with anti-Semitism. She also apologized for a tweet that evoked an anti-Semitic trope. But Fox News and other conservative media have been all too happy to misconstrue her remarks to paint Omar as anti-American because she does not unequivocally support the Israeli state. And they've been using anti-Muslim stereotypes to do it.
Later in the article Wade called Pirro's comments "disgusting."
Yet, not only has it still has failed to condemn the bigoted statements made by Congresswoman Omar, Rolling Stone wrongly calls them "anti-Israel remarks, which many have conflated with anti-Semitism." In fact, the comments that Omar made at the end of last month, for which she has not apologized, were comments challenging the loyalty of American Jews to this country. She also accused American citizens of paying off American lawmakers.
Why can't the magazine call out anti-Semitic comments just quickly and clearly as it calls out anti-Muslim comments?
March 12 Update: Rolling Stone has written again about Jeanine Pirro's comments about Congresswoman Omar, but again, failed to call out its own cover model's bigoted statements. This time reporter Ryan Bort wrote:
Many people continue to speak out about Rep. Ilhan Omar's comments about Israel. Lawmakers from both parties have issued statements condemning the freshman congresswoman's remarks, which were intended to point out the influence of pro-Israel lobbying in the nation's capital.
As noted above, however, Omar's comments were not "about Israel."
In a surreal turn, Rolling Stone also notes that:
On Monday, Omar thanked Fox News for condemning the remarks. "Thank you, @FoxNews. No one's commitment to our constitution should be questioned because of their faith or country of birth," she tweeted.
Of course, that's exactly what Omar has done to American Jews and other American supporters of Israel.