There's been much media fanfare about the first two Muslim women elected to Congress, Rashida Tlaib and Ilhan Omar. It's an important milestone, to be sure. Yet, much of the reporting has overlooked anti-Semitic comments made by both women.
Ilhan Omar has tweeted, "Israel has hypnotized the world, may Allah awaken the people and help them see the evil doings of Israel. #Gaza #Palestine #Israel.
This is a blatantly anti-Semitic comment, echoing tropes about Jews with superhuman powers, using those powers to commit or hide malfeasance. As John-Paul Pagano wrote in the Forward, "hatred of Jews stems from the belief that Jews are a cabal with supernatural powers; in other words, it stems from the models of thought that produce conspiracy theories."
Congresswoman-elect Omar clearly subscribes to this view. While the tweet is from 2012, she's neither deleted it nor apologized for it in the years since, despite the attention it has garnered from activists. On the contrary, this past May, when a Twitter user called attention to her 2012 tweet, she doubled down on it, writing, "Drawing attention to the apartheid Israeli regime is far from hating Jews. You are a hateful sad man, I pray to Allah you get the help you need and find happiness."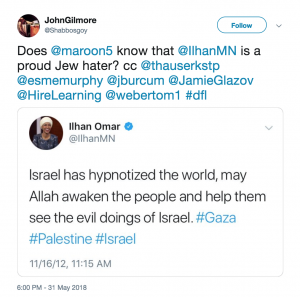 Rashida Tlaib endorses a so-called "right of return" for Palestinian refugees and millions of their descendants to Israel and a binational state in place of a Jewish state. This amounts to "denying the Jewish people their right to self-determination," which is considered anti-Semitic by the International Holocaust Remembrance Alliance, the US State Department, the US Department of Education, and the majority of the Jewish community. Tlaib also endorses the BDS movement.
Yet, a November 6 CNN article reported that,
Michigan Democrat Rashida Tlaib and Ilhan Omar, the Minnesota Democratic-Farmer-Labor Party's nominee, will secure their respective seats in strongly Democratic districts following primary victories earlier this year that effectively decided their races.
Regarding Omar, the article reported,
Omar, in addition to being one of the first Muslim women in Congress, will also be the first Somali-American member. She came to the US more than two decades ago as a refugee. Tlaib actually campaigned with Omar ahead of the latter's primary race earlier this year.

Omar also had the backing of [Alexandria] Ocasio-Cortez in her primary race, and she will come to Congress having been an open critic of the Israeli government's treatment of Palestinians.

Omar will take the seat vacated by Minnesota Rep. Keith Ellison, the first Muslim elected to Congress. Ellison is leaving Congress as he vies to become Minnesota attorney general.
The claim that "Israel has hypnotized the world," is whitewashed by CNN as "open critic[ism] of the Israeli government's treatment of Palestinians."
Regarding Tlaib, the same article continued,
Tlaib is endorsed by the Democratic Socialists of America, a burgeoning left-wing group that also counts New York Democratic congressional nominee Alexandria Ocasio-Cortez among its members. …

Tlaib will fill the seat formerly occupied by Michigan Democratic Rep. John Conyers, who left office last year amid accusations of sexual misconduct. She ran unopposed on the general election ballot following her primary win.

Tlaib is the daughter of Palestinian immigrants and became the first Muslim female member of Michigan's state legislature a decade ago. A self-styled progressive, Tlaib is a vocal critic of President Donald Trump and was arrested two years ago for disrupting a Trump speech in Detroit.
In both cases, no mention was made of the newly-elected Representatives' anti-Semitic views.
In addition, CNN opinion contributor Naaz Modan, communications manager for the Council on American-Islamic Relations, wrote two days later that "The nation watched on Tuesday night as Rashida Tlaib and Ilhan Omar, two Muslim-American women, made history alongside many other trailblazers. At the same time, the nation also saw a striking number of Islamophobes get voted into public office." While the piece showed much concern over Islamophobia, it made no mention of Omar's conspiratorial anti-Semitism or Tlaib's denial of the Jewish right to national self-determination.
Meanwhile, a November 7 Newsweek headline read, "From Alexandria Ocasio-Cortez to Ilhan Omar: 10 Women Who Will Change America." The article crowed, "here are 10 of the women who have already changed America by making history in the 2018 midterms." Tlaib and Omar were the first two listed.
Democrats Rashida Tlaib and Ilhan Omar have become the first Muslim women to be elected to Congress, in Michigan's 13th District and Minnesota's 5th District, respectively.

Both women also marked other historical firsts, with Omar becoming the first Somali-American candidate elected to Congress and Tlaib becoming the first Palestinian-American to serve in the lower chamber.

Omar tweeted congratulations to Tlaib, writing: "Congratulations to my sister Rashida Tlaib on your victory! I cannot wait to serve with you, inshallah."
Once again, no mention was made of the women's anti-Semitic views.
The fact-checking website Snopes acknowledged Omar's tweet, but characterized it as merely "critical of Israel." Snopes then reported that "Omar has denied that her criticisms of Israel are rooted in anti-semitism," but did not bother to fact-check her denial.
In an article datelined November 7, but which appears to have been written prior to the general election and only partially updated, Vox explained, "Omar said President Trump's 'politics of fear' motivated her to get in the race." Yet, again, there was no mention of Omar's politics of anti-Semitism.
Tlaib's views have not been completely ignored. The Washington Post reported,
Tlaib is the oldest of 14 children born to Palestinian immigrants and is the second Palestinian American elected to Congress, after Michigan Republican Justin Amash, BuzzFeed reported. The news site said she was criticized by some Palestinian activists for being too engaged with pro-Israel lobbyists and by some left-leaning Jewish activists for her call for a one-state solution to the Israeli-Palestinian conflict.
In October, before the general election, the New York Times mentioned Omar's claim that "Israel has hypnotized the world," but bizarrely failed to actually attribute the comment to her by name. The Times also failed to note the anti-Semitic nature of the comment, characterizing it as criticism of Israel. In the immediate aftermath of the election, the only mainstream news outlet that appears to have mentioned Omar's comments and identified her as the person who made them is the New York Post.
Notably, a few days after the election, Omar backtracked on campaign statements indicating that she did not support the anti-Semitic BDS movement. This seems to have sparked some criticism of her views. The Associated Press and two local Minneapolis news sources reported on the backtrack, and belatedly included mentions of her 2012 tweet. All three, however, failed to explain the tweet's significance. And, Times of Israel reported the about-face under a headline that referred to Omar merely as an "Israel critic."
It ought to be possible for media to acknowledge the milestone that these women have crossed, while still presenting a full and accurate picture of their views.