On June 17, 2007, a new Palestinian government was sworn in and Mustafa Barghouti, the Minister of Information, was out. Until then, he served up misinformation with "help from volunteers." Barghouti recruited them from the Palestinian public and local media. Speaking in Arabic at a May 10, 2007 press conference in which he accused Israel of targeting infants and children, Barghouti
urged the local media and the citizens to cooperate with the Information Ministry to document and expose Israel's crimes and violations and to provide the ministry with any pictures and videos documenting these crimes and violations so that it can convey them to the world as part of its plan to show the world the truth. (Al-Hayat al-Jadidah Website in Arabic, May 11, 2007, translated by BBC Monitoring Service)
A Case in Point
The Palestinian Ma'an news agency, independent journalists, Palestinian NGOs and other "volunteers" apparently heeded Barghouti's call for cooperation when Omar Abdel-Halim was killed in a gunfight with Israeli troops in broad daylight May 29, 2007 on a busy Ramallah street. Unfortunately for Barghouti, though, they couldn't get their stories to match up, with the NGO Al Haq, in particular, elaborating on Barghouti's version of what happened.
Barghouti is a leading source behind claims that Israeli forces, including an undercover unit, "executed" the fleeing 22-year-old, shooting him multiple times and kicking his body "to confirm the kill." (Abdel-Halim's age is unclear. The Palestinian Center for Human Rights, for example, states that he is 28.)
According to the Israel Defense Forces:
The force identified Abed Al-Halim aiming his AK-47 assault rifle at them and opened fire at him. Abed Al-Halim attempted to flee the scene. Forces fired at him once more and identified hitting him. The soldiers ceased fire at the moment Abed Al-Halim no longer posed a threat to him. . . ..

During the operation, shots were fired and stones were hurled at the Border Police force, which responded with warning shots and specific fire at an identified source of fire. The IDF has received no information regarding civilian injuries and no such claims were registered with the DCO.
In Barghouti's telling, however, there was no shooting on the part of any Palestinians.
The Agence France-Presse and CNN referred briefly to what they called Barghouti's "claims" and included an Israeli response. News outlets that relied on sources other than Barghouti reported the shooting as having taken place during "clashes," meaning a mutual exchange of fire. For instance an AFP photo caption and story both state that Abdel-Halim "was killed when Israeli soldiers clashed with militants during an incursion at Ramallah, Palestinian sources said." An AP photo caption reads: "A gunfight broke out, and he was killed, Palestinian hospital officials said." The New York Times says he was killed in a "shootout," and Ha'aretz reports that a "gun battle erupted."
However, Barghouti's account received a great deal of attention from the Palestinian Ma'an News Agency and was reported in detail by the Financial Times ("Israelis carry out 'execution in West Bank," Harvey Morris, May 31, 2007). Barghouti again repeated his account briefly in an Op-Ed that was published June 9, 2007 in the International Herald Tribune ("Targeted Killings Won't Bring Peace"). He wrote:
Last week in Ramallah's central square, in broad daylight, Israeli undercover forces shot a fleeing 22-year-old, Omar Abu Daher, in the leg. After he fell, and was entirely vulnerable to arrest, an Israeli assassin shot him in the back of the head from close range, then kicked his body, apparently to confirm the kill.
Al Aqsa Brigades Membership Concealed
Neither the document released by Barghouti's Ministry of Information on the death of Omar Abdel-Halim (aka Omar Abu Daher, or Abu-Dhafir, aka Omar Thahir Abdul Jalil, and dubbed the "Tiger,"), nor Barghouti's Op-Ed in the International Herald Tribune, included the fact that, in addition to being a member of the Palestinian Authority's Force 17 presidential guard, Abdel-Halim was also a member of the Al Aqsa Martyrs Brigades, considered a terrorist organization by the European Union, the United States and Israel. This fact was widely noted elsewhere, including by the Palestinian Centre for Human Rights and the New York Times. And, according to a report in Ha'aretz, Abdel-Halim "had been involved in recent shooting attacks in the Ramallah area."
The Financial Times and Ma'an followed Barghouti's lead and likewise concealed the slain man's Al Aqsa affiliation. Morris, of the Financial Times, wrote only that Abdel-Halim "was a lieutenant in Force 17, an official security unit loyal to Mahmoud Abbas."
And though a very brief initial report on Ma'an's Web site, documented by the BBC Monitoring Service, identified the dead man as "an Al-Aqsa Brigades activist, Umar Thahir Abd-al-Jalil, known as 'Tiger'" (16:00 gmt), his affiliation with Al Aqsa Brigades was subsequently expunged from Ma'an reports. For example, Ma'an's full report on the firefight, identified Abdel Halim only as a member of Force 17. It mentioned without explaining that "the Fatah-affiliated Al Aqsa Brigades threatened revenge for Abdul-Halim's murder . . . " It is doubtful that even those reading between the lines would glean that Brigades members were particularly incensed because Abdul Halim was one of their own.
Was Barghouti A Witness?
It is not clear that Barghouti actually witnessed the shooting, despite the fact that he repeatedly described the events. Morris, of the Financial Times, reported:
An Israeli undercover squad shot dead an off-duty Palestinian security man at point-blank range during a daylight raid on Ramallah in what Mustafa Barghouti, the Palestinian information minister present at the scene, described yesterday as an extrajudicial execution.
However, thirteen paragraphs later, Morris noted:
Dr. Barghouti, an independent member of the Palestinian Authority coalition cabinet and head of a medical charity, was in nearby offices when the shooting took place.
If Barghouti was in "nearby offices," how could he have been "present at the scene"?
Countless Contradictions
There were many other contradictions between—and even within— the individual reports, including those that cited Barghouti. In fact, the inconsistencies were as abundant as Abdel-Halim's names and their various spellings. Information Minister Barghouti, however, seemed unbothered by the contradictions, focusing only on indicting Israel.
Abdel-Halim's Death
On the circumstances of Abdel-Halim's actual death, Barghouti claimed that soldiers kicked him "to confirm the kill." Ma'an also cited Al Haq, a Palestinian organization that "took eyewitnesses' testimonies":
As he attempted to escape on foot he was shot in the neck by a uniformed soldier, and fell to the ground. Other sources have said that he was first shot in the leg before being shot in the head at point-blank range.

Al-Haq says that after Abdul-Halim fell to the ground, an undercover soldier in civilian clothes then shot approximately six bullets into his body, finally kicking him to make sure that he was dead. According to Palestinian information minister, Dr. Barghouti, quoting another Palestinian human rights NGO, 22 shots were fired into Abdul-Halim.
The Financial Times stated:
Uniformed soldiers then fired into the body of Mohamed Abdul-Halim, 24, and kicked him to make sure he was dead, according to witnesses who have given statements to a local human rights organisation.
Although both Ma'an and the Financial Times, citing supposed eyewitness testimony given to local Palestinian NGOs, reported that Abdul Halim was kicked after his death, they apparently disagreed on whether one or more uniformed or undercover soldier kicked Abdel-Halim.
In fact, Associated Press photographer Muhammed Muheisen shows that both these versions are false. Abdel-Halim did not die at the scene of the shooting!
The caption under Muheisen's photograph showing Abdel-Halim being taken on a stretcher to the hospital reads:
Palestinian medics push a stretcher carrying Al Aqsa Brigades militant Omer Abu Daher, who later died, into hospital in the West Bank city of Ramallah, Tuesday, May 29, 2007. An undercover Israeli army unit entered a restaurant in the West Bank city of Ramallah to arrest the wanted militant. A gunfight broke out, and militant – a member of the Fatah-linked Al Aqsa Martyrs' Brigades – was killed, Palestinian hospital officials said. Dozens of troops rushed to the scene to evacuate the forces when residents threw stones at them.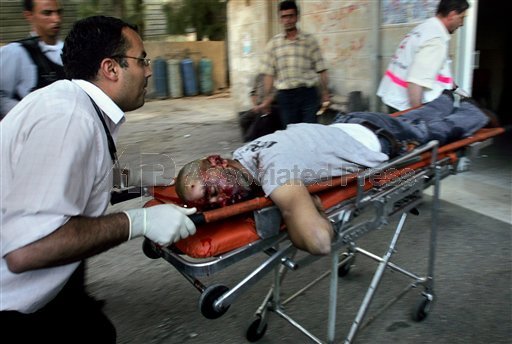 Indeed, the medic pushing Abdel-Halim's stretcher appears to be rushing. Why would he rush if the man on the stretcher is already "confirmed" dead?
How credible then is Barghouti's claim of a "kick" in order "to confirm the kill"?
Were Forces Inside or Outside?
Various accounts disagreed about how the incident started, contradicting each other as to whether the Israelis were in uniform or undercover forces and whether they were positioned inside or outside. According to the Financial Times, neither of the two Israeli forces were positioned inside at the start of the fighting:
The witnesses said Halim was in civilian clothes, wore a holstered service weapon and was carrying an AK-47 as he left the Nazareth restaurant in the West Bank city's main shopping street at about 5:45 pm on Tuesday.

Samer Burnat, a taxi driver, said his vehicle was forced to a halt by a white van bearing Palestinian number plates.

"The rear doors burst open. There were uniformed Israeli soldiers in the back. They shouted at the man to stop but instantly opened fire as he turned away from them. They hit him once in the back of the head and once in the neck. . . .

They shouted at the man to stop but instantly opened fire as he turned away from them. They hit him once in the back of the head and once in the neck. . . .

Hassan Fattouh, an employee of the Nazareth restaurant, said Halim was a regular customer.

The undercover squad's van had been parked outside the premises as he left with a companion. Israeli undercover personnel wearing civilian clothes put on police baseball caps as they left their vehicles and covered their faces.

Bystanders were bundled into nearby premises or handcuffed in the street.
In contrast, CNN reported that according to Barghouti, the Israeli special forces were positioned inside the building:
The [Palestinian] Information Ministry said Barghouti was at the scene of the firefight, which began about 5:45 p.m., on Ramallah's main street. Israeli special forces had entered a building "full of civilian shoppers and passers-by" and took positions beneath the offices of the Health, Development, Information and Policy Institute, the ministry said.
The Palestinian Center for Human Rights contradicted both the Financial Times and CNN, saying the special forces were the ones who pulled up and began shooting:
At approximately 17:00 on Tuesday, an IOF undercover unit moved into Ramallah, traveling in a civilian vehicle with a Palestinian registration plate. The car stopped in Rukab Street in the center of the town. IOF [sic] soldiers in civilian clothes got out of the vehicle and opened fire at 3 Palestinian militants who had just got out of al-Manasra Restaurant.
So, who was shooting? Uniformed troo ps or undercover troops? Were the troops inside or outside? Did the troops take position and stake out the suspect who exited the restaurant or did they pull up and shoot immediately?
Access for Ambulances
The accounts differ significantly as to whether or not the IDF prevented ambulances from arriving at the scene to care for the approximate four reported wounded (and maybe Abdel-Halim himself). Ma'an cited Al-Haq, the Palestinian organization collecting testimony about the killing:
two ambulances from the Palestinian Red Crescent Society attempted to reach the area to provide medical assistance to the injured, but were ordered at gunpoint to stop by the Israeli forces. When the ambulances tried to proceed, the Israeli soldiers opened fire and one of the ambulances was hit in the tyres. Consequently it was immobilised and could not reach the injured.
Yet, a photograph by Martina Iannizzotto, posted in different places on the Intenet, shows a Palestinian ambulance loading Abdul-Halim next to an Israeli military ambulance.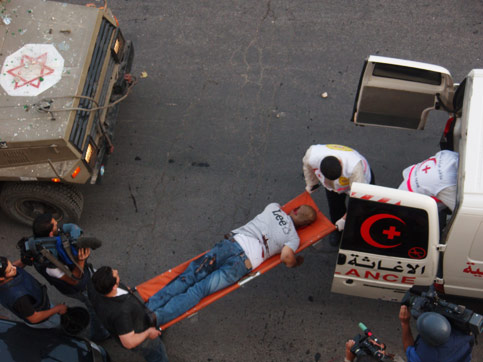 The Palestinian Red Crescent Society provides further evidence that the IDF did not block the approach of an ambulance, either by gunpoint or even verbal abuse, comes by way of itself. The PRCS provides detailed monthly reports on interferences with or attacks on ambulances, including physical abuse, verbal abuse, and ambulance damage. Only one incident was reported for May 29, and it was in the Bethlehem area, not Ramallah, and that ambulance was headed for Augusta Victoria Hospital, not Sheikh Zayed hospital. It was reportedly denied access but did not even suffer verbal abuse, never mind a shot out tire.
Al-Haq's claims about the ambulance are simply fabrication, but this wouldn't be the first time that the NGO has been discredited.
Barghouti's Organization: A Hub for Palestinian NGOs
Barghouti may be out of the government, but it's unlikely he will take a break from his disinformation work. As his bio notes:
Dr. Barghouthi is also a founder and [former?] director of the Health, Development, Information and Policy Institute (HDIP), in Ramallah. HDIP is a policy think-tank and a leader in the field of health and public policy research. In addition to its other functions, HDIP houses the Palestine Monitor, an information clearinghouse on behalf of the Palestinian NGO Network, a cluster of 93 Palestinian NGOs. The Palestine Monitor was launched at the beginning of the current intifada (uprising) in order to convey unified responses from Palestinian civil society about local developments and to provide objective and accurate information to the press and international community. Its website is now one of the most popular Palestinian websites worldwide (more than 1.5 million hits per month).
In other words, Barghouti has potential influence over nearly 100 Palestinian NGOs which serve as sources to the international media. But as the case of Abdel-Halim indicates, the media should be beware of information from these sources.