Following CAMERA's communication yesterday with Agence France Presse and Al Jazeera concerning news reports which falsely alleged that Israel had caused flooding in the Gaza Strip by opening dams, the French wire service has pulled its video from several Web site, and both news outlets have issued updated reports casting the false Palestinian charges as a "he said/she said" dispute, as if the facts could not be determined.
As of press time, neither media outlet has published a correction making clear that their earlier reports which had stated as fact that Israel caused flooding in Gaza by opening dams were false.
AFP's video was accompanied by the caption "Gaza village flooded as Israel opens dam gates," and includes an accusation by Ead Zino, a resident of Al-Maghraqa: "Every four years there is a war but here in Maghraqa every year there is a flood. This water comes from Israel. This is political. All Israel wants is to destroy us." (In fact, Ead Zino referred in Arabic to "the Jews," but AFP translates him as referring to Israel.)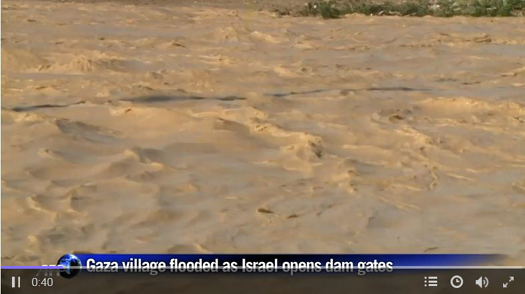 As we reported yesterday, AFP apparently decided to pull its video claiming Israel flooded Gaza by opening dams. Pages hosting the video on the AFP website, YouTube, and Yahoo News are now out of commission.
But there has been no AFP correction.
In addition, yesterday evening, AFP issued a news advisory yesterday evening at almost 10 PM GMT stating that in the previous 12 hours, the following video had been filed: "GAZA CITY: Parts of the Gaza Strip suffer serious flooding but Israel has strongly denied allegations from Gazan civil defence officials that the flooding was caused by the release of waters from a dam on the Israeli side of the border." We have not yet seen any AFP video which matches this description. In any event, the description provided appears to adopt a "he said/she said" approach to the blatantly false Palestinian charge.
Al Jazeera has also failed to correct. Instead, it has quietly amended its original article which had reported as fact that Israel caused the flooding by opening dams, and it now reports the false Palestinian charges as a "he said/she said" dispute, as if it cannot be determined who is lying and who is telling the truth.
The original Al Jazeera headline was "Gazans flee floods caused by Israel's dams opening." The original subheadline had read: "Palestinians were evacuated from their homes after Israeli authorities opened a number of dams flooding the Gaza Valley."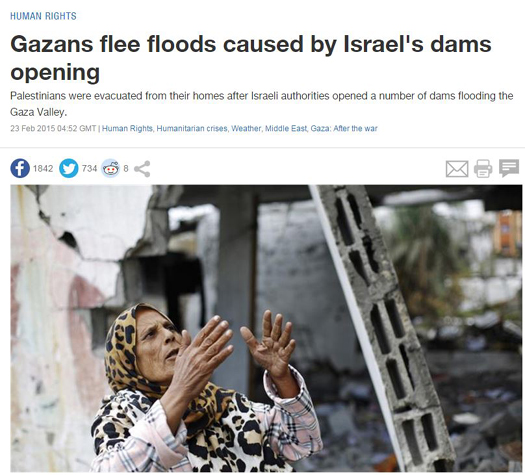 The amended headline now reads "Israel denies causing Gaza floods by opening dams," and the subhead was shortened to "Palestinians have been evacuated from their homes after heavy rains flood Gaza."
Likewise, the text of the article was completely revamped, and the new lead is: "Israel has rejected allegations by government officials in the Gaza strip that authorities were responsible for released storm water flooding part of the besieged area."
The updated version also adds:
The claim is entirely false, and southern Israel does not have any dams," said a statement from the Coordinator of Government Activities in the Territories (COGAT).

"Due to the recent rain, streams were flooded throughout the region with no connection to actions taken by the State of Israel."
The original article had not included any of that information, and did not include any Israeli response to the unfounded Palestinian claim. The original lead stated as fact: "At least 80 Palestinian homes have been flooded after water levels in the Gaza Valley (Wadi Gaza) rose to almost three meters, forcing families to evacuate after Israeli authorities opened several dams."
In the updated version, Al Jazeera did not append any correction or clarification alerting its readers to the fact that its original report had been false, and that the story has been drastically changed.
Generally, journalists resort to "he said/she said" formulation when the facts cannot be determined. But the facts, in this case, are known. It is a fact that there are no dams in southern Israel which can be opened and closed, and journalists can easily confirm the information. Notably, Gazan officials have not disclosed which dams were supposedly opened. They haven't, because they can't, since the alleged dams do not exist.
Given that it is a fact that there are no such dams in southern Israel (and not just an Israeli claim), Al Jazeera and AFP owes news consumers a straightforward correction making clear that the Palestinian fabrication that Israel flooded Gaza is just that.
March 1 Update: AFP Sets the Record Straight on Gaza Flooding