In his "Twilight Zone" column this weekend," Haaretz's Gideon Levy describes his visit to the homes of Palestinian assailants who carried out attacks last week. ("For Families of Palestinian Assailants, Grief, Pride and Unanswered Questions," Sept. 23).
Levy spoke with relatives of Muhammad Thalji al-Rajabi, 15, who was fatally shot by Israeli soldiers after wounding a soldier in a stabbing attack on Sept. 16. Levy writes:

Last Friday, he joined his father for prayers in the mosque; after lunch, he told the family he was going to visit his cousins. Nothing in his behavior betrayed what was about to happen. He left his cell phone at home — but that was not unusual, his father says. He didn't always take it with him.
And later:
When asked what prompted his son to pick up a knife and go to stab soldiers, Kayed [the terrorist's father] says, "only God knows." Nothing in the boy's behavior hinted that he was about to commit the deed. "Everyone talks about the occupation all the time," he says, "but nothing beyond that…"
Did nothing at all hint at what was to come?
A look at what the terrorist published on his Facebook page puts [his father's] statement into a perplexing light:
In January of this year, Rajabi posted a picture of the terrorist Bayan Ayman al-Esseili, who, on Oct. 17, 2015, attempted to stab a border police officer in the neck at a checkpoint in Kiryat Arba. The border policewoman pushed the terrorist and fired at her. Al-Esseili was killed in the shooting. Rajabi captioned the photo: "The daughter of honor calls out to our honor."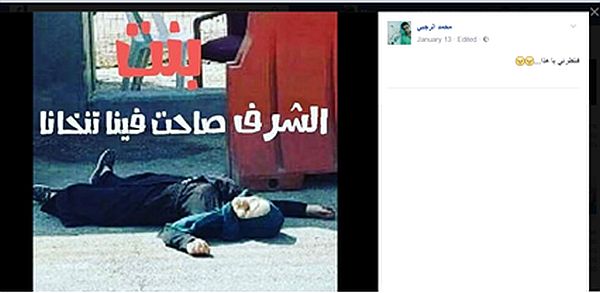 In July of this year, Rajabi posted a picture of his friend, Izz-al-Din Abu Shachdam, who, on Oct. 27, 2015, stabbed a soldier at the Gush Etzion junction. The caption on the photo read, "You enchanted my soul, Shahid."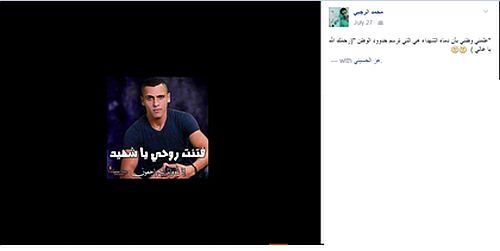 Admiration for "martyrs," therefore, was not foreign to Rajabi. So is it really true that "nothing in his behavior hinted" at his planned attack?
On September 14, 2015, two days before he left to carry out his terrorist stabbing, Rajabi posted on his Facebook page a picture of himself posing beside a row of photographs of "martyrs" (as Palestinians refer to terrorists who are killed). This also served as his profile picture.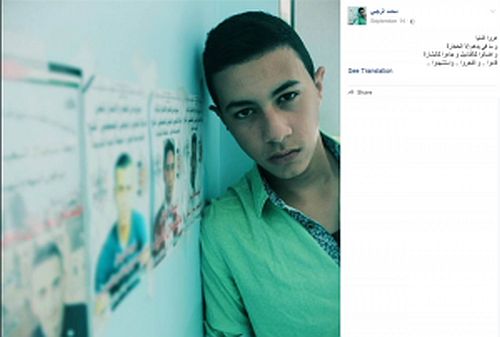 Alongside the photo, he quoted a verse from a poem called "Children of the Stones" by the Syrian poet Nizar Qabbani:
They lit up the world…And in their hands they had nothing but stones…Like lamps they glowed, they were prepared…They struggled…They exploded…They became shahids. (martyrs)
As even Levy mentioned, two days after Rajabi's terrorist attack, two other members of his family went to carry out a stabbing attack in the Cave of the Patriarchs. They were shot and killed. So what prompted them go out and stab soldiers? Only God knows?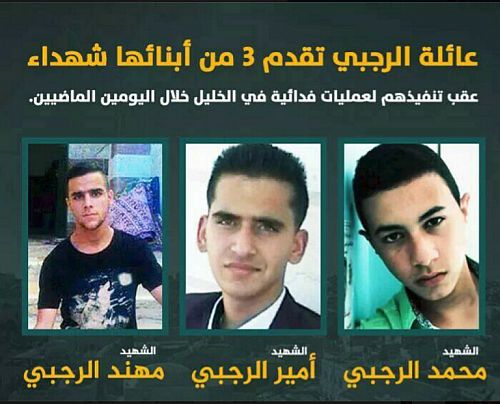 A poster of the three "shahids" from the al-Rajabi family who carried out "acts of heroism" in Hebron.
Gideon Levy chose not to respond.