As with every major news episode, Ha'aretz's sales team kicks into full gear promising its English readers a great deal. With the ongoing Syrian crisis and a possible American strike, marketing materials boast "in-depth analysis and comprehensive coverage [that] will keep you informed around the clock."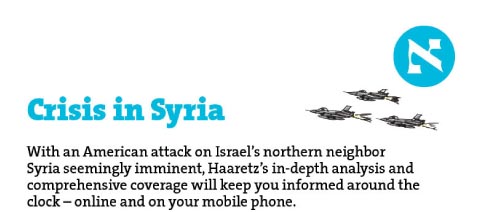 Unfortunately, though,
Ha'aretz
's English translators yet again undercut the lofty promises, delivering shoddy, inaccurate content. The latest example of what we call "
Ha'aretz, Lost in Translation
," in which
Ha'aretz
translators introduce false information about Israel that did not appear in the original Hebrew edition, is the following headline, which appeared on
Ha'aretz
's English Web site yesterday:

The accompanying
article
, by Gidon Levy, about Sister Agnes-Mariam de la Croix, a resident of Syria and a supporter of Bashar Assad who recently visited Israel, does not at all support the notion that she accused Israel of anything. Instead, it describes her fear of the jihadists which she says dominate the rebels, and accuses them of fabricating atrocities to frame the Syrian leader. She also charges the United States of acting out of self-interests, and of fueling "a regional war to support radical Islam."
As for Israel, the nun is surprisingly positive, not accusatory. Levy writes: "When I was introduced to her, she told me she loved Israel and that the Jews should serve as a light unto the nations."
Similarly, the Hebrew headline (and
article
) make no suggestion that Sister Agnes-Mariam was accusing Israel at all. It appeared as follows:

It states (CAMERA's translation):
A nun from Syria visiting Israel: An American attack would prove disastrous

Sister Agnes-Mariam worries that an attack would turn Syria into Afghanistan and ignite a regional war; She claims that 150,000 Jihadi fighters from 80 countries already rule the majority of the country's populated areas
In addition, translators and editors of the English print edition managed to get the headline right. The following headline, noting that the nun accuses jihadists and the U.S. (not Israel), appeared on the top of page 4 yesterday:
So how did translators get it wrong in the online edition? One possibility is that an incompetent translator confused the Hebrew verb livaker, which can mean "to visit" or "to criticize," depending on the context. If that's the case, than the errant translator transformed the nun who was visiting Israel into the nun was criticizing Israel.
CAMERA's Israel office has contacted Ha'aretz editors, who have promised to look into the matter. Stay tuned for news of a correction. (For earlier Ha'aretz corrections prompted by CAMERA see here.)
For the Hebrew version of this post, please see Presspectiva.
Update: 5:07 a.m. EST: Ha'aretz Corrects Erroneous Headline
Shortly after CAMERA contacted Ha'aretz about the erroneous headline, and minutes after this original post was published, editors commendably fixed the error. The following headline now appears:
In addition, the following notice appears at the bottom of the article: