Ha'aretz, it seems, has not learned its lesson. A few weeks ago, the Israeli daily published a series of articles giving voice to Israeli reservists who weeks after serving in Operation Cast Lead alleged war crimes, including indiscriminate killings. Within days, the reported atrocities were found to be nothing more than rumors which the soldiers heard but did not see. By then, however, the claims had been repeated in media outlets around the world, and featured prominently in the New York Times.
This week,
Ha'aretz
again embroils itself in a campaign of erroneous accusations about Israel, this time concerning Israeli restrictions on goods entering the Gaza Strip. A May 17 page-three
article
by
Amira Hass
carries a double-decker seven-column headline proclaiming: "Israel forbids books, clothing and musical instruments to be brought into Gaza Strip." The subheadline adds: "Only 30-40 commercial items allowed in, compared to 4,000 before Shalit abduction." The article is accompanied by a box entitled "Forbidden items: Some of the items banned from the Gaza Strip," illustrating items such as toys, clothing and shoes and electrical appliances.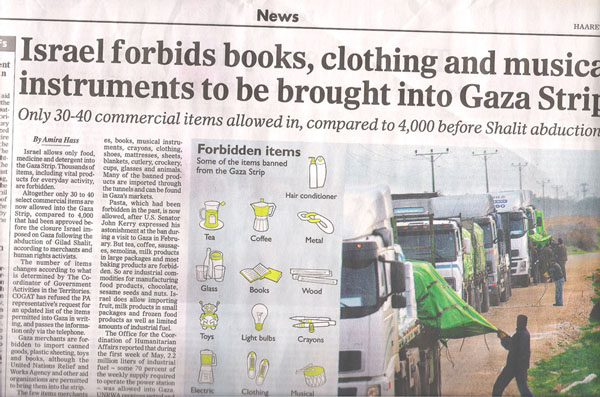 Two days later, the news article was followed by an even more extreme editorial headlined "Senseless in Gaza," (May 19), claiming:
Anything that isn't listed as food, medicine or detergent is banned. . .

The crossing between Gaza and Egypt is closed, leaving only the Nahal Oz crossing for necessary items. . .

Even worse – imposing a siege on more than 1.5 million people who cannot build their homes, start up their cars, provide their babies with diapers and baby food, use toilet paper, wash and even read books is inhuman, immoral and a violation of UN regulations.
The factual errors and misrepresentations in both the news article and the Op-Ed are manifold. Has Israel banned toys, books, diapers and toilet paper? A careful reading of Hass' article belies the huge, flashy headline, the highly visible illustrative box and the finger-wagging editorial.
Readers who get to the fourth paragraph of Hass' article learn that in fact:
Gaza merchants are forbidden to import canned goods, plastic sheeting, toys and books, although the United Nations Relief and Works Agency and other aid organizations are permitted to bring them into the strip.
In other words, prominent Ha'aretz headline and angry editorials notwithstanding, toys and books are permitted into the Gaza Strip. The restrictions on toys and books apply to private merchants, not international aid organizations. Yet, Hass buried this vital information three paragraphs after her introductory paragraph, which misleads: "Israel allows only food, medicine and detergent into the Gaza Strip. Thousands of items, including vital products for everyday activity, are forbidden."
A Dirty Business: Diapers and Toilet Paper
Ha'aretz's editorial writers embellish on Hass' already misleading article, alleging that diapers and toilet paper are also prohibited from entering the Gaza Strip.
Unfortunately for Ha'aretz, though, the Palestine Trade Center (PalTrade) contradicts that claim. PalTrade publishes detailed monthly reports about the Gaza crossings. Page 7 of the April 2009 Gaza Crossings Monthly Monitoring Report states:
Table 4, below, itemizes the most recent (March 14, 2009) goods allowed to cross into Gaza through Karem Abu Salem, in addition to wheat and animals feed which is allowed to enter Gaza through Al Montar crossing.
The list includes both diapers and toilet paper. According to PalTrade, personal care products make up 21 percent of the imported goods in April 2009.
Cross-Eyed on Crossings
Ha'aretz again demonstrates its nimble ability to get the facts wrong in stating: "The crossing between Gaza and Egypt is closed, leaving only the Nahal Oz crossing for necessary items. . . " In fact, as PalTrade details, Nahal Oz crossing is not the only crossing for importing items to Gaza. The two other crossings are Al Montar and Karem Abu Salem (Kerem Shalom). PalTrade wrote about the activity of these three crossings for the month of April 2009:
Al Montar Crossing Conveyor Belt was open for 8 days (around a third of the scheduled days) and processed imports of 554 commercial truckloads of wheat and animal feed.

Karem Abu Salem Crossing was open on all scheduled days and processed imports of 1,902 truckloads, primarily of food, and export of 5 truckloads of carnation flowers. . . .

Nahal Oz Crossing processed imports of 9.22 million liters of industrial gasoline and 2.5 million kg of cooking gas, not including imports for UNRWA. . . .
Adding Fuel to Fire
Hass also gets her numbers wrong when it comes to industrial fuel needed to run Gaza's power plant. She writes:
The Office for the Coordination of Humanitarian Affairs reported that during the first week of May, 2.2 million liters of industrial fuel – some 70 percent of the weekly supply required to operate the power station – was allowed into Gaza.
If this is correct, then Gaza's power plant requires 3.14 million liters of fuel every week. Yet, Palestinian sources put that figure at much less. According to Table 2 of the PalTrade report, in April 2009, Israel imported 9,229,37 liters of industrial gasoline, meeting 90 percent of the estimated monthly need of 11 million liters. Extracting from this information, Gaza's power plant requires 2.6 million liters of f uel per week. Thus, when Israel gave the Gazans 2.2 million liters the first week of May 2009, it provided them with 86 percent of their needs — not 70 percent as Hass states.
The information in PalTrade noting that Israel provided for some 90 percent of Gaza's needed industrial fuel supply is also confirmed by a Jan. 6, 2008 affidavit to the Israeli High Court, signed by Rafiq Maliha, the project manager of the Gaza Power Generating Company, who declared under oath that "If the power plant was allowed to receive 360,000 liters daily, it would be able to operate the two gas turbines at full capacity (65 megawatts.)." Based on Maliha's figure, the power plant requires 2.52 million liters a week, which is consistent with PalTrade, not Hass.
What's an Extra Zero?
The subheadline is also factually incorrect. It states: "Only 30-40 commercial items allowed in, compared to 4,000 before Shalit abduction." Hass likewise reports this claim in the second paragraph:
Altogether only 30 to 40 select commercial items are now allowed into the Gaza Strip, compared to 4,000 that had been approved before the closure Israel imposed on Gaza following the abduction of Gilad Shalit, according to merchants and human rights activists.
The May 19 editorial also states: "Among other things, Israel bans the importing of many products to Gaza." Ha'aretz it seems, has greatly exaggerated the post-Shalit abduction restrictions. According to the April 2009 Gaza Strip Crossing Monitoring Report published by the Palestine Trade Center (PalTrade):
Along with the steep reduction in total imports from about 450 truckloads prior to the closure (12 June 2007) to about 110 truckloads thereafter, the list of allowed imports was significantly reduced from over 400 to only 34 types of goods.
Thus, Israel's restrictions on goods allowed into the Gaza Strip as a result of the Hamas takeover and the ensuing killing and capturing of Israeli soldiers on Israeli territory are 10 times less than Hass and Ha'aretz claim.
The Bigger Picture
Now that we've established that Israel does not prohibit the entry of toilet paper, diapers, toys and books into the Gaza Strip, it's worth considering what is prohibited. Is Israel's decision to restrict items like construction equipment, musical instruments and chocolate in light of Gilad Shalit's ongoing captivity and Hamas continuing efforts to build a terror regime "inhuman, immoral and a violation of UN regulations" as the editorial states?
The United Nations itself has used this very tactic – withholding goods from a population to secure the release of a hostage. Wayne Long, a former Army colonel who served as the U.N.'s chief security officer in Somalia from 1993 to 2003, wrote in the New York Times one month ago:
During my 10 years as the chief security adviser for the United Nations in Somalia, my team and I negotiated releases in more than a dozen hostage cases, several of which involved piracy. Some of the hostages were United Nations personnel, and some were not.

In the situations that did not involve United Nations workers, our team was asked by the concerned embassies in Nairobi to pursue cases on their behalf. These countries, whose citizens had been taken hostage, had no presence in fractious Somalia —— and we did.

Figuring out how to be of help wasn't easy. Eventually, after long and heated internal discussion in the United Nations security team persuaded the United Nations country team that the most effective approach would be to use humanitarian aid and assistance as a lever to gain release of hostages.

Somalia is pretty much a stateless state. Humanitarian aid and clan association are major centers of gravity. In fact, clan leaders stay in power in part by controlling the distribution of aid. Our strategy was therefore simple: United Nations assistance was withheld from the Somali clan or region by which or in which hostages were being held until those hostages were released. In every case there was a release, and in no case were hostages harmed or ransom paid. (On the downside, no pirates were brought to trial or punished in any way.)

In 1995, for example, the water supply for Mogadishu, the capital, was shut off by the United Nations humanitarian agencies until a hostage who worked for another aid organization was released. On the first day of the shutoff, the women who collected water from public distribution points yelled at the kidnappers; on the second day they stoned them; on the third day they shot at them; on the fourth day, the hostage was released.

On another occasion, in 2000, two French yachtsmen were taken by pirates in their 40-foot sloop off Somalia as they made passage from Djibouti to Zanzibar. The French Embassy in Nairobi asked the United Nations team to help, and I entered into face-to-face negotiations in the remote port of Bossaso.

After demonstrating that the hostages were alive, the pirates demanded $1 million in ransom. I responded that the United Nations would suspend all civic improvement in the region —— education, animal husbandry, vaccination, water projects. The aid would resume when the hostages were released.

This drove a wedge between the pirates and their home clan, the Darod. Clan elders put pressure on the pirates. After several weeks, the Frenchmen were released to me in return for resumption of all United Nations humanitarian aid. (I was unable to negotiate the release of the yacht.)
With its facts debunked by Palestinian sources, and its logic contradicted by U.N. actions, it's time to ask Ha'aretz: Who is senseless on Gaza?