Even as international media outlets answered the call to improve coverage of Palestinian fatalities by noting that those killed by Israeli fire in Jenin last week were confirmed combatants, Israeli daily Haaretz failed to update its English and Hebrew-language reports with this highly relevant information.
Thus, on Sept. 20, CAMERA's Israel office reached out to editors at Agence France Presse regarding incomplete photo captions that day from a Palestinian funeral which failed to mention that the three pictured fatalities were confirmed members of terror organizations. The inadequate captions had originally stated:
Mourners carry the bodies of three Palestinians killed in an Israeli raid on the Jenin camp for Palestinian refugees in the occupied West Bank, in the camp on September 20, 2023. The three Palestinians were killed the previous day, a Palestinian health ministry statement said, adding that "about 30 people were wounded by occupation (Israeli) fire in Jenin". The Israeli army confirmed troops were operating in Jenin late on September 19 and said a drone struck the camp, without elaborating.

Zain JAAFAR / AFP
The photographs themselves depicted one body draped in a Hamas flag and a second draped in an Islamic Jihad flag. The third was wearing a headband of the Al Aqsa Martyrs Brigade, which can be clearly viewed here.
.@AFPphoto shows Palestinian fatalities draped in Hamas, Islamic Jihad flags but captions omit that "Palestinians killed in Israel raid" were confirmed members of terror orgs. @AFP @AFPFactCheck, will you pls amend the incomplete captions? @CAMERAorg @CAMERAArabic pic.twitter.com/xr6hdjEluJ

— Tamar Sternthal (@TamarSternthal) September 20, 2023
In response to communication from CAMERA's Israel office, AFP quietly amended the captions to cite "the bodies of three Palestinian militants."
That same day CAMERA staff likewise reached out to NBC editors regarding an earlier Associated Press article republished on the network's site which had neglected to report that at least half the Palestinian fatalities yesterday in Jenin are confirmed militants ("At least 6 Palestinians are killed in Gaza and the West Bank"). While AP had already updated its article to include that important information, NBC's site still carried the older version lacking the fatalities' affiliations with terror organizations.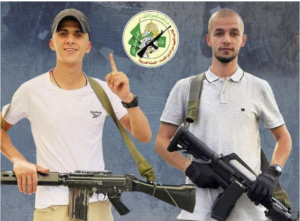 Hamas
confirmed
that two killed in Jenin — Mahmoud al-Sa'adi and Mahmoud 'Ararawi — are members of the terror group's Al Qassam Battalion, and the Hamas site includes a
photograph
(at left)
of them with Hamas headbands and weapons.
A photograph of a third fighter — Rafat Khamayseh — published on the
Al Quds
site likewise shows him carrying a firearm.
Palestinian Islamic Jihad had also
called
these three "Jihad warriors," while refraining from identifying their affiliations.
Israeli military operations in the occupied West Bank and unrest in the Gaza Strip have killed six Palestinians, Palestinian health officials said Wednesday, the latest spike in a wave of violence that has roiled the region for more than a year. At least three of those killed were claimed as militant fighters. . . .

Three of those killed in Jenin were claimed as members of the Hamas militant group or the Palestinian Islamic Jihad and were identified as Mahmoud al-Sadi, 23, Mahmoud Ararawi, 24, and Ata Yasser Musa, 29.
NBC editors agreed with CAMERA that an update was in order and commendably replaced the earlier AP story with the more complete version.