Earlier this week, Human Right Watch's "Israel and Palestine Director," Omar Shakir, gave his Twitter followers a shocking account of arbitrary and unprovoked Israeli violence. He wrote of Israeli forces having "gunned down" a young Palestinian for no apparent reason, declaring it an "outrage" that could be explained only by international indifference to Israeli "abuses."
Israeli forces yesterday gunned down 27-year-old Ahmed Erakat & left him to bleed to death on day of his sister's wedding & weeks ahead of his own. These daily gut-wrenching outrages stem from decades-long failure of intl community to hold Israel to account for serious abuses. pic.twitter.com/wMvHLJ2wSy

— Omar Shakir (@OmarSShakir) June 24, 2020
Already before his comments, media reports noted that the incident was alleged to be part of a car-ramming attack by the Palestinian, which injured a female Israeli border guard. Yet Shakir, the Human Rights Watch official responsible for the organization's accounting of the Palestinian-Israeli conflict, chose to leave this information out of his Twitter post.
When an Israeli police official on Twitter again described the incident as an attack, Shakir didn't backtrack. Instead, having done no research, no fieldwork, no investigation, he endorsed the claim that the Israeli official was a liar, and that the Palestinian man, Ahmed Erakat, was killed while merely "on his way to pick up his sister from the salon for her wedding."
It wasn't long after Shakir sent out his inflammatory allegations that video of the incident emerged. It shows the Palestinian attacker maneuvering his car before sharply accelerating and swerving into Israeli troops manning a checkpoint. The female soldier is hurled through the air. The attacker leaps from his car and is immediately shot.
UPDATE: Video of the car ramming yesterday by Saeb Erekat's nephew and @4noura's cousin shows that the family is lying – is was definitely a deliberate attack https://t.co/OVezAxQ4OC (h/t @ymedad) pic.twitter.com/IhHg28q8BB

— Elder of Ziyon 🇮🇱 (@elderofziyon) June 24, 2020
Even with the attack evident on video, though, Shakir didn't retract his misinformation. He didn't apologize for his ugly allegations. The Human Rights Watch director couldn't even be bothered to put on a show of impartiality or concern for evidence. Instead, Shakir responded to the video by retweeting the suggestion that Israelis were guilty of "extrajudicially execut[ing]" someone who was supposedly "fleeing" the scene. The video does not support the claim that he was fleeing.
Such is Human Rights Watch, which is treated as a serious and credible NGO by many in the media even after its own founder, Robert Bernstein, called out its misplaced biases.
A sober human rights organization would have immediately understood, and openly acknowledged, that in the context of this conflict the charge that a Palestinian took part in a ramming attack is quite credible. Dozens of such attacks have occurred over the past several years, claiming the lives of innocent men, women, and children. The imagery of such attacks, caught on video after chilling video, would be seared into the mind of any serious researcher who follows the conflict.
Car-ramming attack by a Palestinian terrorist, today. pic.twitter.com/sVqvDwxhtm

— Shlomi Ben Meir (@shlomikliab) March 15, 2017
Graphic footage obtained by @Jerusalem_Post shows horrific car-ramming attack this morning #israel pic.twitter.com/4q1JBIoLQZ

— StandWithUs (@StandWithUs) November 8, 2015
A Muslim terrorist ran over a Border Police officer in Acre near the city market in a car-ramming attack, before continuing and wounding 2 other IDF soldiers near the train station. The terrorist was shot on the spot & said to be in critical condition https://t.co/S5Q3YoSdw0 pic.twitter.com/1sisTWw6Mr

— Behind The News (@Behind__News) March 4, 2018
The drivers in such attacks have also been known to jump out of their vehicle and continue their attacks, murdering innocent Israelis in the process.
Any real human rights organization would also know that there is a network of support for these deadly attacks in Palestinian society, from the government on down. Hamas, the terror group that rules the Gaza Strip, calls them "heroic operations," and explicitly encourages the violence: "We call on the people of Jerusalem and the West Bank and all of the Palestinians to carry out more of these activities," the group said in a statement celebrating a car ramming that killed a Druze policeman, a 17-year-old Jewish boy, and a Palestinian from the West Bank.
Indeed, the attacks were so common that Palestinians dubbed them part of a "car intifada," with some on social media celebrating them with cartoons of Jews being killed in the streets, and musicians recording songs imploring Palestinians to continue "running them over."
6/ Palestinians have dubbed such attacks part of a "car intifada," and celebrated them with images like this. pic.twitter.com/KfrWMDi9CB

— Gilead Ini (@GileadIni) June 24, 2020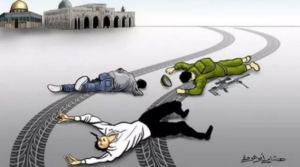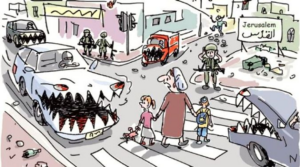 Human Rights Watch wasn't the only organization that peddled invented atrocity propaganda about the incident. The fringe anti-Israel group Jewish Voice for Peace, for example, said Erakat was murdered while simply running "errands."
The secretary general of the PLO, Saeb Erakat, went so far as to insist that Israel "forged a video tape to smear Ahmed," an apparent reference to videos recorded by the perpetrator shortly before the attack in which he apparently speaks of accusations that he was involved in spying on or betraying his homeland, seeks to explain interactions with an unknown woman, and expresses concern about having shamed his family. The videos were interpreted as being a goodbye note that explained why he might go on a murder-suicide mission.
One of the attacker's cousins, Hiba Erakat, said she knew of no reason Ahmed would have wanted to commit suicide, but seems to have accepted the ramming was an intentional act, saying, "We are wondering if he had any personal problems and wanted to escape."