It may be the doldrums of summer, but the media's well-worn loop minimizing and concealing Palestinian violence played on relentless overdrive this week. Today's Associated Press headline provides a stark example, readily apparent even through July's hazy heat.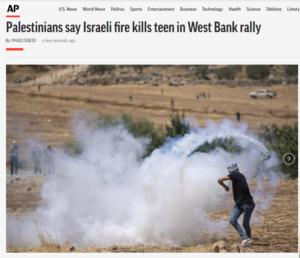 "Palestinians say Israeli fire kills teen in West Bank rally," is AP's headline, with the leading news agency reinventing the English language.
According to
Merriam-Webster
, "rally" refers to "
a mass meeting intended to arouse group enthusiasm."
Rallies do not involve violence, but Friday's deadly gathering most certainly did. What erroneously AP referred to as a "rally" is a better known as a violent clash.
The AP's opening sentence likewise peddles the false notion that Israeli troops fired on a peaceful crowd of rally participants, stating "Israeli forces opened fire at Palestinian protesters."
A Palestinian teenager was killed on Friday in clashes with the Israeli army in the occupied West Bank, the Palestinian health ministry said.

Amjad Nashaat Abu Alia, 16, "died of critical wounds sustained by live bullets in the chest", during clashes near the village of Al-Mughayer, close to Ramallah, the ministry said in a statement.

An AFP photographer at the scene reported 300 to 400 Palestinians had gathered for a protest march against Israeli settlement expansion in the area.

Clashes erupted when Israeli settlers and Palestinians began throwing rocks at each other.

The Israeli army said it had intervened after "hundreds of Palestinians instigated a violent riot". (Emphases added.)
Furthermore, Reuters reported on the Palestinian violence at the ostensible "rally":
An Israeli soldier shot dead a 16-year-old Palestinian near a road leading to a Jewish settlement in the occupied West Bank on Friday, Palestinian officials said, and the army said it had opened fire to protect motorists from rioters.

Witnesses said the incident, east of the hub city of Ramallah, also involved face-offs in open fields between settlers, at least one of whom was armed, and Palestinians, with some on either side lobbing rocks at the other.
AP's fact- and English-language-defying headline was not the only instance this week in which the wire service covered up Palestinian violence.
Thus, twice in recent days the Associated Press reported that in the last few months Israeli troops have killed dozens of Palestinians while failing to make clear that the vast majority of the fatalities were involved in attacks against soldiers.
The Palestinian attacks on Israelis earlier this year killed 19 people. More than 60 Palestinians have been killed by Israeli forces since the start of the year, according to an official Palestinian tally.
The military has faced resistance during some of those raids, which in several instances have turned deadly. More than 60 Palestinians have been killed by Israeli forces since the start of the year, according to an official Palestinian tally.
How many readers understand that "resistance" involves shooting attacks and explosives, and the vast majority of those killed by troops were engaged in violent attacks against soldiers? Furthermore, the partisan term "resistance" egregiously editorializes regarding violent attacks on soldiers seeking to arrest terrorists responsible for the murder of Israeli civilians.
The
Los Angeles Times
, for its part, also jumped on the moral equivalency bandwagon, making no distinction between the circumstances in which Palestinian attackers were killed as they carried out attacks versus those in which innocent Israeli civilians and policemen protecting them lost their lives in Palestinian terror attacks. Thus, veteran
Times
reporter Tracy Wilkinson
cited
"the West Bank, where dozens of Palestinians have been killed this year, along with a smaller number of Israelis."
AP's whitewashing of the circumstances behind the Palestinian fatalities is particularly striking because it represents a retreat from earlier, more informative coverage. Thus, earlier AP stories had responsibly reported:
Most of the dead were alleged to have opened fire on Israeli forces or hurled stones or firebombs at them. The dead also include at least two apparent passersby (See for example, July 6, July 3, June 30).
Why AP's stories have become progressively less informative, as opposed to more informative, with the passage of time, is unclear.
The Palestinian terror-minimizing AP and
The Los Angeles Times
items had additional company. Agence France Presse chipped in with its omission of mass-casualty Palestinian terror attacks while recapping recent violence. Thus, about Israeli Vyacheslav Golev, murdered April 29 by a Palestinian terrorist, AFP reported ("
Israeli army razes homes of suspects in killing of settlement guard
"):
Golev was killed during a period of surging tensions in the Israeli-Palestinian conflict, including regular clashes between Palestinians and Israeli security forces at Jerusalem's flashpoint Al-Aqsa mosque compound at the end of the Muslim holy fasting month of Ramadan.
That period also included deadly Palestinian terror attacks including in Beersheba (March 22, four murdered); Bnei Brak (March 29, five killed); and Tel Aviv (April 7, 3 murdered). The killing spree extended to May 5, when a Palestinian terrorist murdered three innocent civilians in Bnei Brak.
Given that these Palestinian terror attacks were the most deadly incidents — and the only attacks deliberately targeting innocents — during this period of "surging tension," what journalistic justification is there for omitting them?
While there is no justification, an explanation may be found in another definition for rally: "to muster for a common purpose." In whitewashing Palestinian violence, journalists don't report on Palestinians; they rally around them. The two distinct acts are as similar as sweltering July versus blistering December.
See also "AP Corrects Captions Which Cast Palestinian Rioters in Jerusalem as 'Worshippers'"