The New York Times yesterday covered up the Democratic leadership's condemnation of antisemitic tweets by Rep. Ilhan Omar, falsely casting concerns within the party as limited to only "some Jewish Democrats." Glenn Thrush, a Washington D.C., correspondent for The Times reported yesterday ("Pelosi Requests Security Review to Protect Ilhan Omar After Trump Tweet"):
The attacks on the congresswoman [Omar] have provided Democrats with a rare opportunity to unify around Ms. Omar, whose previous comments about Israel have been interpreted as anti-Semitic by some Jewish Democrats in Congress.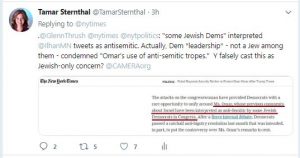 Yet, it's hardly just "some Jewish Democrats" who interpreted Omar's infamous "It's all about the Benjamins baby" slur as antisemitic. Her tweet, referring to the $100 bill, implied that Israel's American supporters are motivated by money, not shared interests and values.
On Feb. 11, the five members of the Democratic leadership in Congress – none of them Jewish – issued a
joint statement
condemning "the anti-semitic comments of Congresswoman Ilhan Omar."
The signatories of this statement are Speaker of the House Nancy Pelosi (a Catholic), Majority Leader Steny Hoyer (Baptist), Majority Whip James E. Clyburn (Methodist), Caucus Chairman Hakeem Jeffries (Baptist), and Caucus Vice Chair Katherine Clark (Unspecified/Other (Protestant)). (Religious affiliations drawn from
Pew Forum
.)
The statement reads:
Anti-Semitism must be called out, confronted and condemned whenever it is encountered, without exception.

We are and will always be strong supporters of Israel in Congress because we understand that our support is based on shared values and strategic interests. Legitimate criticism of Israel's policies is protected by the values of free speech and democratic debate that the United States and Israel share. But Congresswoman Omar's use of anti-Semitic tropes and prejudicial accusations about Israel's supporters is deeply offensive. We condemn these remarks and we call upon Congresswoman Omar to immediately apologize for these hurtful comments.

As Democrats and as Americans, the entire Congress must be fully engaged in denouncing and rejecting all forms of hatred, racism, prejudice and discrimination wherever they are encountered.
By falsely reducing concerns about Ms. Omar's use of antisemitic tropes to a Jewish-only issue, The Times launders the antisemitic nature and severity of Ms. Omar's smears and falsely implies unfounded Jewish hypersensitivity.
See also "New York Times Covers Up Rashida Tlaib's Antisemitic Tweet"