Given that the ongoing blockade on the Gaza Strip earlier prompted unsubstantiated media reports about a humanitarian crisis, it is no surprise that Israel's military operation has fueled claims about severe shortages of medical supplies and other harsh conditions. Ynet reports today that Israel's District Coordination Office rejects allegations (see here and here, for example) that Gaza is facing a collapse of the medical system:
DCO Head Moshe Colonel Levi told Ynet that since the start of the IDF's Operation Cast Lead in the Strip, unprecedented amounts of medical equipment have been allowed into Gaza, including medicine and blood units.

In addition, ambulances sent from the West Bank and donated from other countries were allowed into the Strip.

Colonel Levi also accused Palestinian Health Ministry officials of preventing the injured from leaving Gaza to receive medical treatment in Israel and piling up bureaucratic hurdles.

So far, a 16-year-old boy who was injured in the operation was permitted to leave Gaza for Israel and on Wednesday a seven-year-old boy who sustained serious wounds will follow.

A number of cancer patients were also transferred to Israel for treatment, but Palestinian medical officials demand a long list of documents to approve the release of patients, and therefore prevent any serious treatment of the matter.

"Gaza hospitals have not collapsed, and international organizations have not reported a collapse and even point out that the medical equipment sent there is improving the hospitals' efficient activity. Regarding food as well, we have not received official complaints, there are large amounts of food in the Gaza Strip and there is no crisis in this regard," Levi said.

Defense establishment sources said Gazan officials are trying to take advantage of the situation in order to create a false picture of a humanitarian crisis. . . .
Selective Reporting
Ha'aretz's Amira Hass contributed to confusion and misinformation on the medical issue, yesterday outlining what medical supplies Gaza is reportedly lacking and ignoring all incoming medical aid:
In recent days [the Gaza health system] has also been forced to deal with an unprecedented volume of wounded, many of them in serious condition, and a growing lack of medical equipment and medicine, insufficient doctors and inability to carry out certain medical procedures.

A severe shortage of critical medical equipment has also emerged. Information received from Physicians for Human Rights indicates operations are being performed without anesthesia, and surgical gloves, gauze, sterile equipment and oxygen have run out. Needles, stretchers and hospital beds are already in short supply . . . .

Futher, nearly half the ambulances in Gaza are inactive whether caught in the aerial bombardment or due to mechanical problems that cannot be repaired given the lack of spare parts.

Even before the aerial offensive, some 105 medications for chronic and acute conditions had already run out across Gaza due to the Israeli closure and the dispute between the Health Ministry in Ramallah and its counterpart in the Strip.
Hass ignores entirely that since Israel's operation began on Saturday, Dec. 27, a total of 179 shipments of humanitarian aid, including medication, medical supplies, blood units and ambulances, have been delivered to the Gaza Strip through Israel. On Dec. 28, 23 trucks containing medications and medical supplies entered the Gaza Strip. The next day's shipments included 63 trucks, five ambulances transferred from the Palestinian Red Crescent Society (PCRS) in Ramallah at the request of the ICRC, and 1,000 units of blood donated by Jordan. Yesterday, an additional five ambulances, donated by Turkey, arrived in the strip, as did 93 trucks loaded with medicines and medical supplies.
In addition, the Red Cross yesterday evening flew 11 tons of medical supplies to Israel from Geneva to help Gaza's hospitals. The Associated Press reported yesterday (Dec. 30):
[Red Cross spokesman Florian] Westphal said six trucks of medical supplies and spare parts for ambulances and generators will arrive in Gaza from Israel on Tuesday.

A Red Cross delegation that visited Gaza's largest hospital, Shifa, found conditions there had stabilized, he said.

"The situation is difficult but increasingly under control," Westphal told The Associated Press. ("Red Cross sending 10 tons of medical aid to Gaza")
In addition, the AP story notes that the World Health Organization is preparing to send 50 surgical kits from Norway to Israel, enough to treat 5,000 people. The WHO is also shipping nine basic health kits to Gaza, three months worth of treatment of common illnesses for 90,000 people, the AP said.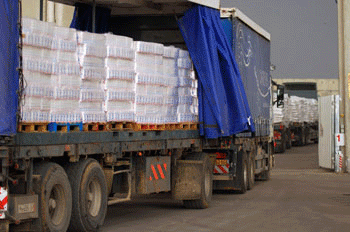 Photos from IDF Spokesman Unit
Wounded Evacuated to Egypt, Iran
Hass further misleads readers with a false account about evacuation of wounded to Egypt. She writes:
Meanwhile, Egypt announced it would accept Gazans wounded by air strikes, but as of last night had yet to receive any. This failure is due to three reasons: would-be patients fear of coming under bombardment en route, the serious condition of some of the wounded and the lack of coordination between Egyptian and Palestinian authorities.
In actuality, as AFP reported at 9 PM GMT on Dec. 29, wounded did indeed reach Egypt by Monday night:

Wounded Palestinians began crossing through the Rafah border post with Egypt on Monday as medical aid for the devastated Gaza Strip went in the other direction, an AFP correspondent reported.

By evening, 22 patients, some in critical condition, had crossed at the only Gaza exit point which does not lead to Israel, a security official at the crossing told AFP.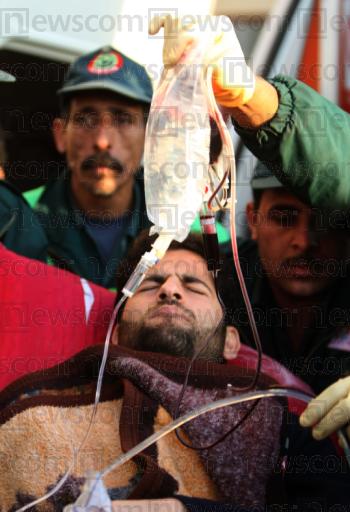 Egyptian Red Crescent medics wheel an injured Palestinian into an ambulance at the Rafah border on Dec. 29 (AFP photo by Khaled Desouki)
As for the reason for the delay in wounded arriving in Egypt, Hass misses a key point. As reported in several media outlets, including the Australian, Egypt laid blame squarely on Hamas for delaying the transfer of medical patients:
Egypt last night accused Hamas of refusing to allow hundreds of Palestinians wounded by Israeli airstrikes to leave the Gaza Strip for treatment, with dozens of empty ambulances waiting on the border. . . .

"No one has come in — we don't know why they're closed on the other side," a senior border security official said. Several plane- and truck-loads of aid were also waiting to be allowed into the Gaza Strip, a security official said.

"The wounded are barred from crossing" into Egypt, Foreign Minister Ahmed Abou Gheit said in Cairo, blaming "those who control Gaza."
Another AFP article from yesterday contains interesting information not widely reported elsewhere:
Several Gazans wounded in Israel's devastating four-day-old onslaught on the Palestinian territory have been transferred to Iran for treatment, Health Minister Kamran Bagheri Lankarani said on Tuesday.

"A small number of the injured have been transferred to Iran for treatment," Lankarani told the state broadcaster. ("Several wounded Gazans in Iran for treatment: minister," Dec. 30, 2008)