See October 13 update below.
The antisemitic movement to boycott, divest from, and sanction Israel has gained a lot of traction in the music industry, thanks in large part to the activities of Roger Waters. BDS activists frequently threaten and harass musicians who schedule concerts in Israel, in an effort to intimidate them into cancellations. Irish singer Sarah McTernan told the Irish Sun, after she participated in the 2019 Eurovision contest in Israel, "Oh my God, I got threats, I got letters. Horrendous stuff online with someone threatening to do something to me. I had hundreds and hundreds of people messaging me saying the most horrible stuff. I got a few ­sinister threats." Singer Eric Burdon told Israel Hayom in 2013, after cancelling and then rescheduling a performance, "it wasn't my decision to cancel the show, but that of my manager, following numerous threatening emails, she was scared for my life."
Prior to 2019, the music magazine Rolling Stone resisted being drawn down this road. In March of this year, however, the publication put BDS supporter Congresswoman Ilhan Omar on its cover, and did a glamour photo shoot and video with her as well as three other Congresswomen. In May, the magazine uncritically quoted the Palestinian Campaign for the Academic and Cultural Boycott of Israel, without any rebuttal, in its coverage of Madonna's Eurovision performance in Israel. In August, in an article having nothing to do with music, Rolling Stone called BDS a movement that "aims to put economic pressure on the nation in order to force the nation to give equal rights to Palestinians." (After contact from CAMERA, the magazine changed it to the only slightly better, "aims to use economic pressure to push the nation for large-scale changes in its policies related to Palestinians.")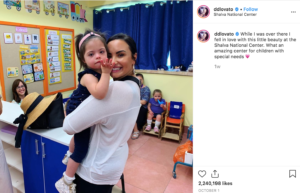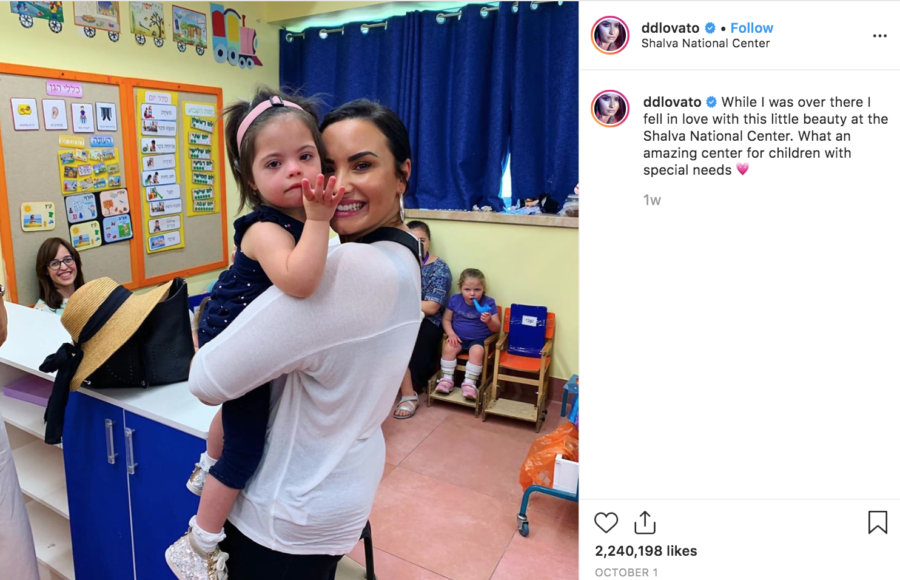 Then, on Friday of last week, Rolling Stone continued this unfortunate trend of promoting BDS's goals in its coverage of the Grammy-nominated singer and songwriter Demi Lovato's trip to Israel. ("Demi Lovato Apologizes for Accepting Controversial Trip to Israel," Brittany Spanos, October 4, 2019.)
The change in direction appears to coincide with Rolling Stone's coming under the full ownership of Penske Media, a company that, in February of 2018, sold a $200 million stake to the Saudi Arabian company Saudi Research and Marketing Group. SRMG is headquartered in Riyadh and is majority-owned by the Saudi government.
Spanos reported last week:
Lovato immediately received backlash from fans and critics of the Israeli occupation of Palestine, many of whom called her a Zionist for partaking in the trip and ignoring the significant political implications.
While Lovato's posts on Instagram initially garnered thousands of comments, she's deleted all of those comments. In light of the kinds of threats that other artists have reported, we can only imagine what was said to her. BDS activists apparently had no qualms about targeting someone with a past history of mental health and addiction issues, who sought a spiritual experience in the Holy Land and said the visit left her feeling "renewed" and "connected." Clearly, the harassment left Lovato feeling shaken. Yet Rolling Stone reports this potentially devastating bullying only as "backlash."
The music publication, moreover, displays its ignorance of the geopolitical situation when it refers to the "Israeli occupation of Palestine." There has never in history been a sovereign entity known as "Palestine." Nor is there one today – thanks to the decisions of Palestinian Arab leaders to reject every opportunity for independence. The territory that is disputed was illegally occupied by Jordan from 1948-1967, prior to that it was under the control of the British, and prior to that part of the Ottoman Empire. Thus, there can be no such thing as an "Israeli occupation of Palestine."
Spanos assumes a great deal about those who targeted Lovato. While some no doubt were critics of what they term "occupation," BDS leader Omar Barghouti has made it plain that he opposes Israel's existence in its entirety. It's also clear that some individuals use BDS as a politically correct cover for broader antisemitism. Last month, Israel's Ministry of Strategic Affairs released a report detailing the overlap between BDS and antisemitism, and including dozens of examples of "leading BDS activists and organizations making statements or promoting content that is anti-Semitic."
In addition, while noting in an October 7 update that, "following the publication of this story, a lawyer representing private, anonymous individuals who claim that they paid for the trip, contacted Rolling Stone to claim that the trip was not paid for by the Ministry of Culture," the article's subheading still claims that Lovato was paid by the Israeli government. In fact, Lovato was not paid by anyone. The expense of her trip was covered, as is often the case with celebrity trips.
The article closed by noting some past BDS controversies:
Lovato is not the first celebrity to receive backlash for visiting Israel. Brian Eno and Roger Waters criticized Nick Cave for playing in Israel in 2017, while New Zealand activists encouraged Lorde to cancel her 2018 show in Tel Aviv. Later, the New Zealand activists were ordered to pay $12,000 in damages for the canceled show, which they refused to pay and spoke out against.
One wonders, here, if writer Brittany Spanos reads her own publication, as she cited Eno and Waters's criticism of Cave without Cave's response, which was printed in Rolling Stone in full in 2018. Regarding Lorde, Spanos ignores a report that pressure on the New Zealand singer came mainly from bots on Twitter.
This type of one-sided reporting is advocacy, not journalism, and not befitting a publication that claims to have "actually been in the hard news/investigative reporting business since its inception." Unlike Rolling Stone's August pro-BDS article, this one is at least about music. It's still, however, hard to miss that the reporting is not objective and that it aims to promote the goals of BDS, even without mentioning the movement by name.
Meanwhile, Lovato's mother Dianna De La Garza affirms that she has no regrets over the trip. Spanos's reporting also omitted that on Friday De La Garza wrote on Instagram:
Praying at the Western Wall with my beautiful daughter @ddlovato in the Old City of Jerusalem was the highlight of my trip to Israel. I will never forget that day… or that trip as we celebrated life and Christianity as we learned about The Jewish faith while listening to the Muslim Call to Prayer. There was no fighting, no judgement, no cruel words…only love. And I will undoubtedly, unapologetically go again one day.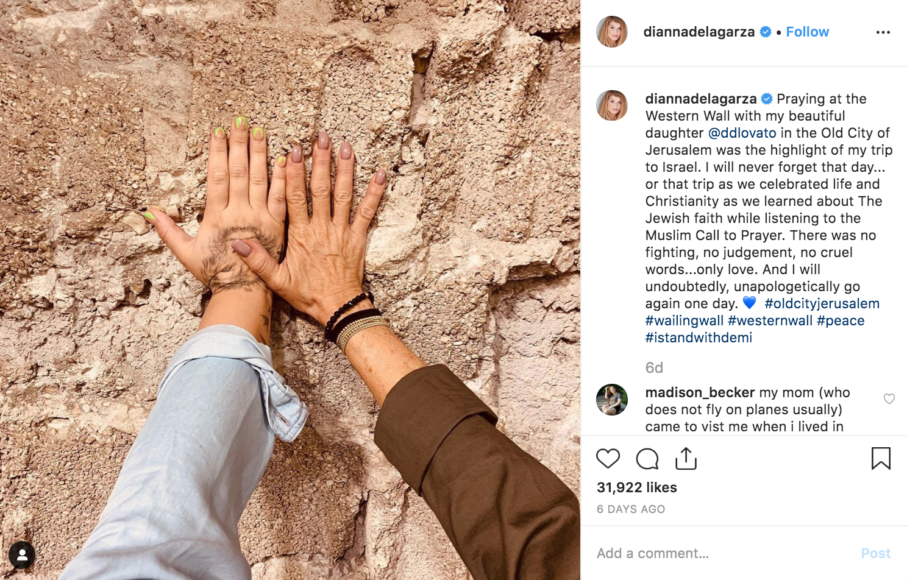 Update, October 13: After this article was posted, Rolling Stone corrected the paragraph that initially read, "Lovato immediately received backlash from fans and critics of the Israeli occupation of Palestine, many of whom called her a Zionist for partaking in the trip and ignoring the significant political implications." It now says only that, "Lovato immediately received backlash from fans and critics."