In 2018, writing in the Tower, I asked whether antisemitism had ceased to be disqualifying in our culture. Three years later, it seems clear that the answer to that question is, "yes." This year's Grammy Awards are a prominent example of the cultural mainstreaming of antisemitism.
The award show did something unusual this year – the program featured an activist, who is otherwise not a singer, in one of the performances. But CAMERA, and others, have extensively documented the antisemitism of former Women's March Leader Tamika Mallory. As we wrote previously:
In January of 2017, Tamika Mallory rose to prominence as one of four main leaders of the Women's March, one of the largest political marches in U.S. history. It was not long afterwards, however, that news about her connection with Louis Farrakhan, the leader of the Nation of Islam who has called Jews termites and called Hitler a "very great man," as well as her own antisemitic comments began to slowly trickle out.

In May of 2017, Mallory posted a picture of herself with Farrakhan on Instagram, writing, "Thank God this man is still alive and doing well. He is definitely the GOAT. Happy Birthday @louisfarrakhan!" (GOAT stands for "Greatest of All Time.") In February of 2018, as the Washington Post reported, "Mallory attended the Nation of Islam's annual Saviours' Day event in Chicago. While [she was] there, Farrakhan delivered an inflammatory keynote that included statements about 'powerful Jews' he considered his enemies." She publicly refused to condemn him when she was called to task.

In April of 2018, she slandered the ADL as "CONSTANTLY [sic] attacking black and brown people."

Finally, in December of 2018, Tablet magazine reported that Mallory's antisemitism had apparently infected the Women's March from its earliest days, alienating other leaders. At the March's very first leadership meeting, Mallory asserted, according to Tablet, "that Jews were proven to have been leaders of the American slave trade," – an antisemitic falsehood promoted by Farrakhan. After this and other problems were brought to light, the movement broke apart, with dueling, competing marches in January 2019. Mallory, along with co-leaders Linda Sarsour and Bob Bland, resigned from the March Board shortly afterwards.
None of this prevented Mallory, not only from being prominently featured in a performance during the Grammys, but from, in addition, participating in a "fireside chat" with John Legend as part of the Inaugural Black Music Collective Grammy Week Celebration.
Even the left-wing Jewish publication the Forward called out the Grammys, writing, "Mallory [seems] a less than ideal messenger. … Mallory, who condemned antisemitism in a statement while not distancing herself from Farrakhan, hasn't always been the best ally herself."
In addition to Mallory, others who have promoted antisemitism also had prominent roles in the Grammys. As Hen Mazzig noted in Newsweek,
In March 2020, the English pop singer Dua Lipa shared a post on her Instagram story that called all Israelis "fake Jews." This is an insane conspiracy theory propagated solely by the most hardened of anti-Semites ….

Dua Lipa's post also falsely claimed that Israel masterminded the anti-Semitic outfit Hamas, whose founding organizational charter calls for the genocide of all Jews – everywhere. … Claiming Jews are the cabal behind anti-Semitic violence and hate groups is an obvious act of hatred.

Despite serious outcry from Jews and their allies around the world, Dua Lipa did not apologize for her repost. She never voiced disagreement with the anti-Semitic views of the hateful manifesto she shared.
Yet, Lipa not only performed at the ceremony, she won the award for Best Pop Vocal Album.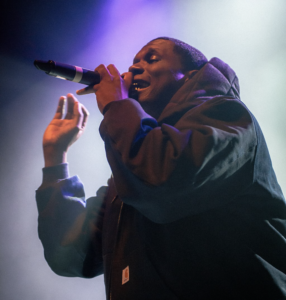 As if all this were not enough, there was yet another artist honored at the Grammys that has promoted antisemitic views in the lyrics of his songs. Jay Electronica was nominated, but, thankfully, did not win an award. The album for which he was nominated, A Written Testimony, as CAMERA has documented, caused controversy with its references to the Rothschild banking family and to the "synagogue of Satan." In case there was any doubt to Electronica's meaning on this album, a second album out this year, Act II: The Patents of Nobility (The Turn), repeated the same references to the Rothschilds and to the "synagogue of Satan," and also mentioned notorious antisemite Louis Farrakhan, who has clearly used the term to refer to Jews, and Farrakhan's publication, the Final Call.
As CAMERA wrote previously, his lyrics:
promote what the ADL calls a "longstanding anti-Semitic conspiracy theory" about the Rothschild family, antisemitic tropes and stereotypes about Jews and money, and rhetoric reminiscent of Louis Farrakhan, a man the ADL calls a "notable extremist figure, railing against Jews, white people and the LGBT community."

Perhaps that's why Jewish DJ and Hot 97 radio personality Peter Rosenberg called the lyrics "cringe" and said "you can only have your group associated with the word 'Satan' so many times before you go, 'yo what's going on?'" On Twitter, Rosenberg wrote, "As a Jew it puts me in a bad position. I can ignore the fact that I instantly felt a pang of discomfort and offense and basically sell out my culture or I can be accused of being the 'Jewish media' hating on this man. But it's how I felt. The line offended me."
It seems highly unlikely that there was no one affiliated with the Grammys who was aware of Rosenberg's criticism. Yet, this did not stop the nomination of an album with antisemitic lyrics. Although Electronica was not featured as prominently as Mallory or Lipa, in some respects his inclusion is the most shocking of all, as he was nominated for the album that itself contained the antisemitic lyrics.
As Mazzig wrote in Newsweek, the "ceremony was a shining example of how you cannot get canceled for anti-Semitism; in fact, you will probably be rewarded for it."
This was a prestigious award show, aired on network television in prime time. Pop culture icons routinely participate, and the winners make the news and sell albums. Yet, at the Grammys, as in our society more generally today, antisemitism has, once again, become an acceptable form of prejudice.