Yesterday morning, Israeli forces demolished an explosives lab and a weapons cache in Balata Refugee Camp near Nablus, destroying a total of 15 ready-to-use bombs found in the two locations. That's big news, but unless you follow Israeli media outlets,* it's unlikely you heard about this significant development in the obsessively covered Israeli-Palestinian conflict.
(IDF footage of the demolition of the weapons cache which contained eight primed bombs.)
(IDF footage of the demolition of the explosives lab which contained seven prepped bombs.)
Indeed, searches on the Lexis-Nexis news database indicate that not one single mainstream Western media outlet reported on the explosives lab and primed bombs.
Here's what the Times of Israel reported yesterday about this significant story ("Soldiers clash with Palestinian gunmen near Nablus, destroy explosive lab"):
Meanwhile, Israeli soldiers and Border Police officers, led by the elite Yahalom combat engineering unit, entered the Balata refugee camp on the outskirts of Nablus to destroy an explosives lab and a storage site.

The IDF said soldiers found at least 15 primed makeshift bombs at the lab and the cache. The two sites were blown up by the Yahalom soldiers.
לוחמי צה"ל ומג"ב, בהובלת כוחות הנדסה ויהל"ם, השמידו הלילה במחנה הפליטים בלאטה שבמרחב חטיבת שומרון מעבדת נפץ שהכילה שבעה מטענים מוכנים לשימוש.
בנוסף, הכוחות השמידו מחסן שהכיל שמונה מטענים מוכנים לשימוש >> pic.twitter.com/h1P6hcR0UT

— צבא ההגנה לישראל (@idfonline) August 16, 2023
Agence France Presse photo captions in particular exemplified the Western media's selective reporting, highlighting damage from the Israeli raid while completely omitting the reason for the raid: the presence of the deadly primed weapons with the dangerous potential to dramatically drive up the death toll of innocent civilians and escalate the conflict significantly.
AFP's incomplete captions only note "damage following an Israeli military raid at the Balata refugee camp on the outskirts of Nablus," ignoring the numerous primed explosives stored there. A sampling of the many inadequate AFP captions follows.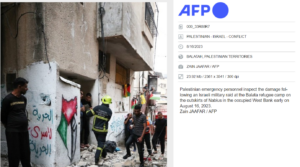 As confirmed by Sanad News Agency
video
, this site is the home of Abdullah Abu Shalal, who is reportedly a Fatah
battalion
commander
. Likewise, Palestinian news agency WAFA
reported
: "Meanwhile, occupation forces blew up an apartment owned by Abdullah Abu Shalal's family."
Furthermore, the
Wattan
news agency reported (translation by CAMERA Arabic):
Journalist Sami Abu Khuwaira told Wattan that while they were storming Balata refugee camp for [several] hours, the occupation forces blew up explosive devices that the occupation claimed it found in the family residence of citizen Abdullah Abu Shalal, causing the residence's destruction due to the power of the explosion, and the headquarters of the Fatah movement in the refugee camp [was also destroyed], inflicting severe damages in nearby residences.
Not only do the captions for the photographs of the destroyed weapons sites not mention the primed and ready-to-go bombs, but no AFP article mentioning this important could be found.
* (While
Haaretz'
s Hebrew edition
reported
this story, the Israeli media outlet's
English
counterpart apparently took a pass.)
With research by CAMERA Arabic.