On May 11, 2022, the same day that Shireen Abu Akleh was killed, Ali Samoudi was interviewed by an Arabic language news outlet, the Arabic Post, which printed his comments as translated by CAMERA Arabic below:
"Ali Samoudi, who got injured during the shooting: we took all safety precautions
"Samoudi's testimony is considered important to understand the circumstances of what happened.
"Ali Samoudi told Arabic Post: 'We, the Aljazeera channel crew, headed to Jenin on May 6th, 2022, after receiving indications that the Israeli military intends to storm the camp. From that point we were accompanied by 4 colleagues from Aljazeera channel, among them Shireen Abu Aqleh; to deliver a picture of what is happening in the camp.
"'At six o'clock on Wednesday morning, we received indications that Israeli special forces are entering the camp from the western zone, namely from an area known as the martyrs' graveyard. We got off the car upon arrival on site, after taking safety and wellbeing precautions. We put on a bulletproof vest and a helmet showing 'PRESS' both in Arabic and English,' according to what Samoudi said to Arabic Post.'
"He continued: 'we got off the car, walking by in the middle of the main street of the martyrs' graveyard for twenty minutes, so that the Israeli soldiers would clearly see us. They were within no more than 500 meters from the place where we were preparing to deliver live broadcast of what is going on during the storming.
"'After several minutes we heard the sound of bullets pouring on us from the direction where the occupation's soldiers were concentrated, they were on the rooftops of the buildings in front of us. [This was] amidst the shouts of Palestinian citizens, calling us: get down to the ground, the snipers are targeting you.'
"Samoudi says: 'I was hit by a bullet at the lower back, and Shireen shouted: 'Ali was hit, Ali was hit.' Not even a few seconds went by before Shireen fell on the ground after blood covered her face, and one of the colleagues carried us to the graveyard's fence to protect us from the soldiers' bullets, which went on for 10 minutes nonstop.'
"He said: 'I was miraculously spared from certain death after a bullet hit me in the lower back, but the doctors described my condition as moderate. However the diagnosis requires hospitalization for several days, to make sure there are no complications in the coming hours.'
"There were no resistance warriors or stone throwers on site
"In response to Israeli allegations that Abu Aqleh was hit by the bullets of Palestinian resistance warriors, or was found in an area where fire exchange between the occupation and the resistance warriors had occurred, Samoudi said: 'there were no resistance warriors, militants or stone throwers; because we were in an open area.'
"He said: 'the occupation forces did not require us to exit the site, like previous times, they could have notified us that this is closed military zone, but they did not.'
"He said: 'we adhere to the instructions of the occupation authorities, we got Israeli consent for our movements, and after they have seen us they opened fire at us, aiming to kill. Although we adhered to all the directions to protect our lives and our professional conduct.'
"He said: 'I consider this to be a message, which also came due to Israel's failure to stop Palestinian resistance – causing desire to take revenge at journalists like Shireen and me.'"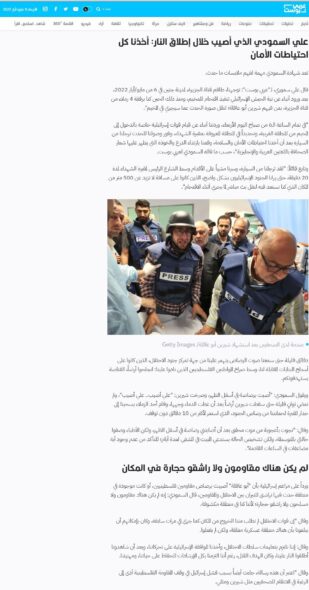 Thanks to blogger Elder of Ziyon for first locating Samoudi's statement. This is CAMERA's independent translation.