In response to the New York Times' page-one article about children killed during the latest conflict in Gaza, Abe Foxman, former director of the Anti-Defamation League, cancelled his subscription to the paper, charging: "Today's blood libel of Israel and the Jewish people on the front page is enough."
I am cancelling my subscription to NYTimes. I grew up in America on the NYT- I delivered the NYT to my classmates- I learned civics- democracy and all the news"fit to print" for 65 years but no more. Today's blood libel of Israel and the Jewish people on the front page is enough

— Abraham Foxman (@FoxmanAbraham) May 28, 2021
Foxman's tweet garnered a torrent of responses including from Robert Satloff, executive director of the Washington Institute for Near East Policy, who tweeted, "Few people on this planet have more authority on confronting anti-semitism than @FoxmanAbraham. When he makes an accusation of 'blood libel,' sit up and take notice."
Indeed, The New York Times' unprecedented piece, "They Were Only Children," featuring all the children killed in the recent conflict between Hamas and Israel begs the question: why did editors take this step when, to the best of our knowledge, never before in any conflict around the world has the paper done so? CAMERA's search of the Lexis-Nexis news database for a New York Times front-page item featuring the names, ages and photographs of Iraqi or Afghani children killed by U.S. forces did not turn up any results in the last 20 years. Nor was there a comparable item on the inside pages of the paper.
Did editors consider the impact that this piece would have on a highly charged environment in which antisemitic attacks against Americans Jews, along with Jewish communities in other countries, are hitting new records? Did they take into account that accusations of Jews murdering children is an antisemitic trope which has fueled hatred of and attacks against Jews for centuries?
"Israel's critics cite the death toll as evidence that Israel's strikes were indiscriminate and disproportionate," the Times intones, ignoring the fact that even according to United Nations figures, more than half (128) of the 245 Palestinians "seemingly" killed by Israeli airstrikes were combatants. About the combatant versus civilian casualty ratio, Col. Richard Kemp as pointed out in the past:

The UN estimate that there has been an average three-to one ratio of civilian to combatant deaths in such conflicts worldwide. Three civilians for every combatant killed.

That is the estimated ratio in Afghanistan: three to one.

In Iraq, and in Kosovo, it was worse: the ratio is believed to be four-to-one. Anecdotal evidence suggests the ratios were very much higher in Chechnya and Serbia.
Thus, an honest investigative analysis of the casualties would have underscored that Israel's combatant to civilian ratio is far superior to others' performances, demonstrating that Israel does indeed carefully vet its military targets, taking great care to avoid civilian casualties. Instead, the paper delivered up an emotive, graphic feature which inflamed passions and fueled antisemitic charges of Israel indiscriminately firing, or worse, even deliberately wiping out children's lives.
About the source of the article's information, The Times' Mona El-Naggar, Adam Rasgon and Mona Boshnaq wrote:
The identities of the children killed, their photographs and the circumstances of their deaths came from their parents and other relatives, teachers and schools in Gaza and Israel, international rights organizations, Palestinian officials, social media, and news organizations in Gaza and Israel. Most of the details were corroborated by multiple sources.
NGO Monitor took The Times to task for relying on Defense for Children International Palestine, an organization affiliated with the PFLP terror group.
Was it DCI Palestine which provided The Times with a photograph allegedly of Rafah al-Masri, killed March 10 in Bet Hanoun, but which actually turned out to be a stock photo of a random Muslim girl, misinformation which the paper was compelled to correct? If the paper committed such a basic mistake like running a photo of the wrong girl, relying perhaps on DCI Palestine, or maybe on social media, what else did the paper get wrong? (While the IDF has said that the Masri children were killed by an errant Palestinian rocket, The Times ignored that information.)
The @nytimes front page story on the children killed in Gaza was based on info from an NGO w/ known ties to the PFLP- a recognized terror group in the US. 1/6 pic.twitter.com/12uUGH5MHG

— NGO Monitor (@NGOmonitor) May 29, 2021
Other readers noted that The Times' piece appeared appeared in Hebrew Thursday across the entire top half of the front-page of Israel's Haaretz.
Haaretz's translation prompted outrage for an additional reason: While The Times' original piece identified 66 Gazan children and two Israeli children, Haaretz deleted the two Israeli children.
The original New York Times piece identified all of the children by name and age, along with a photograph, and also dedicated multiple paragraphs to some of them.
Ido Avigal, 6, from Sderot and Nadine Awad, 16, from Dahmash in central Israel, the two Israeli children killed by Hamas fire, were among those whom The Times highlighted with several paragraphs detailing their deaths and short lives.
This is the paragraph about Nadine Awad:
In the Arab village of Dahmash in central Israel, when the sirens wailed around 3 a.m. on May 12,NadineAwad, 16, and her father ran outside for cover, said her uncle, Ismail Arafat. But a rocket fired by militants in Gaza slammed into the ground next to their home, killing both of them.

Nadine was a top student, her academic adviser, Sirin Slameh, said. She spoke English proficiently, taught herself how to play the piano and participated in Jewish-Arab coexistence programs, Ms. Slameh said. The week before, she had scored a 97 on a math exam, a subject she had struggled with.

She was very close to her father, Mr. Arafat said, and would follow him everywhere.

"The sad part is she followed him outside when the sirens blared," he said, "and now she has followed him to the grave."
About Ido Avigal, The Times wrote:
Once the war started, Ido Avigal, 5, was so anxious that he did not want to sleep, shower or eat alone, said Shani Avigal, his mother.

When sirens started blaring in Sderot, Israel, he huddled with his family in a fortified safe room at his aunt's home. But when a rocket hit a nearby building, shrapnel punctured the thick glass of the safe room, tearing into his stomach and killing him.

Ms. Avigal said her son was caring and loving, and had recently told his classmates that "not all Arabs are bad."

"I said they all don't want to kill us," he told his mother. "I eventually convinced them."
Haaretz's obliteration of the Israeli children was total. Editors not only deleted the text reproduced above, but also their names and photographs.
Out of the total of 68 children, Haaretz eliminated only the two Israeli children.
When asked on Twitter why his newspaper deleted only the Israeli children, Haaretz publisher Amos Schocken answered that an earlier report covered the death of Ido Avigal.
But, of course, an earlier story on Avigal does not give the paper license to selectively translate a New York Times piece which covered all of the children killed.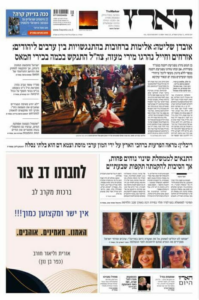 Furthermore, when Avigal was killed, Haaretz wasn't particularly empathetic for the six-year-old child's death. This is how the paper's first page looked the day after. A laconic subheadline on the top right of the page, stated: "Five-year-old killed by rocket fire in shelter in Sderot; Father and daughter killed by rocket fire in village with no shelter." The front page includes neither Avigal's picture nor his name. The same goes for Awad.
Other Israeli papers, in contrast, did give front-page attention to tragedy the day after Avigal was killed, including both his name and picture.
When questioned regarding the gross omission, Haaretz's Schocken deflected, accusing this Presspectiva writer of his "regular crookery."
But the facts are clear: The New York Times counted 68 children, including two Israelis, about whom the paper provided extensive detail. In Haaretz's translation of the story, only 66 children appeared. You already know who they were.
Only later today, Schocken admitted:
The omission of the two Israeli children who were killed in the war from The New York Times story is a severe mistake of an editor who justified it by the fact that we already reported about those children, at length and in real time. Nonetheless, he harmed The Times' depiction of what happened in the war to children on both sides. I apologize to the readers, and we will correct the digital version.
Haaretz, by the way, has yet to correct the photograph misidentified as Rafal al-Masri's.

This article was corrected on June 7 to refer to 128 combatants killed, based on UN figures, not 138.
A version of this article was published in Hebrew at Presspectiva. Translation from Hebrew: Shlomi Ben Meir.