Agence France Presse coverage today of events in Israeli and the Gaza Strip is marred by factual errors and egregious omissions which downplay the destruction that Hamas, a designated terror organization, has sown with its thousands of rocket attacks on Israel. Today's article, "Gaza reels under Israeli strikes as violence enters second week," errs: "Israel says 10 people, including one child, have been killed and more than 300 wounded by the rocket fire, which has been the most intense to ever rain down on the Jewish state."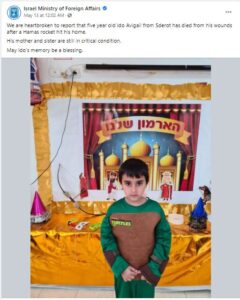 In fact, Israeli authorities report that two children have been killed in rocket fire: 5-year-old Ido Avigail, killed as he huddled in his family's shelter in Sderot, and Nadine Awwad, 16, from an Israeli-Arab community near Lod, killed by Gaza rocket fire along with her father.
Khalil (52) & Nadin (16) Awad, Israeli-Arab father & daughter from Lod area were killed last night when a rocket fired from #Gaza hit their house.

Hamas terror targets Israelis of all faiths. Israel will never tolerate targeting of any of its citizens.pic.twitter.com/zK0kQJeHOt

— Israel Foreign Ministry (@IsraelMFA) May 12, 2021
A second AFP article today, "No respite from Israel strikes, as diplomatic efforts intensify," repeats the error, stating: "In total, Israeli air strikes have killed 212 Palestinians, including 61 children, in Gaza — whilst rockets fired by Palestinian armed groups have killed 10 people in Israel, including a child, according to officials on both sides."
In addition, it should be noted that the above passage falsely states that Israeli officials confirm Hamas numbers for casualties on the Palestinian sides. This is not the case. According to the Israeli military, the army has killed over 150 terrorists, most of them belonging to Hamas.
Neither article includes this significant information about Hamas' significant casualties. Reuters, in contrast, has commendably reported that Israel "says its forces have killed at least 140 Hamas or Islamic Jihad fighters in Gaza."

Nor does AFP coverage include the critical and relevant information that according to Israel's Ministry of Foreign Affairs, out of the 3,150 rockets that terrorists fired from the Gaza Strip towards Israel, 717 fell short into Gaza, some of them killing Palestinians, including 8 children.
Furthermore, AFP alleges that the "Israeli bombardment of Gaza" "also battered crucial infrastructure, with the electricity authority Monday warning it only had enough fuel left to provide power for another two to three days" ("Gaza reels. . . ").

Likewise, the second article ("No respite . . . ") similarly alleges: "Israeli fire has cratered roads and battered crucial infrastructure, causing blackouts and prompting the electricity authority to warn Monday it only had enough fuel left to provide power for another two to three days."
Nowhere in these articles does AFP inform readers that according to Israel, misfired Hamas rockets damaged the electricity infrastructure, eliminating the source of electricity for a quarter of a million Gazans. In addition, misfired Palestinian rockets damaged the power line to the Rafah sewage treatment plant and the lines to the Gaza sewage treatment plant. In addition, an errant Hamas rocket disabled Gaza City's desalination plant, leaving 250,000 residents without water.
Furthermore, the AFP articles allege that Israeli strikes "knocked out Gaza's only Covid-19 testing laboratory." Yet, it ignores that a long-range Hamas rocket launched at Israel hit a covid treatment center in the West Bank, causing heavy damage to the Omar Al-Qassam Hospital.

On May 15, a long-range rocket launched towards Israel from the Gaza Strip by the Hamas terrorist organization landed in the Palestinian village of Azun east of Qalqilya, causing heavy damage to the Omar Al-Qassam hospital. pic.twitter.com/RWdXP3hC66

— COGAT (@cogatonline) May 16, 2021
Finally, in a factual error which ought to be corrected, the article ("No respite") alleges: "The conflict was sparked after clashes broke out at Jerusalem's flashpoint Al-Aqsa mosque compound — one of Islam's holiest sites — after Israeli forces moved in on worshippers on May 7." The second article also falsely alleged that Israeli forces moved in on "worshippers."
Israeli forces did not move in on "worshippers." They moved in on Palestinians who threw stones and firecrackers at them. As Haaretz reported:
Some 70,000 worshippers attended the final Friday prayers of Ramadan at Al-Aqsa, the Islamic endowment that oversees the site said. Thousands protested afterwards, waving the green flags of the Islamic militant group Hamas and chanting pro-Hamas slogans before dispersing peacefully.

Tensions boiled over after the evening prayer, when hundreds of Palestinian worshippers began hurling stones and other objects at the Israeli forces, who responded with riot gear.
In other words, the police cracked down on Palestinians who were rioting, not worshipping. The French version of AFP's article more accurately refers to "protesters" as opposed to "worshippers." The Associated Press recently commendably corrected numerous photo captions and an article after erroneously characterizing rioting Palestinians as "worshippers."
CAMERA has contacted AFP to request redress of these issues. Stay tuned for any updates.
With research assistance from InfoEquitable.