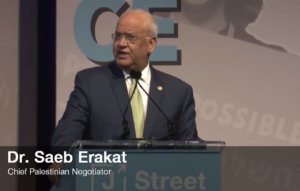 CNN's "Legacy of Saeb Erekat" segments, which aired on November 11, honored recently deceased Palestinian official Saeb Erekat, Secretary General of the Palestine Liberation Organization (PLO) Executive Committee and well-known as negotiator with the Israelis.
The segments, featuring interviews with Mustafa Barghouti (member of Palestinian Authority parliament) and Hanan Ashrawi (PLO Executive Committee member), portrayed the Palestinian/Israeli conflict from the point of view of the Palestinian leadership and dominant culture.
Barghouti passionately attacked Israeli policies and actions:
Doctor Erekat believed in nonviolence, as I do. But he also believed in negotiations and that negotiations would lead to a solution. Ultimately, his dream was shattered, mainly by [Israeli Prime Minister] Netanyahu and the right-wing in Israel, but also by the unfortunate behavior of the Trump administration which adopted the so-called "deal of the century." They tried to substitute real piece with what they call normalization. I think that is the main factor that strengthens the impossibility of the two-state solution…

Mr. Netanyahu and his government shattered all possibilities of negotiations. if we want to speak about threats to the two-state solution, it's the settlements that continue to be built in occupied territories … We've had 30 years of trying to negotiate so far. That's why I think the future depends on a decisive international decision, especially by the new American administration. Stop building settlements. stop the annexation. Allow Palestinians, finally, to be free. Allow piece to commence…

Annexation is a violation of international law. Building settlements is a violation of international law that must be stopped. in my opinion, this is important not only for two-state solution, but for freedom and human rights.
(The above wording from the Barghouti interview was obtained using a subscription monitoring service since CNN has not provided the transcript.)
Palestinian spokesperson Ashrawi passionately attacked Israeli policies and U.S. support:
It's unfortunate but many people associate Saeb with their failures or successes but mainly failures of negotiations. They fail to see that it's Israeli intransigence and occupation. It was American bias and total support of Israeli criminality that destroyed the chances of peace.

And with the last four years of the Trump administration, it was an unmitigated disaster. There was no way in which you could achieve any kind of peace, given the criminality of Israel and given collusion by the U.S. and given unilateral, illegal steps by the Trump administration that destroyed the very foundations of it…

You're normalizing the abnormal [by accords with Arab states] You are normalizing the occupation, you're normalizing impunity, you're normalizing land theft, you're normalizing expansionism and, of course, defying and violating international law. This is not what is needed because, by normalizing some Arab countries under coercion, by the way, and the U.S. used tremendous threats and blackmail and you were to really put pressure on countries that were in need of the U.S. And so it used that to deliver — not just trying to deliver Palestine to Israel — but trying to deliver the Arab world and the region to Israel and to reposition Israel as a major force in the region.
At odds with reality
CNN viewers were presented with a false narrative alleging denial to Palestinians of "freedom and human rights" — and false or misleading claims about Israeli intransigence, settlements, occupied territory and annexation.
At least mainly, any denial to West Bank Palestinians of freedom or human rights comes from Palestinian society or leadership — not Israel — since The Palestinian Authority (PA) has jurisdiction over the daily lives of almost all West Bank Arabs, with Israeli personnel only entering Palestinian communities to pursue terrorists.
The intransigence claim is misplaced. The United States and Israel have made several reasonable peace offers to Palestinian leaders that were not only refused but met with organized campaigns of terror. The PA has used its schools, mosques and officials to fuel daily incitement to hatred and violence against Jews. In fact, PA officials have even paid salaries to those who carry out terror attacks.
The PA's rejection of peace and support for terror is entrenched and undeniable. Yet it often escapes media scrutiny. One exception was an Oct. 18, 2015 Wall Street Journal report which noted Palestinian rhetoric that CNN viewers might be unaware of: "Mr. Abbas, the PA president, said the following on Palestinian television on Sept. 16: 'We welcome every drop of blood spilled in Jerusalem. This is pure blood, clean blood, blood on its way to Allah. With the help of Allah, every martyr will be in heaven, and every wounded will get his reward.'"
The claims, unchallenged by CNN, made by Barghouti and Ashrawi — about occupation, settlements and annexation — are either false or misleading.
Erekat's legacy that CNN viewers would never hear about
CAMERA has reported on Erekat as has Melanie Phillips, a British journalist, broadcaster, author, and a columnist for The Times of London, who writes about Erekat's incitement:
Blood libels were his stock in trade. The most notorious was in 2002 when he initiated and spread the lie that Israeli forces had "massacred" more than 500 Palestinians in Jenin during Israel's counter-terror operation following the Palestinians' attack on the Passover seder in Netanya and other horrific bombings. In fact, 23 Israeli soldiers and a confirmed total of only 52 Palestinians—almost all of them terrorists—were killed in the battle of Jenin. The Israeli soldiers died because, rather than blowing up suspected terrorist homes, they went from house to house to avoid any possibility of harming Palestinian civilians. They died mainly because the Palestinians booby-trapped the homes to blow these soldiers up. In 2017, Erekat asserted falsely that "Hamas and the PFLP [Popular Front for the Liberation of Palestine] are not terrorist organizations" and called Hamas simply a "Palestinian political party." … Erekat never retracted his lies but doubled down on them.
CNN's role
CNN failed to provide a full and accurate picture of Saeb Erekat but rather used his death as an opportunity to feature anti-Israel activists attacking Israel with one-sided, inaccurate allegations and falsehoods. In doing so, the network revisited its historical deleterious role in misleading viewers about the Palestinian conflict with Israel.