For more than five years, CAMERA has been documenting,
exposing
and correcting what we call "
Haaretz, Lost in Translation
," an ongoing phenomenon in which the paper's influential English edition, a critical source of information for international policy makers, journalists, researchers and students, downplays information appearing in the Hebrew original concerning Palestinian militancy, violence and other Arab wrongdoing. In some instances, the English account is completely at odds with the original Hebrew, and includes misinformation about Israel which did not at all appear in the Hebrew article.
CAMERA's Hebrew site,
Presspectiva
, has also
frequently
published
about the translation
problems
, making the Hebrew-speaking public aware of the misinformation that
Haaretz
purveys in English around the world. The influence that
Haaretz
in English enjoys abroad is completely disproportionate to its marginal readership in Hebrew at home.
In recent days, the Israeli public, along with the Hebrew media and
politicians
, are taking notice. The
Haaretz
translation problems have become a hot topic in Hebrew
social media
, where memes are circulating making fun of the absurd translations.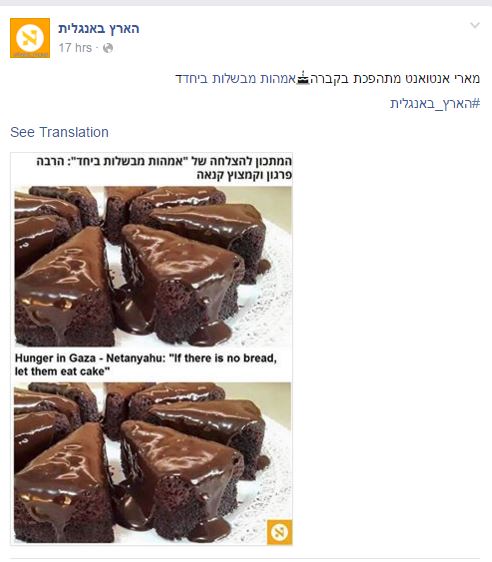 In this image from a Facebook group dedicated to satirizing Haaretz English translations, the Hebrew caption under the cake states: "The winning recipe of 'Mothers cooking together': Lots of compliments, a pinch of jealousy"
Within the last week, senior
Haaretz
officials have made two media appearances attempting to defend its English edition's record. This morning, editor Aluf Benn
appeared
on the popular Channel 2 morning talk show, "
Haolam Haboker
" with Avri Gilad, and grudgingly referred to CAMERA, saying "it's true there is an organization which specifically works to find these types of errors."
The relevant exchange follows (CAMERA's translation):
Gilad: There is a feeling, I am really trying to tone down my feelings about your paper, that you've adopted in some manner the Palestinian technique, but with an interesting twist. The Palestinians speak nicely to the English world, and when they speak to their audiences, their speech is ugly. You do the opposite. In Hebrew, you speak moderately, but when you speak to the outside world in English, you say terrible and horrible things.

Benn: I don't think so. I don't think so.

Gilad: I will show you, for example. "Palestinian woman shot." [In English.] She was, as it happens, a murderer, but in your paper she was just, ah. "How many executions by Israeli soldiers have not been captured on film"? [In English] And the like.

Benn: Listen, I don't think it's. . . It's true there is an organization which specifically works to find these types of errors.

Gilad: Thank goodness there is.

Benn: Very good. Once we were attacked that the English edition deliberately titled rightward to curry favor with Yisrael Hayom, which used to print our paper in their printing press. Listen, if there are factual errors, and we're informed of them, we correct. There is no policy to appeal to a certain audience in the world in order to harm Israel's hasbara or something like that.

Gilad: Your publisher says, in his words, that he supports the boycott movement against Israel.

Benn: No, my publisher wrote a letter, a column, in which he spoke about the advantage of the international pressure on Israel. But it's his right to express himself. That's his view.
A screen capture from Avri Gilad's show today. He cited an example of a distorted Haaretz headline in English, documented by CAMERA.
It is true, as Benn says, that the paper often does correct the factual errors that CAMERA raises. The fact that editors are usually willing to correct, raises the question: what are they doing to prevent the ongoing, systemic policy? In other words, why does the problem keep recurring?
Indeed, today brings a fresh indication that Haaretz editors have not managed to rein in the skewed translations. Odeh Basharat's Op-Ed today in the English edition, both in print and online), advances the completely unfounded and inflammatory charge that former Shin Bet director Avi Dichter ordered the assassination of Arafat. The Op-Ed states:
I still don't understand, however, why Dichter vented his rage on [Ayman] Odeh. The Joint Arab List leader said in a television interview that while serving as the head of the Shin Bet, Dichter had ordered the assassinations of PLO chief Yasser Arafat and Hamas co-founders Sheikh Ahmad Yassin and Abdel Aziz Rantisi. When all is said and done Odeh merely noted the fact that Dichter had executed people without trial. Actually I would have even expected Dichter to publicly acknowledge these gems from his life's story. After all, such deeds inspire pride in the Israeli public.
The Hebrew version does not identify Dichter's alleged victims, according to Odeh, and thus does not maintain that it is a "fact" that Arafat was among those "Dichter had executed . . . without trial."
In the English version, the claim that "Dichter had ordered the assassinations of PLO chief Yasser Arafat" is hyperlinked to a JTA article in Haaretz which rules out the possibility of foul play in Arafat's death. It states:
A panel of French judges in September closed a case pressed by Arafat's widow, Suha, that accused Israel of poisoning Arafat. The French court ruled there was "a lack of sufficient evidence to continue the investigation."

Arafat died in a hospital near Paris soon after falling ill in the West Bank. Traces of radioactive polonium were found on his belongings, which French experts later ruled were environmental in nature.

The medical report published after Arafat's death listed the immediate cause as a massive brain hemorrhage resulting from an infection. Doctors ruled out foul play; some contended that Arafat died of AIDS.

After the opening of the inquiry, Arafat's tomb in Ramallah was opened to allow teams of French, Swiss and Russian investigators to collect samples.
Hyperlinking to an article undermining the conspiracy theory does not give license to publish the theory as fact in the first place. First, most readers wouldn't click on the link. Moreover, in the print edition there is no hyperlink making clear that there is no substance to the charge that Dichter ordered Arafat's "execution."
Earlier today CAMERA's Israel office contacted Haaretz English edition editors about the baseless charge to request a correction.
Meanwhile, Amos Schocken, Haaretz's publisher, has expressed less inclination to correct than his editor Benn. In a column by Presspectiva editor-in-chief Hanan Amiur last week in the Israeli site Mida, Schocken's response referred to CAMERA's extensive list of Haaretz mistranslations, many of which were corrected, stating: "I have to say, after I examined the CAMERA report, I don't agree with a great deal of their claims, and if I were involved in some of the cases which were corrected, I would not have made those corrections."
Schocken added:
I entirely reject the claim that there is a bias in the English edition slanted towards greater criticism of Israel, and all of your examples cannot substantiate this claim. CAMERA, to say the least, is a one-sided organization with a specific agenda.It is not at all a body dedicated to accuracy in journalism. If that were the case, its findings would have been different, and apparently balanced.
Schocken was again compelled to defend Haaretz's English edition in interview that he gave last week on Army Radio (April 13, 10 minutes 30 seconds into the show), in which interviewer Yael Dan focused on an issue documented by Presspectiva: While multiple Hebrew headlines referred to the "Palestinian terrorist" killed by an Israeli soldier in Hebron once he was disarmed, the English headlines for the same articles referred only to the shooting of a "Palestinian."
Repeating the response he had earlier given Presspectiva, he launched into an absurd argument that if the paper identifies the Palestinian as a "terrorist," it must by the same token identify the soldier, who is now facing charges of manslaughter, as a "murderer." Schocken flat out rejected Dan's point that while the Palestinian's attack on the soldier is an undisputed fact, a court is now examining the circumstances surrounding the soldier's shooting of the Palestinian attacker.
The recent focus on Haaretz's skewed translations follows broad criticism of the paper from MK Yair Lapid, who decr
ied the disproportionate influence of the paper abroad and blasted its writers as "post-Zionist radicals, not journalists." "The freedom of expression does not permit people to lie and to demonize," said the Yesh Atid MK.