CAMERA's Israel office has prompted a correction in the English edition of Ha'aretz, which last week ran a photo caption wrongly identified Israeli stone-throwers as Palestinians. As noted on CAMERA's site last week, Ha'aretz had apparently relied on erroneous information which was supplied by the Agence France-Presse (AFP), whose photographer had taken the picture.
The May 6 Ha'aretz photograph and caption follow:
The two men in the background who are facing the camera are Israeli stone-throwers, not Palestinian. Their ritual fringes ("tzitzit") are clearly visible in another AFP photograph (see below), and they were correctly identified as Israeli by other agencies such as AP and APA. Here is the AFP caption, which was the source for Ha'aretz's misinformation:
AFP released to its clients this additional caption which likewise erroneously identified Israeli stone-throwers as Palestinian: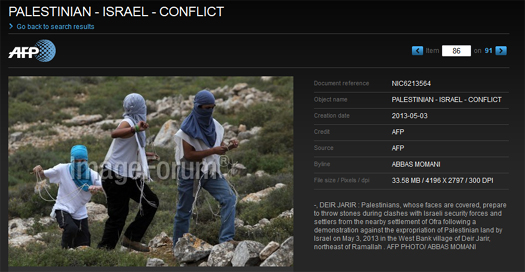 On Thursday, May 9, Ha'aretz promptly published the following straightforward correction on Page 2. The correction regarding the photo caption is the second of two corrections that Ha'aretz published Thursday; the first (not initiated by CAMERA) concerns another case of "Ha'aretz, Lost in Translation."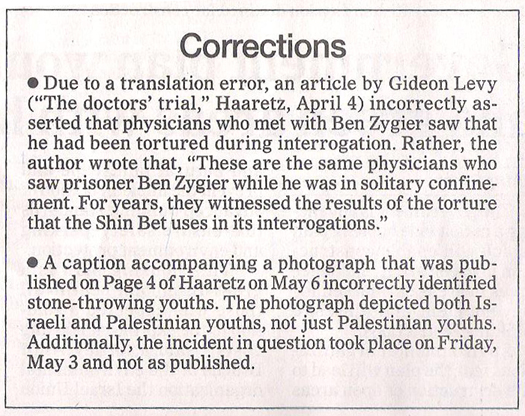 While Ha'aretz responsibly fulfilled its professional obligation to set the record straight, AFP has not released a correction to its client. Instead, the agency has removed the incorrect information from the original caption in the AFP photo archive. The revised captions give no indication that they were changed or corrected and they appear as follows: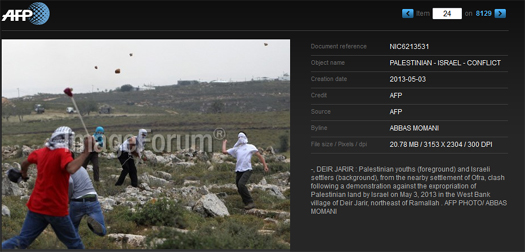 By not releasing a correction, and by not indicating in the archive that the original caption had been wrong, AFP is deceiving its clients. If they do not receive an AFP correction, media outlets who relied on AFP's misinformation have no way of knowing that they have published false information. AFP's clients are not likely to review archives of photos that they already ran, scouring for any changes to the wording. This is hardly the first time that AFP has failed to correct erroneous photo captions regarding Israel and the Palestinians. What's unique this time is that the error unfairly portrays Palestinians, and whitewashes Israeli violence, while the two previous uncorrected captions erroneously blamed Israel for violence.
It's not that AFP does not publish caption corrections at all. To the contrary, a search of the AFP photo archive for corrections over the last week turn up dozens of results, many of them relating to sports or entertainment. For instance, there's this correction of the spelling of a last name of musician Carlo Olson which instructs clients: "Please immediately remove the erroneous mention from all your online services and delete it from your servers. Please ensure that the same actions are carried out by end-users. Failure to promptly comply with these instructions will entail liability on your part fir any continued or post-notification usage."
Media outlets relying on AFP for Hollywood shots can rest assured that AFP has demonstrated its commitment to factual accountability. Once again, though, AFP provides yet another reason why clients seeking reliable captions on Israeli-Palestinian affairs should look elsewhere.
(For more corrections at Ha'aretz prompted by CAMERA, please see here.)