Haaretz's English print edition went out of its way to marginalize Ari Fuld, murdered in 2018 by a Palestinian terrorist who stabbed him in the back from behind. The page 3 July 23 item read ("Palestinian who killed N.Y.-born settler activist gets life in prison") began:
A military court in the West Bank on Wednesday sentenced a Palestinian who stabbed a New York-born settler to death in 2018 to life imprisonment.

The attacker took the life of Ari Fuld, a 40-year-old American-Israeli citizen and vocal right-wing "Israel advocate" from Efrat, at the nearby Gush Etzion junction, which has been the site of many security incidents over the years. (Emphasis added).
How are Fuld's political view and Israel activism at all relevant to his murder? Did the teen murderer take Fuld's political views and activism into account when he plunged a knife into the back of his unknown victim? Clearly not. (And once the irrelevant activity of his Israel activism is included, why is "Israel advocate" in scare quotes?).
As the judges in the case found, and as the article itself reported further down:
The murderer "acted in a cold and deliberate manner, with unusual determination to achieve his objective — to kill Jews wherever they are," the judges wrote in their verdict. (Emphasis added.)
The print edition headline also highlighted the irrelevant biographical information of the "settler activist." Why is that information more newsworthy than, for example, the fact that he was a father of four?
In addition, in a factual error appearing only in the English print edition, the article wrongly reported that Ari Fuld's murderer was ordered "to pay Fuld's family 1.25 million shekels ($364.5 million) in compensation."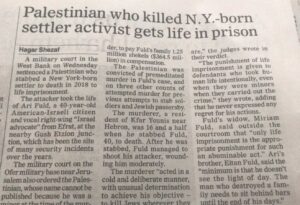 In fact, Fuld's murdered was ordered to pay $364,500, not $364.5 million. (
Haaretz
had the shekel amount correct, but apparently the translator, perhaps the same person who felt it necessary to cite Fuld's "vocal right-wing" settler activism as if it was relevant, erred on the currency conversion.)
CAMERA contacted editors about the error. As of this writing, a correction has yet to appear.
See also "
Haaretz
applies inconsistent standards to NGOs"