Shortly after 11-year-old Shady Abdel-al was killed in clashes at Gaza's border with Israel last Friday (Sept. 14), the claim from Hamas' Ministry of Health that Israeli troops fired on the boy was called into question. While some media outlets subsequently reported information contradicting the health ministry account, others failed to do so. (English spellings of the Arabic name vary. In addition, some media reports put his age at 11; others report that he was 12.)
The plot thickened when information surfaced last night that Hamas itself was retreating from its own story. At that point, with urging and communication from CAMERA, Reuters commendably amended its earlier coverage and issued a new story about Hamas' backtracking. Agence France Presse, in contrast, has, as of this writing, failed to correct captions which state as fact that Abdel-al "was killed by Israeli forces."
The initial questions surrounding the circumstances of Abdel-al's death arose quickly. Avichay Adraee, the Arabic spokesman for the Israel Defense Forces, tweeted the same day he was killed (translation by CAMERA Arabic):
Once again, there are mounting questions about the credibility of the statement issued by Hamas's Ministry of Health regarding the death of the boy Shady Abdel-al during the March of Return. According to the indications and testimonies, the boy was killed as a result of an injury caused by a rock being thrown at the time of the violent actions of riot. Does Ashraf al-Qudra @press221 [a spokesman for the health ministry] have anything to say in response?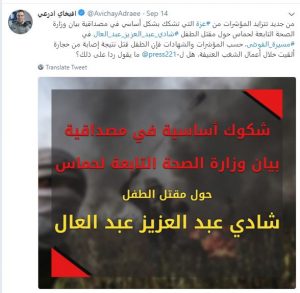 The Associated Press was the first news outlet to acknowledge that the circumstances surrounding the boy's death were disputed. The wire service's initial coverage included only Hamas' information, and carried a headline which presented the Ministry of Health's account as fact ("Israeli troops kill 3 Palestinians, including boy, in Gaza," Sept. 14). That article relayed Hamas' information, with attribution, stating:
Three Palestinians, one of them a 12-year-old boy, were killed by Israeli fire Friday as thousands of protesters gathered along Gaza's perimeter fence with Israel, health officials said.
By the next day, on its own initiative, AP published a story noting that this information was disputed ("Conflicting reports surround Gaza boy's death at protest," Sept. 15). AP reported:
There are conflicting reports surrounding the death of a boy at a Gaza border rally that Palestinians initially blamed on Israel.

Israel's military said their evidence shows the 11-year-old was hit by a rock thrown by protesters. Two Gaza rights groups said he died after being struck "with a solid object."

The Hamas-run Gaza Health Ministry said Shady Abdel-al was killed by Israeli fire. A spokesman said Saturday he died from head wounds, without elaborating.

The ministry removed a baby from their official death in May after The Associated Press reported she died from a preexisting medical condition, not from Israeli tear gas as it had claimed.
In addition, AP photo captions from the funeral that day included the information which originated with both Israelis (via Adraee) and Palestinians (via the Gaza groups) that Israeli troop fire was not responsible for the boy's death. It did not repeat Hamas' claim, by then called into question by both Palestinian and Israeli sources, that Israeli troop fire was responsible for Abdel-al's death.
Then, in a significant development, Haaretz last night reported that Gaza authorities backtracked on their allegation that Israeli forces killed Abdel-al ("Gaza Health Ministry Backtracks: Palestinian Boy May Not Have Been Killed By Israeli Fire").
"Shadi Abdel-Al killed Friday in a protest at the Strip. After his death, Gaza authorities claimed he was shot in the head, but following an Haaretz query said that the cause of his death could not be determined," elaborated the subheadline. Jack Khoury reported:
12-year-old Shadi Abdel-Al who died in the clashes on the Gaza fence Friday was not hit by a live Israeli bullet but by a blunt object, the Al-Mezan Center for Human Rights in Gaza said Sunday.

Gaza's Health Ministry said Friday that the boy was shot in the head. On Saturday, Haaretz asked the Ministry of Health in Gaza to investigate the circumstances of the boy's death. A spokeswoman for the ministry said that according to the medics, he suffered a head injury but she could not confirm whether the injury was caused by a bullet. …

The medical examination showed that Abdel-Al was severely injured by a dull object that cracked his skull, and that he died shortly after. The report included no details of the object that hit Abdel-Al, nor whether it was a live bullet, grenade or other object.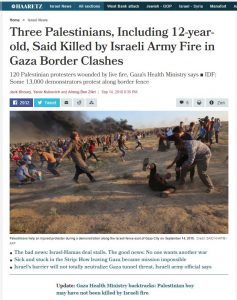 Haaretz's report about the Hamas backtracking appeared after CAMERA contacted editors to call their attention to an earlier article about Abdel-al which only reported the health ministry claim ("Three Palestinians, Including 12-year-old, Said Killed by Israeli Army Fire in Gaza Border Clashes"). Haaretz English edition editors (but not Hebrew) have since commendably added a prominent hyperlink to the first article drawing readers' attention to the new article on the Hamas backtracking.
Reuters Sets the Record Straight
Originally, Reuters photo captions about the funeral state as fact that Abdel-al "was killed by Israeli forces." Two examples of the many flawed Reuters captions follow.
In addition, the original related Reuters article cites the account given by the Hamas Health Ministry ("Israeli troops kill boy, two men in Gaza protests: medic"). The article did note that Reuters did commendably turn to an Israeli army spokesman for a response (she didn't provide any information beyond saying troops keep to their regulations), but it did not note Adraee's Arabic tweet, which called the Hamas account into question.
CAMERA sent AP's "conflicting reports" piece and Haaretz's article on Hamas' backtracking to Reuters with a request to clarify the coverage. Reuters editors agreed that the captions required clarification, and commendably published the following correction today.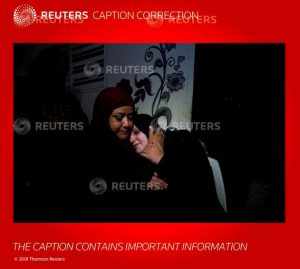 The caption correction states:
ATTENTION EDITORS – CAPTION CORRECTION FOR FFF-GAZ04-FFF-GAZ12. WE ARE SORRY FOR ANY INCONVENIENCE CAUSED. REUTERS. REFILE – REMOVING CAUSE OF DEATH The mother of 11-year-old Palestinian boy Shadi Abdel-Al, who was killed during a protest at the Israel-Gaza border fence, is comforted as she mourns during his funeral in the northern Gaza Strip September 15, 2018. REUTERS/Mohammed Salem

All Reuters captions were corrected, with removal of the phrase "who was killed by Israeli forces."
Moreover, in response to CAMERA's urging, Reuters today also published its own article about Hamas' backtracking ("Palestinian ministry rolls back statement that Gaza boy was killed by Israeli gunfire").
AFP Stands Out For Failure to Correct
While AP exhibited professional responsibility for digging up the truth both in this case, along with the story last May about the Palestinian baby girl falsely said to have died due to Israeli tear gas, and while Reuters demonstrated accountability when presented with shortcomings in its coverage, Agence France Presse stands out among the wires for its skewed coverage, irresponsibility and lack of accountability.
Like Reuters, AFP published photographs from the funeral with captions stating as fact that Israeli troops killed Abdel-Al. A selection of those problematic captions follow:
As for its articles, AFP first story mentioning Abdel-Al also stated as fact that the Israeli army killed him ("Gazans bury 12-year-old killed in Israel border clashes"). The Sept. 15 article began: "Hundreds of Palestinians attended the funeral Saturday of a 12-year-old boy killed by Israeli army fire during clashes on the Gaza border." The article does not note any information from either the Israeli army or the Palestinian groups that he was not killed by Israeli fire.
After CAMERA contacted AFP about its skewed coverage, a subsequent AFP article on Gaza developments ("Palestinian teen dies from wounds in Gaza unrest: ministry") noted:
An Israeli military spokesman has meanwhile [sic, in fact Adraee raised the issue a day before AFP's previous article appeared] raised questions over the death of a 12-year-old Palestinian in the Gaza Strip during protests and clashes on Friday.

The health ministry said on Friday that Shadi Abdel Aal was killed by Israeli fire east of Jabalia in the northern Gaza Strip.

On Saturday, a friend who was with him at the time said they were throwing stones at the border fence when Abdel Aal was hit be a tear gas grenade fired by Israeli soldiers and collapsed instantly.

Israeli military spokesman Avichay Adraee said on Twitter that, according to "indications" and unnamed "witnesses," the boy was killed after being hit by stones that had been thrown.

The army did not respond to a request for further details.

Ashraf al-Qudra, spokesman for the Gaza health ministry, told AFP on Sunday that the ministry stood by its statement that the boy was killed by Israeli fire and that an autopsy would confirm further details.
AFP ignored the Gaza groups with their information which was consistent with the army's claim.
LA Times Still Needs to Catch Up

The Los Angeles Times, in both print on Sept. 15 (page A4) and online ("Israeli troops kill 3 Palestinians, including 12-year-old boy, in Gaza") published the original AP story which had stated as fact that Israeli fire was responsible for the boy's death. CAMERA has contacted editors, but as of this writing, they have yet to clarify their coverage.
Stay tuned for additional updates.
Sept. 18 Update: Haaretz Corrects a New Article

A new story by Almog Ben-Zikri in
Haaretz
's English edition today (page 2 in print, "Hand grenade attached to a balloon found near Gaza") and online
here
, again attributed the boy's death to Israeli troop fire, stating: "The clashes came after three Palestinians were killed by Israeli army fire during confrontations along the Israel-Gaza border fence Friday."

The Hebrew version of Ben-Zikri's article, both in print and online, do not state that Israeli army fire killed three Palestinians Friday. (For additional instances of "
Haaretz, Lost in Translation
, please see here.)
CAMERA contacted editors about the error, and they commendably changed the sentence to note "two Palestinians were killed by Israeli army fire during confrontations," as opposed to three. Contrary to standard journalistic practice, they did not append a note alerting readers to the change.