The New York Times said yesterday it is "reviewing next steps" after media organizations revealed offensive Twitter posts by one of its senior editors.
The editor, Tom Wright-Piersanti, wrote in 2010, "I was going to say 'Crappy Jew Year,' but one of my resolutions is to be less anti-Semitic. So… HAPPY Jew Year. You Jews."
A Twitter item written later that year took aim at Amish people, who are sometimes referred to as the Pennsylvania Dutch. "I'm working on a tell-all expose of the Amish," wrote Wright-Piersanti. "[I'm] calling it, 'more like Pennsylvania Douche.'"
Before eventually making his Twitter account private, the editor posted an apology: "I have deleted tweets from a decade ago that are offensive. I am deeply sorry."
In a statement sent to several news organizations, a New York Times spokesperson suggested the paper has yet to decide how to react to Wright-Piersanti's words. "We are aware of these tweets, which are a clear violation of our standards," Danielle Rhoades Ha told reporters. "We are reviewing next steps."
To help predict what those steps might be, consider how the newspaper has handled similar controversies in recent years.
Jonathan Weisman
Earlier this month, the New York Times demoted its deputy Washington editor in response to a controversy about how he discussed a black Congressional candidate and after clashes on the topic of race with author and Times contributor Roxane Gay.
The newspaper's media reporter covered the story, explaining,
The New York Times said in a statement on Tuesday that Jonathan Weisman, a deputy Washington editor of The Times, had been demoted and would no longer oversee the paper's congressional correspondents because he repeatedly posted messages on social media about race and politics that showed what the paper called "serious lapses in judgment."

Mr. Weisman, 53, will lose the title of deputy editor, a designation for Times editors with wide-ranging duties and significant input into news coverage, a spokeswoman for the paper said.
Other large outlets including CNN, the Washington Post, and Daily Beast covered the story.
Quinn Norton
In early 2018, the New York Times announced it was hiring tech journalist Quinn Norton as a lead opinion writer. Within hours, she lost her job, as concerns were raised over her past use of derogatory language historically used to attack African Americans and the LGBT community.
This story, too, was widely covered, including in the Atlantic, Wired, and the New York Times itself, which reported,
On Tuesday afternoon, The New York Times announced that it had hired Quinn Norton, a journalist and an essayist known for her work at Wired magazine, as the editorial board's lead opinion writer on technology.

On Tuesday evening, Ms. Norton said in a Twitter post that she would no longer be joining The Times.

Between the two statements, a social media storm had erupted, with Ms. Norton at the center of it, because of her use of slurs on Twitter and her friendship with Andrew Auernheimer, who gained infamy as an internet troll going by the name "weev." Mr. Auernheimer now works for The Daily Stormer, a neo-Nazi website.
Sarah Jeong
Several months after the Norton scandal, the New York Times hired tech journalist Sarah Jeong. In this case, it was discovered that the new hire had a long history of Twitter posts attacking white people in general. Jeong was criticized in the conservative press, supported in liberal outlets including Vox and Salon, and covered widely by news outlets including the New York Times, which summarized the outcome of the controversy in a headline that noted, "Times Stands By Editorial Board Member After Outcry Over Old Tweets."
The article elaborated,
On Wednesday, The New York Times announced that it had hired Sarah Jeong as the lead technology writer for its editorial board, saying she "has guided readers through the digital world with verve and erudition, staying ahead of every turn on the vast beat that is the internet."

There was soon an outcry on right-wing websites over tweets Ms. Jeong wrote from 2013 to early 2015, which referred to white people with terms like "groveling goblins" and "dogs."
Back to Tom Wright-Piersanti
It remains to be seen which of the above examples the Wright-Piersanti affair will most closely resemble. Will he be demoted, fired, or escape unscathed? If editors are waiting to see how much interest there is in a story about anti-Jewish language before they decide how or whether to reprimand their employee, Wright-Piersanti might take some relief. The Jewish press and right-leaning publications showed interest in the story, but much of the left-leaning press has thus far ignored it.
Anti-Semitism and the New York Times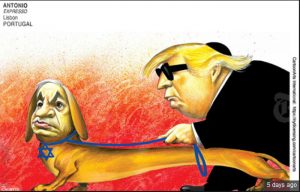 The New York Times has struggled with antisemitism in the recent past. Earlier this year, it published a cartoon that the newspaper admitted was "clearly anti-Semitic and indefensible." The newspaper indicated that the editor responsible for printing the cartoon would face unspecified disciplinary action.
In 2018, it published, without qualification, a recommendation of an antisemitic book by bigot and conspiracy theorist David Icke. The newspaper defended its decision to relay the recommendation, which made during an interview with Alice Walker, a noted author who later in her life expressed anti-Jewish feelings.
In 2015, the Times published a chart literally highlighting in yellow the Jewishness of lawmakers (or their constituents) who opposed the Iran nuclear deal. Editor Jonathan Weisman and Standards Editor Greg Brock initially stood by the graphic, but eventually the newspaper admitted in an Editors' Note that the chart was "insensitive" and that it "oversimplified a complex aspect of the debate" about the deal.
This year, the newspaper inexplicably concealed antisemitic language in a Tweet by Congresswoman Rashida Tlaib, and in doing so made it appear as if she was being charged with antisemitism for no reason. After outcry, a subsequent article did forthrightly quote the offending language.
After the paper published its antisemitic cartoon, CAMERA called on the newspaper to adhere to the journalistic precept of transparency. It stated,
The public, and particularly Jews harmed by the spread of antisemitic tropes, deserve openness about the newspaper's promised "significant changes" in response to the scandal. What disciplinary action will be taken? How will editors be trained to recognize anti-Jewish bigotry? Has the paper adopted the International Holocaust Remembrance Alliance definition of antisemitism? What staffing changes will be made? The newspaper must transparently back up its promise of change.
The same can be said about Wright-Piersanti and his anti-Jewish tweets.
We'll update this space when the newspaper announces the result of its "review."