[See Update 1 and Update 2 below]
A dog with a Jewish star around its neck and the face of a Jewish leader, leading a blind, yarmulke-wearing U.S. President would be standard fare for the notorious Nazi newspaper Der Sturmer, and for its modern descendants.
Unfortunately the New York Times must now be counted among those descendants. Just days after the Times published an op-ed falsely claiming Jesus was a Palestinian, the New York Times International Edition placed this cartoon on their op-ed page, depicting Israeli Prime Minister Benjamin Netanyahu as a dog leading a blind U.S. President Donald Trump: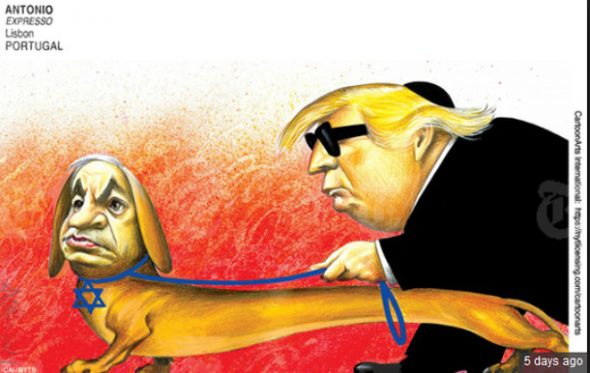 The cartoon is by the award-winning (aren't they all) Portuguese cartoonist Antonio Antunes Moreira, and was distributed by the New York Times News Service and Syndicate.
After a wave of criticism – perhaps among the earliest was a tweet from the left-wing site Jewish Worker – the Times removed the image and tweeted this statement: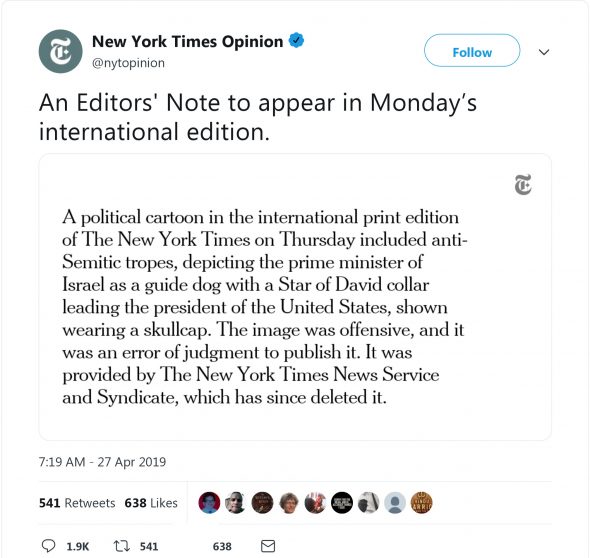 A political cartoon in the international print edition of The New York Times on Thursday, included anti-Semitic tropes, depicting the Prime Minister of Israel as a guide dog with a Star of David collar leading the President of the United States, shown wearing a skullcap. The image was offensive, and it was an error of judgement to publish it. It was provided by the New York Times News Service and Syndicate, which has since deleted it.
Some have termed this an apology – it is not, it is cold-blooded and at best descriptive. Neither the word apology nor any synonym for apology is employed, and there is nothing about accountability or further steps the Times will take to make sure nothing like this ever happens again. This did not happen in a vacuum, but there is nothing about the responsible editor or editors being fired, or even disciplined. There is nothing about no longer accepting or distributing cartoons from the cartoonist Antonio, who has previously used religious symbols in an offensive way. For example, in the cartoon below the Jewish Star of David is represented as controlling the United States, and a crescent moon often associated with Islam is linked with dynamite. Both the Jewish Star and the crescent moon are seemingly bloody: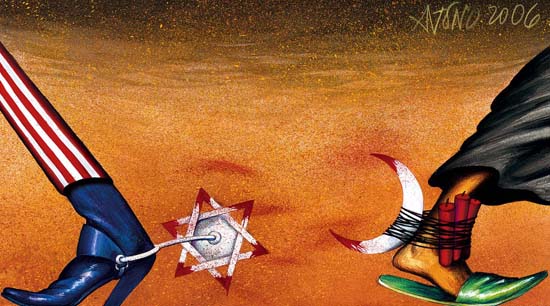 CAMERA has long dissected and debunked the Times' faulty coverage of Israel, for example here, here, here, here and – the full list going back to 1992 – here. But publisher Arthur (A.G.) Sulzberger and Executive Editor Dean Baquet are seemingly oblivious to the paper's deterioration under their watch. What kind of environment have they and their predecessors created (including under Sulzberger's father) that this could happen?
How low does the Times have to sink for them and their senior colleagues to finally acknowledge, if only to themselves, that the paper's foundation is rotting, and that radical repairs are urgently needed?
Update 1: The Times has today tweeted an apology and explanation for running the anti-Semitic cartoon, with a promise of "significant changes." Below is the Times' tweet and then the text: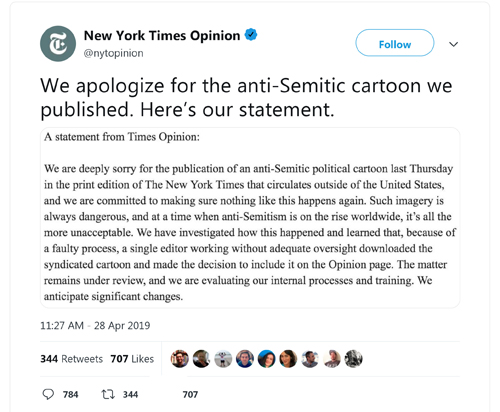 We are deeply sorry for the publication of a political cartoon last Thursday that ran in the print edition of the New York Times that circulates outside of the United States, and we are committed to making sure nothing like this happens again. Such imagery is always dangerous, and at a time when anti-Semitism is on the rise worldwide, it's all the more unacceptable. We have investigated how this happened and learned that, because of a faulty process, a single editor acting without adequate oversight downloaded the syndicated cartoon and made the decision to include it on the Opinion page. The matter remains under review, and we are evaluating our internal processes and training. We anticipate significant changes.
Times columnist Bret Stephens also published an excellent column about the incident in today's paper: A Despicable Cartoon in The Times. The incisive subheading of the column is "The paper of record needs to reflect deeply on how it came to publish anti-Semitic propaganda," which is exactly what CAMERA and others had also called for.
The Times' apology and acknowledgement is a great improvement over their earlier, inadequate "Editors Note," reprinted above. But, of course, the real question is what Sulzberger and Baquet actually do to fix the corrupted culture that allowed this to happen, and will that fix also be reflected in its news pages, especially when covering Israel? As CAMERA has long pointed out, and as Stephens says in his column:
How have even the most blatant expressions of anti-Semitism become almost undetectable to editors who think it's part of their job to stand up to bigotry?

The reason is the almost torrential criticism of Israel and the mainstreaming of anti-Zionism, including by this paper, which has become so common that people have been desensitized to its inherent bigotry. So long as anti-Semitic arguments or images are framed, however speciously, as commentary about Israel, there will be a tendency to view them as a form of political opinion, not ethnic prejudice. But as I noted in a Sunday Review essay in February, anti-Zionism is all but indistinguishable from anti-Semitism in practice and often in intent, however much progressives try to deny this.

Add to the mix the media's routine demonization of Netanyahu, and it is easy to see how the cartoon came to be drawn and published: Already depicted as a malevolent Jewish leader, it's just a short step to depict him as a malevolent Jew.

I'm writing this column conscious of the fact that it is unusually critical of the newspaper in which it appears, and it is a credit to the paper that it is publishing it. I have now been with The Times for two years and I'm certain that the charge that the institution is in any way anti-Semitic is a calumny.

But the publication of the cartoon isn't just an "error of judgment," either. The paper owes the Israeli prime minister an apology. It owes itself some serious reflection as to how it came to publish that cartoon — and how its publication came, to many longtime readers, as a shock but not a surprise.
Update 2: Just days after apologizing for an anti-Semitic cartoon that ran in its International Edition, the Times published another offensive cartoon in its international paper, this one depicting Israeli Prime Minister Netanyahu as a sunglasses-wearing Moses carrying a tablet and taking a selfie, which a Times spokesperson tepidly defended as not as bad as the first cartoon: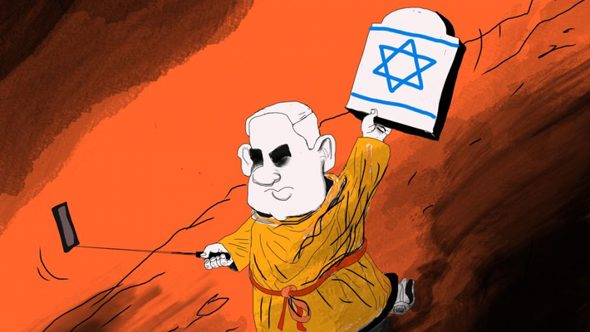 This cartoon is by the Norwegian cartoonist Roar Hagen, who has his own history of offensive anti-Jewish cartoons.
According to an exclusive story by Lloyd Grove in the Daily Beast, after criticism for running the second cartoon, the Times then announced it will suspend publishing syndicated cartoons in its International Edition and will cut its ties to the source of the cartoon, Cartoon Arts, which the Times had long syndicated via its Times Licensing Group. Grove quoted Times spokesperson Eileen Murphy as saying:
The cartoon that ran in the international print edition of The Times last Thursday was clearly anti-Semitic and indefensible and we apologize for its publication. While we don't think this [second] cartoon falls into that category, for now, we've decided to suspend the future publication of syndicated cartoons.
Of course, suspending the publication of cartoons does not really address the real problem, which is that many in the Times hierarchy are themselves reflexively critical of Israel, and so find toxic anti-Israel cartoons – and their own toxic anti-Israel news coverage – as perfectly normal and justified.
What needs to change at the Times is not whether or not there are cartoons, it is the toxic anti-Israel culture.
---
Finally, scholar and Jerusalem Post op-ed editor and columnist Seth Frantzman has an excellent rundown of the scandal, including a link to his own column.