Not for the first time, Haaretz's English edition inserts false information contradicted by the corresponding Hebrew article concerning the legal status of a Palestinian home in the disputed eastern Jerusalem of Silwan.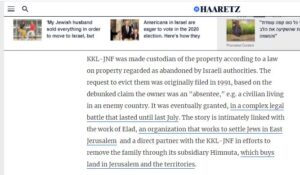 The page-one English edition article yesterday regarding the Sumreen family home in Silwan ("Facing int'l outcry, JNF reconsiders eviction of E. Jerusalem Family"), which is also online
here,
erroneously reports:
The request to evict them was originally filed in 1991, based on the debunked claim the owner was an "absentee," e.g. a civilian living in an enemy country.
The transfer of the property to the Custodian of Absentee Property was note based on a "debunked claim" but on the fact that the owner's children, the heirs, were located in an enemy countries when the owner (Moussa Sumreen) passed away in the 1980s.
Thus, Nir Hasson's
Hebrew
version (in print and online) of the same article accurately reports (CAMERA's translation):
The Jewish National Fund received the property from the Custodian of Absentee Properties, according to the law on abandoned properties, after the heirs of the house's owner were found to be in enemy countries at the time that he passed away.
Likewise, in
July
, the English edition accurately reported:
The KKL-JNF received custodianship of the building on the basis of a law on property regarded as abandoned by Israeli authorities. The court determined that the house's legal heirs were absentees, as they resided in enemy countries at the time their father died.
CAMERA has informed editors of the contradiction between the same article in the two languages and has asked for correction of the English version which falsely states that the home was transferred to the Custodian of Absentee Properties based on a "debunked claim." Stay tuned for an update.
For additional instances of "Haaretz, Lost in Translation," please see here.