CAMERA's Israel office yesterday prompted correction of a
Los Angeles Times
article which wrongly referred to Tel Aviv as the capital of Israel, using the common journalistic practice of citing a nation's capital city as shorthand for the country's government ("New ceasefire agreement in Syria," in print July 8 and online
here
.)
Citing Amman, the Jordanian capital, the article states: "Amman and Tel Aviv have repeatedly expressed concern regarding Hezbollah and other pro-government factions supported by Iran near their borders."
Following communication from CAMERA reminding editors that Jerusalem is Israel's capital, yesterday the following correction appeared in the print edition (page 4).

In addition, while text in the online article has remained unchanged and still refers to "Amman and Tel Aviv," editors did add a correction at the top of the article.
The Los Angeles Times
previously corrected this same error in
January 2015
.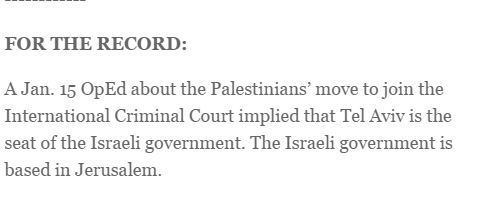 For additional
Los Angeles Times
corrections prompted by CAMERA, please see here.