The New York Times was the subject of uncomfortable attention for its coverage of a House of Representatives vote in favor of helping Israel procure more interceptors for its Iron Dome missile defense system.
In a piece that spent nearly as much time promoting the anti-Israeli arguments of the eight Democrats who voted against the bill as it did sharing the views of their 210 party colleagues who supported it during the Sept. 23 vote, reporter Catie Edmondson also focused on one Member of Congress who voted "present."
Along with most other members of the so-called "Squad" of like-minded legislators, Alexandria Ocasio-Cortez had initially voted against funding for the Iron Dome, which was put into heavy use last May to combat barrages of indiscriminate rockets fired from the Gaza Strip into Israel. A short while later, though, she changed her voted from the House floor.
Edmondson had ideas about why the vote was changed:
Minutes before the vote closed, Ms. Ocasio-Cortez tearfully huddled with her allies before switching her vote to "present." The tableau underscored how wrenching the vote was for even outspoken progressives, who have been caught between their principles and the still powerful pro-Israel voices in their party, such as influential lobbyists and rabbis.
Jewish clergy were nowhere to be seen on the House floor. And for some reason, they didn't get to Rashida Tlaib, Ilhan Omar, Cori Bush and the small handful of others opposed to the Iron Dome funding.
But, yes, it was apparently powerful "rabbis" who, in the middle of the vote, helped cajole Ocasio-Cortez into abandoning her principles, the New York Times told readers. Not her ambition for higher office. Not principled voters. Not New Yorkers who believe Palestinian rocket fire targeting civilians is a problem that should be combatted. But "influential lobbyists." And those rabbis.
As CAMERA brought the language to the attention of a Times editor, commenters on social media commented on Edmondson's language. "Chalking this up to 'influential lobbyiests and rabbis' is an especially bad look," wrote Zachary Braiterman, a professor of Jewish studies and philosophy.
"This really is bad," noted law professor David Schraub.
The Times framed the vote as "pitting 'principles' — the honorable goal of Israeli civilians getting murdered by Hamas — and the raw naked power of the evil Jew Lobby. Including rabbis!" wrote journalist Gary Weiss.
The analysis here in @nytimes is dumb. However "bitter" the divisions in the Democratic Party, only 8 Dem. Reps voted against Iron Dome. Chalking this up to "influential lobbyists and rabbis" is an especially bad look https://t.co/7OeOf6KojP

— Zachary Braiterman (@ZacharyBraiterm) September 24, 2021
This really is bad. And, while I don't think the NYT is necessarily accurately narrating AOC's thought process, if she did break down crying bc of the horrible position "Rabbis" had put her in, that underscores my belief that the term "gentile fragility" deserves more traction. https://t.co/HJgMQGiXCD

— David Schraub (@schraubd) September 24, 2021
This isn't just casual bigotry from @CatieEdmondson & @nytimes; it's genuinely poor reporting too. The idea that pro-Israel activists wasted their time on AOC is laughable. In contrast, the actual pressure campaign on AOC in the other direction tells a much larger story.

4/7

— Shany Mor שני מור شني مور (@ShMMor) September 24, 2021
Caught between their principles and their…rabbis? Are the rabbis being mean to the Squad? Did AOC switch her vote because she was afraid she'd get in trouble and miss Shabbos Party? She was supposed to be the ima this week! pic.twitter.com/5KfAiQyyH9

— Seth Mandel (@SethAMandel) September 24, 2021
It appears that some at the newspaper might agree that there was a problem with the language. The Times story, which was published online after the vote on Sept. 23, was edited later that night to eliminate the reference to lobbyists and rabbis. Although a prior change to the article was noted in a correction appended to the bottom of the story, no indication was given of this corrective edit.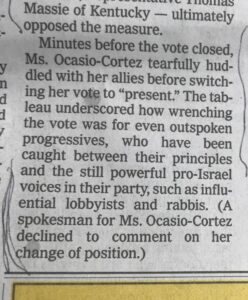 Although the online copy was "stealth edited," print editions went out unchanged, and so readers of the print copy were still told of the nefarious rabbis. With no published "correction" to be found on the website, it's unclear whether the paper will inform print readers that it doesn't stand by the problematic language. Will editors admit to echoing antisemitic tropes about Jewish power used against good, and apologize? Or will they pretend the edit, made as news of the language was spreading on Twitter, was just an inconsequential change made to save a bit of space?
This wasn't the first time Catie Edmondson stumbled in her coverage of Jews and the Squad. When covering the controversy over Rashida Tlaib's comment that pro-Israel Democrats "forgot what country they represent," which was broadly criticized as a for of the antisemitic "dual loyalty" slur levelled at Jews, Edmondson actually concealed the offending words, making it appear that she was unfairly criticized for innocuous comments.
She has also whitewashed the anti-Israel BDS campaign by telling readers it is a group that merely "seeks to pressure Israel into ending the occupation of the West Bank." (In fact, BDS leaders and critics of the campaign agree that it is opposed to Israel's very existence.)
Nor is it the first time the New York Times has published, promoted, or covered up for antisemitism. In 2019, it published a cartoon that closely resembled anti-Jewish Nazi propaganda cartoons. It interviewed an author who, as one journalist described it, "has flirted with anti-Semitism for years," and published her recommendation of a virulently antisemitic book. In covering a candidate for office, it ignored the candidate's assertion on Twitter that "America's Jews are driving America's wars." And more.
Editors apologized for the cartoon. They defended their promotion of the antisemitic book. What, if anything, will they say about their charge that powerful rabbis stomp out principles in the halls of Congress?