In coverage of the global Coronavirus crisis, various media have reported on the extraordinary steps various governments have taken to stem the pandemic, the difficulties in balancing such measures against privacy rights or other freedoms of democracy, and criticism from some that certain actions are unjustified, undemocratic power grabs. The New York Times, in particular, along with The Los Angeles Times, identify Israel as a prime example of a country where an "autocratic," "authoritarian" leader allegedly engaged in an undemocratic "coup d'état," or "Coronavirus coup."
To make the case, both leading media outlets have falsely and repeatedly reported that Israeli Prime Minister Benjamin Netanyahu has closed the country's courts, delaying his own trial on corruption charges.
Gebrekidan repeats further down in the piece:
And by ordering the closing of the nation's courts, Mr. Netanyahu delayed his scheduled appearance to face corruption charges.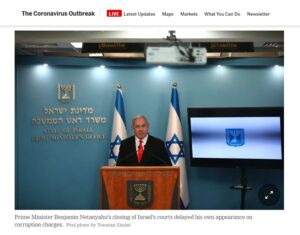 Similarly, a caption (screenshot at left) to the article falsely states: "Prime Minister Benjamin Netanyahu's closing of Israel's courts delayed his own appearance on corruption charges."
Prime Minister Benjamin Netanyahu was supposed to be facing trial this week on bribery, fraud, and breach of trust charges.

Instead, he was shutting down the courts. . .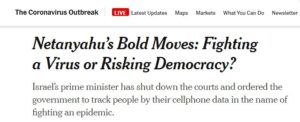 The subheadline of the article also wrongly alleges: "Israel's PM has shut down the courts. . . " (at left.) But Netanyahu did not shut down the courts. Nor did he delay his own trial. Nor have the courts been shuttered, though their activities have been curtailed. As Halbfinger and Kershner have accurately reported elsewhere, it was Justice Minister Amir Ohana, a Netanyahu ally, who ordered the courts to restrict their activity.
Thus
,
Isabel Kershner correctly reported ("Citing Threat to Israeli Democracy, Netanyahu Opponents Take Battle to Supreme Court," March 22):
The justice minister, a Netanyahu loyalist, also used emergency ordinances to restrict court activities, leading to the postponement of Mr. Netanyahu's trial on corruption charges for more than two months.
In addition, on March 18, Halbfinger, Kershner and Ronen Bergman accurately reported that Netanyahu's
justice minister on Sunday severely curtailed the courts, a move that was followed hours later by the postponement of Mr. Netanyahu's criminal trial on bribery and corruption charges, which had been scheduled to begin on Tuesday.
In the very early hours of Sunday, Israeli Justice Minister Amir Ohana announced that emergency measures will be put in place to counter the spread of coronavirus, affecting the workings of Israel's courts. Ohana later said that the decision to postpone the [Netanyahu] trial was made solely by the judges on the panel set for the trial, "without any involvement" by politicians.

According to the announcement, court activity will be frozen except for urgent hearings.
In a March 21
press release
, Supreme Court Chief Justice Esther Hayut clarified that the courts continue to function throughout the country, providing essential services to the public. Her statement emphasizes that the courts are not closed, and adds: "The reduced activity of the courts due to the Coronavirus crisis until now – and everything necessary will be done in the future as well – to ensure that everything first and foremost will be carried out according to her opinions and decisions."
Like
The New York Times
,
The Los Angeles Times
has repeatedly falsely reported that Prime Minister Netanyahu shuttered Israel's courts. On today's front-page, for instance, Laura King falsely
reports
("Pandemic festering 'coronavirus coups'; Authoritarian leaders, invoking the need to stem the outbreak, are amassing power with little or no resistance"):
While launching a decisive early campaign to contain the virus' spread, Netanyahu and his allies put off the scheduled start of his trial by closing the courts …

But Netanyahu may be ahead of the curve in another way: In only four days, he has shut down Israeli courts . . .
CAMERA has contacted editors at both papers to request corrections of the various false assertions that Prime Minister Netanyahu shuttered the country's courts. Stay tuned for updates.
This post was amended on April 5 as it has erroneously identified Selam Gebrekidan's news article as an Op-Ed.