For the second time in a week, Deutsche Welle has corrected after wrongly reporting that a high-level international meeting took place in Tel Aviv when it actually happened in Jerusalem, Israel's capital.
Most recently, the May 30 article, "Israel, Egypt meet over shaky Gaza truce," had originally contained the erroneous heading: "Parallel talks in Tel Aviv, Israel." (Screenshot at left.)

Directly below that heading, the text of the article correctly reported that the meeting in question took place in Jerusalem, not Tel Aviv:
Also on Sunday, Egyptian President Abdel Fattah el-Sissi sent the country's intelligence chief, Abbas Kamel, to Israel for talks with Prime Minister Benjamin Netanyahu and other Israeli officials.

Netanyahu said the meeting in Jerusalem dealt with regional security issues and ways to prevent Hamas from siphoning off civilian aid to strengthen its capabilities. (Emphasis added.)
This press release from Israel's Ministry of Foreign Affairs confirms that the meeting between Netanyahu and Kamel took place in the "Prime Minister's Residence in Jerusalem."
In response to communication from CAMERA, Deutsche Welle commendably corrected the heading, which now states: "Parallel talks in Israel."
The relocation of a Jerusalem meeting to Tel Aviv was a replay of coverage last week at the publicly-funded German news outlet.
A May 25 photo caption had erroneously stated that US Secretary of State Blinken met Israeli Prime Minister Netanyahu in Tel Aviv, when in fact the meeting took place in Jerusalem. The article erred: "Blinken met with Netanyahu in Tel Aviv as part of a three-day trip to the region." (Screenshot at left.)
But as the article ("Blinken pledges US help to rebuild Gaza") directly below the photo correctly reported: "Blinken was speaking after talks in Jerusalem with the prime minister of Israel, Benjamin Netanyahu." (Emphasis added.)
The photograph originated with AP. The original AP caption correctly reported:
Israeli Prime Minister Benjamin Netanyahu, right, and U.S. Secretary of State Anthony Blinken shake hands during a joint press conference in Jerusalem on Tuesday, May 25, 2021, days after an Egypt-brokered truce halted fighting between the Jewish state and the Gaza Strip's rulers Hamas. (Menahem Kahana/Pool Photo via AP)
In other words, an editor at Deutsche Welle actively changed Jerusalem, the correct information supplied by AP, to Tel Aviv, introducing the error.
This @dwnews article correctly reports that @SecBlinken, @IsraeliPM met in Jerusalem. So why does the photo caption directly above the accurate story falsely state the meeting was in Tel Aviv? https://t.co/5Rr3zFRWCG pic.twitter.com/JZrwuo0g5Q

— Tamar Sternthal (@TamarSternthal) May 26, 2021
Following communication from CAMERA, Deutsche Welle corrected the caption, which now accurately states: "Blinken met with Netanyahu in Jerusalem as part of a three-day trip to the region."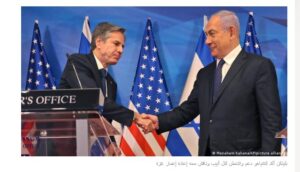 Separately, CAMERA Arabic is responsible for a Deutsche Welle Arabic caption last week which wrongly cited Tel Aviv as shorthand for Israel. A May 25 Arabic article was accompanied by an erroneous caption: "Blinken confirmed Washington's support of Tel Aviv to Netanyahu and discussed Gaza's reconstruction with him." (Emphasis added.)

Numerous media outlets including The Los Angeles Times, Washington Post, Associated Press, Reuters, Newsweek and The Guardian, among many others, have corrected reports, including in Arabic (see Al Hurra and CNN, BBC Arabic, along with Deutsche Welle Arabic) which erroneously cited Tel Aviv as shorthand for Israel.