Less than one day into the New Year, a CBS headline and Agence France Presse photo captions fall back into old bad habits: the erasure of Palestinian violence which precipitated the Israeli response.
Yesterday morning, Palestinian terrorists in the Gaza Strip launched two rockets towards central Israel. One landed off the coast close to Jaffa, and another fell into the sea further south, along the Palmachim beach. Israel responded by attacking Hamas infrastructure in the Gaza Strip.
CBS' truncated, egregiously misleading headline gives no indication whatsoever about the Palestinian rocket attacks against Israel. It deceives: "Israel hits Gaza with airstrikes."
The accompanying article is from the Associated Press but the original
AP headline
is: "Israeli jets hit militant targets in Gaza after rocket fire." Thus, CBS actively edited an imperfect AP headline, grossly degrading it by literally erasing two essential pieces of information pointing to Palestinian culpability.
First, CBS deleted AP's information that Israel's strike was in response to Palestinian rocket fire towards Israel.
Second, CBS cut AP's reference to the fact that Israel targeted "militant targets," ie infrastructure belonging to the Hamas terror organization. "Militant" is an objectionable euphemism for Hamas, designated as a terror organization by the US government and many other Western governments. CBS's erasure of even that inadequate reference strips the headline of any indication that Israel hit at a belligerent target. CBS's uninformative and misleading headline falsely suggests that out of the blue Israel randomly hit Gaza's peaceful civilian population.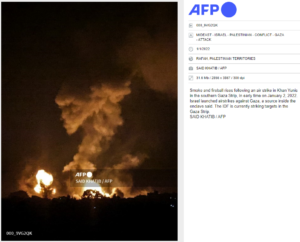 Agence-France Presse photo captions also entirely omitted both the Palestinian rocket attacks towards central Israel and the fact that Israel targeted Hamas infrastructure, as opposed to the Gaza Strip at large.
AFP's elliptical captions state:
Smoke and fireball rises following an air strike in Khan Yunis in the southern Gaza Strip, in early time on January 2, 2022. Israel launched airstrikes against Gaza, a source inside the enclave said. The IDF is currently striking targets in the Gaza Strip.SAID KHATIB / AFP
Notably, AP's caption for a similar image notes both the Palestinian rocket fire which preceded the Israel strikes and the "militant" (ie, Hamas, a designated terror organization) targets:
An explosion caused by Israeli airstrikes is seen in the town of Khan Younis, southern Gaza Strip, Sunday Jan, 2, 2022. Israel's military says it launched strikes against militant targets in the Gaza Strip, a day after rockets were fired from the Hamas-ruled territory. (AP Photo/Yousef Masoud)
CAMERA has contacted both CBS and AFP to request corrections. Stay tuned for updates.
Take note: Here's the original @AP headline which @CBSNews so inexcusably mangled. 1) AP, unlike CBS, notes Israel hit "militant targets" (ie terror org Hamas) in Gaza 2) AP notes *rocket fire from Gaza preceded Israeli strike.* @CAMERAorg urges CBS fix https://t.co/6NeX6Agvuc https://t.co/bzYjhw9WMT pic.twitter.com/1QoY9DdFVl

— Tamar Sternthal (@TamarSternthal) January 2, 2022
See also: AP, Los Angeles Times Obscure Hamas' Cross-Border Aggression