On Aug. 28, a full-page advertisement was published in The New York Times to endorse Black Lives Matter. Claiming to represent "the majority of American Jews," the ad not only proclaimed support for the "Black Lives Matter" message – the pursuit of racial justice, freedom and safety for Blacks – which the vast majority of American Jewish communities strongly support, but for the Black Lives Matter (BLM) movement – a framework encompassing different entities about which many American Jews are more apprehensive.
The ad celebrated the larger movement as America's "current day Civil Rights Movement" and the "best chance at equity and justice." Spearheaded by radical-left and/or pro-BDS groups like Bend the Arc and Jewish Voice for Peace, the ad purported to represent Jewish organizations from across the spectrum "speaking in one voice" to support the BLM movement. It also implicitly attacked those voicing concern about the movement's antisemitism by suggesting they were racists and white supremacists who were "pointing fingers, scapegoating, and using antisemitic dogwhistles" in order to undermine Black-led movements. The advertisement thus provoked anger and anxiety within the American Jewish community. (See the ad here.)
What is the Controversy Over the Movement?
The controversy about the BLM movement – in contrast to the cause – began years earlier, when movement leaders came out in support of the antisemitic BDS movement following a junket to "Palestine" organized by one of the BLM-affiliated groups called Dream Defenders that brought black activists to Israel and the West Bank to meet with BDS co-founder Omar Barghouti and other radical anti-Israel activists and militants. Among them was the BLM movement co-founder, Patrisse Cullors.
The December 2014 trip was the first of several such trips organized by Dream Defenders, a group founded by three alumni of Florida state universities in Tallahassee in reaction to the killing in Florida of Trayvon Martin by George Zimmerman, a neighborhood watch volunteer, following a physical altercation. Although the group's co-founders were initially focused on repealing Florida's "Stand Your Ground" Law which they believed resulted in Martin's killing and Zimmerman's acquittal, the mission quickly expanded. One of the co-founders of the group was a Palestinian-American activist by the name of Ahmad Abuznaid whose own focus was to create a nexus between Palestinian grievances and those of African Americans and to link the emerging BLM movement with BDS. In April 2014, Abuznaid spoke at an event sponsored by the BDS group, Students for Justice in Palestine, at his alma mater. His topic was "The Freedom Struggle From Florida to Palestine: A Look at Racial Oppression in America and Israel."
As the Black Lives Matter coalition moved from an online slogan to more organized protests following the shooting death of Michael Brown, the efforts by Palestinian activists to attach their own cause to the protests increased. By December 2014, Ahmad Abuznaid stepped up his efforts by recruiting prominent black activists to join a "Delegation to Palestine," the goal of which, he stated, was:
to allow for the group members to experience and see first-hand the occupation, ethnic cleansing and brutality Israel has levied against Palestinians, but also to build real relationships with those on the ground leading the fight for liberation.

In the spirit of Malcolm X, Angela Davis, Stokely Carmichael and many others, we thought the connections between the African American leadership of the movement in the US and those on the ground in Palestine needed to be reestablished and fortified… As a Palestinian who has learned a great deal about struggle, movement, militancy and liberation from African Americans in the US, I dreamt of the day where I could bring that power back to my people in Palestine. This trip is a part of that process.
The first trip, in December 2014, brought participants to Nazareth, among other places in Israel and the West Bank. There, BLM co-founder Patrisse Cullors organized a flashmob calling for BDS, performed by activists and leaders of various groups that view themselves as part of the BLM movement (including Tef Poe, Phillip Agnew aka Umi Selah, Aja Monet, the journalist Marc Lamont Hill, and others). They publicized a video they made of their BDS flashmob online.
This trip was viewed as a success in inculcating BLM activists into the anti-Israel creed of BDS and it was quickly followed by several similar trips organized by Dream Defenders.
These trips resulted in a "Black Solidarity Statement with Palestine" that defamed and delegitimized Israel while calling on black American institutions to join the BDS campaign against the Jewish state.
The culmination was a 2016 policy platform by the Movement for Black Lives (M4BL), an umbrella group that includes all the smaller groups affiliated with BLM, as well as the Black Lives Matter Global network led by Patricia Cullors. Named "A Vision for Black Lives," the manifesto incorporated an "Invest-Divest" plank that included the following language under the "Stop Military Expenditures Brief" that appears as the first "resource":
The US justifies and advances the global war on terror via its alliance with Israel and is complicit in the genocide taking place against the Palestinian people…
and
Israel is an apartheid state with over 50 laws on the books that sanction discrimination against the Palestinian people.
These accusations of genocide, echoing language used to describe the Nazi attempt to exterminate the Jewish people, and of apartheid, falsely equating Israel with South Africa's institutional discrimination against black countrymen, provoked widespread condemnation from all parts of the Jewish community, as well as from others who recognized the falsity, ignorance and malice behind the charges. The manifesto was broadly denounced and even progressive groups, whilst expressing solidarity with other parts of the platform, criticized the extremist rhetoric used to describe the Jewish state.
Black Lives Matter Movement 2020
Fast forward to May 2020 and the killing of George Floyd. The BLM movement, calling itself the BLM Global Network, re-emerged as a leading force pushing for societal change and declared itself a "collective of liberators who believe in an inclusive and spacious movement." The widespread horror at the callous killing of George Floyd, the recognition of discrimination against Blacks, and the desire to stand up for racial justice garnered unprecedented support for the message and movement from all sectors— Whites, Blacks, Republicans, Democrats, Jews, Christians and Muslims. Donations to bail funds and to black-led advocacy groups skyrocketed, including over $1 billion in corporate giving. The BLM Global Network Foundation – the fiscal arm of the movement co-founded and run by Patrisse Cullors – was a primary beneficiary of this windfall. According to The New York Times, in just one online petition immediately following Floyd's killing, the foundation gathered $5 million in donations, which was more than the organization had reported spending in all of 2019. Kailee Scales, the BLM Global Network managing director, was sharply criticized for the lack of transparency about where and how the funds were being used. (More about funding below.) Yet the donations continued to pour in.
Jewish Organizations Dismiss Charges of BLM Antisemitism
In their eagerness to stand in full solidarity with the BLM movement, some Jewish organizations and publications have urged Jews put aside their concerns about the movement's antisemitic pronouncements in order to "unequivocally" embrace the movement. For example:
The Union for Reform Judaism differentiated between the antisemitic language of the Movement for Black Lives' manifesto and the BLM movement. "The multiplicity of groups doing this work has sometimes led to confusion… In general, no one organization or platform speaks for the Black Lives Matter movement," they stated.
ADL Director Jonathan Greenblatt similarly portrays the movement's antisemitic and anti-Zionist statements as coming from outliers, those on the fringes. He too differentiated between the manifesto by Movement for Black Lives (M4BL) and the BLM movement. And he too – like the New York Times ad – indirectly scolded those who express hesitation over the movement's underlying antisemitism, stating:
There are those who are attempting to smear this movement as inherently antisemitic. It is not. In fact, the fight for justice for marginalized communities always has been core to our Jewish tradition.
In other words, he conflates the message – the fight for racial justice – with the movement, under the apparent assumption that if the message is right, the movement cannot be antisemitic. While acknowledging that "some individuals and organizations associated with the Black Lives Matter movement have engaged in antisemitic rhetoric," he insisted there is "a difference between the decentralized Black Lives Matter movement and some positions taken by specific organizations that have joined in the cause." And while he does condemn the "inflammatory" rhetoric in the Movement for Black Lives manifesto, he suggests that M4BL does not represent the movement and is "a separate not-for-profit organization." He contends that "BLM is a bottom-up movement, not a top-down monolith" with "a very broad range of opinions among its leaders, let alone the rank and file," concluding that Jews should not allow "intemperate" voices by a few influence their unequivocal embrace of the movement.
The Jewish Council for Public Affairs lauds the Black Lives Matter movement as "one of the most prolific social movements in decades." Urging Israel-supporters to uphold the movement, the JCPA insists that "the BLM movement is a decentralized network of activists with no formal hierarchy" that "many Jews mistakenly assert the M4BL platform and its hyperlinks to anti-Israel 'resource' materials belong to the BLM network" when it is an entirely separate entity. Furthermore, the statement says, the "updated and much expanded M4BL 2020 platform… omits Israel."
These statements provide the basic arguments that are currently used by those dismissing concern about the motives of the BLM movement's leadership.
The question of whether to embrace the movement as a whole and ignore or dismiss the anti-Zionism and antisemitism coming from it as relatively inconsequential, as does the ADL and Jewish Council for Public Affairs, or whether to call it out for institutional antisemitism, as do increasing numbers of observers, has become a point of contention within the Jewish community. It is therefore important to be armed with the facts.
Rebutting the Arguments Used to Dismiss Concerns About the Movement
No one organization or platform speaks for the Black Lives Matter movement.
It is a decentralized network of grassroots activists with no hierarchy.
Intemperate voices may be expressed by some individuals, but it does not reflect the movement as a whole
While it's true that the Black Lives Matter movement includes grassroots activists, many of whom are focused solely on civil rights and racial justice without espousing BDS or antisemitic views, the movement's current leader is co-founder Patrisse Cullors who serves as the Executive Director and President of the Board of Black Lives Matter. And, as noted above, Cullors publicly identifies herself as a BDS proponent. This was not only evident back in 2014 when she orchestrated the above-mentioned flashmob to promote BDS, but which she made clear again in a recent (Dec. 2019) interview/discussion about the BLM movement with Iraqi-British rapper/BDS supporter Kenneth Davis (aka Lowkey) on Al Jazeera's "Studio B: Unscripted." There, she affirmed her movement's embrace of BDS (The discussion of BDS begins at ~36:00 and Cullors discussion of the BLM/BDS nexis begins at ~38:18):
Cullors: "We realized we [BLM activists] needed to take our solidarity [with the BDS campaign] a step further. We had to be more public. And so one of the first delegations that went to Palestine was led by the Dream Defenders to black peoples' struggle inside the U.S. And I think it was a profound moment of clarity. Also, a lot of fear about what kind of backlash we were going to receive, and we did. We did receive backlash…"

Lowkey: "Specifically on the Palestinian issue."

Cullors: "Absolutely."

Lowkey: "What kind of backlash?"

Cullors: "So many funders pulled from funding us after we came back from Palestine and issued a statement in solidarity of the Palestinian people. And so again, many of us dug our heels into the ground and said 'No. That's even more reason why we should be showing up', and took several other delegations into Palestine after that, and I think in some ways have been laying the foundation for the more public face in solidarity. And I think it's been incredibly powerful for our [BLM] movement."
The BLM movement's website announced that Cullors has served as Executive Director and Board President since July 2020. Until mid-September, she was prominently featured as the leader of the movement on the website under "Our Leadership." Since then, the page has been removed, but is still, as of this writing, accessible from the Wayback Machine, an internet archive.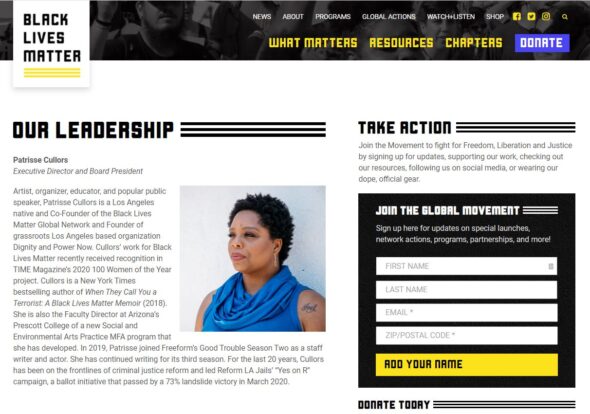 That she continues on as executive director and leader of the organization is apparent from the articles and press releases identifying her as such that are still prominently featured on the BLM website. She writes that the movement is in the process of transforming, and that she has taken the helm as leader of the "Black Lives Matter Grassroots (BLM Grassroots)" which she describes as "a space to help the movements' organizing flourish."
According to Cullors:
BLM Grassroots will house the work of our grassroots organizing moving forward and Black Lives Matter Global Network Foundation will remain a fundraising body, amplifier, and action-oriented think tank for Black-led organizations.
In addition to Cullors, other BLM chapter leaders and organizers – including, but not limited to Aislinn Pulley in Chicago; Sandy Hudson in Toronto; Arminta Jeffryes in NY; Donald Cid in Charleston; Jaminah Shannon, Mara Willaford, Marissa Johnson in Seattle; Michael Brown in Long Beach, for example – as well as BLM-affiliated organizations, have supported and advocated for BDS against the Jewish state. Many of them signed the above-mentioned 2015 Black Solidarity Statement on Palestine which "wholeheartedly endorses… Boycott, Divestment, and Sanctions (BDS) against Israel and calls on Black and US institutions and organizations to do the same." (Signatories to this statement include both organizations and individuals who are part of the Black Lives Matter movement.)
The Movement for Black Lives (M4BL) that carries the objectionable policy platform is an entirely different organization than Black Lives Matter and its platform does not speak for the BLM movement.
The Movement for Black Lives is an umbrella organization that includes the Black Lives Matter grassroots/movement/network. The BLM website lists M4BL among four other "partners" and links specifically to its platform. (Given the constant changing of the website, the "Partners" page is no longer directly navigable from the menu, but the link remains live: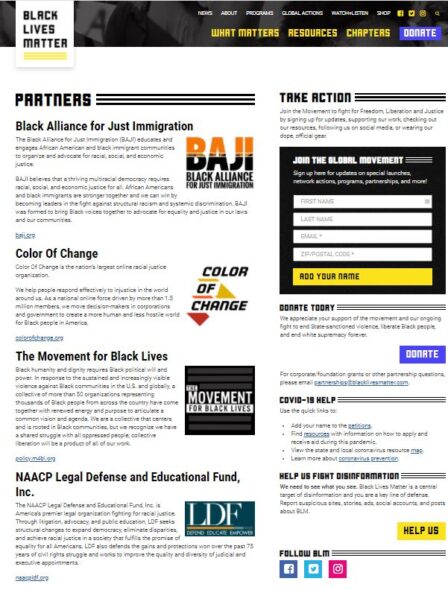 Unlike the Jewish groups that insist these are different groups with different views, they consider themselves part and parcel of the same network, considered separate entities for fundraising purposes. The global BLM grassroots network/movement thus encompasses various BDS groups that seek to undermine Israel, as well as organizers and leaders.
The current 2020 Movement for Black Lives policy platform, unlike its 2016 predecessor, omits mention of Israel, no longer espousing those objectionable, antisemitic views and language.
The introduction to the 2020 policy platform, posted on the Movement for Black Lives website, clearly states:
We begin with the first plank of our Vision: End the War on Black People, released on Juneteenth as we converge across the country in resistance to police and state sanctioned violence.

This document does not represent the entirety of our Vision – it is only the first section of six – and focuses on state violence.

The website features the expanded version of only one plank—the "End the War on Black Communities" section.
However, as is clearly stated in the website intro, and as is obvious from the pie chart of the 2020 platform policy, the Invest-Divest continues to be an integral part of the platform, part and parcel of the current vision.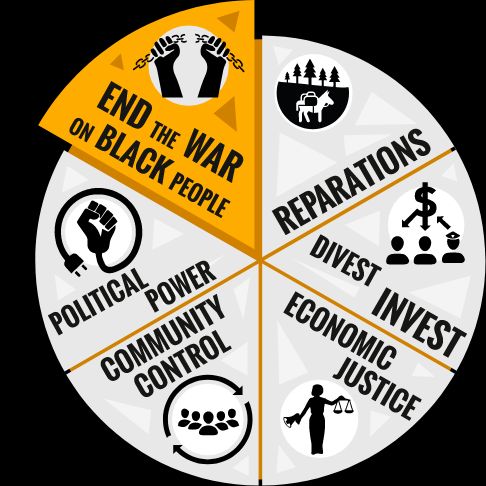 The website explains:
We will be re-releasing revised and expanded policy briefs in each of the remaining sections of the Vision – Reparations, Economic Justice, Invest/Divest, Community Control and Political Power – over the course of 2020.
Moreover, the objectionable anti-Israel hate rhetoric is still readily available on the website, easily navigable from several places, including the top line menu item "Vision for Black Lives" where the Invest-Divest section is the second plank that is listed and clickable (highlighted below in yellow).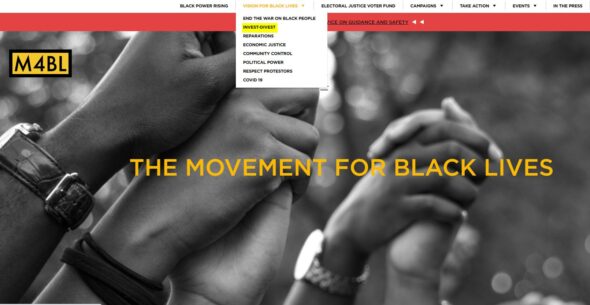 The anti-Israel rhetoric is found in this section as the first brief entitled "Cut Military Expenditures" listed at the end of the "Invest-Divest" summary. In addition, the same "Cut Military Expenditures" is accessible, as of this writing) from a link to a backgrounder that was uploaded in May 2020 under the following link (upload date in bold):
https://m4bl.org/wp-content/uploads/2020/05/CutMilitaryExpendituresOnePager.pdf
So while it is entirely correct to state that not all who are marching in support of racial justice in America share the focus on anti-Zionist activism, it is clear that it is not only a few individual activists or protesters who espouse antisemitic views. Rather, there is a top-down strategy of incorporating anti-Zionist activism into the movement.
How Has Antisemitism Been Manifested?
At least one documented riot organized by a local BLM leader targeted a historic Jewish neighborhood.
On May 30, a protest organized by the Los Angeles chapter of BLM, took place in the Fairfax neighborhood of Los Angeles, a heavily populated Orthodox Jewish neighborhood and the oldest Jewish neighborhood in LA. Many of the area's synagogues were defaced with spray-painted obscenities and anti-Israel slogans, and Jewish businesses were vandalized and looted, their windows smashed. There were reports that some rioters hurled anti-Jewish epithets and shouted, "F* the Jews." Although there were no reported injuries, many of the Jewish residents, who include Holocaust survivors and their descendants, felt threatened, as the riot evoked for them visions of historic attacks on Jews. (For news reports about the event, see here, here, here, here, here and here.)
The ADL, for its part, downplayed the riot. It suggested that "claims of targeted antisemitic violence have been exaggerated or misrepresented" with "no indication that Jewish businesses or institutions were broadly targeted for vandalism," and it lambasted accounts of "a pogrom" as "disinformation," labelling testimony of those who perceived it as such "inaccurate and offensive."
While Jewish businesses and institutions were not the only ones vandalized, there is no question that synagogues, kosher stores and Jewish businesses were deliberately targeted. Below are photos of just two of the local synagogues that were sprayed with graffiti during the riot.
It soon became clear that this was not simply a case of individual hooligans running amok but the intentional targeting of a Jewish neighborhood by the co-founder and leader of the Los Angeles chapter of Black Lives Matter, Melina Abdullah. An outspoken supporter of Louis Farrakhan and his Nation of Islam, Abdullah promotes his view of Jews as white supremacists complicit in the subjugation of blacks. She publicly defended the targeting of the neighborhood in an interview broadcast on KCRW, a local radio station, where she readily acknowledged:
We were very deliberate in deciding to disrupt spaces of white affluence. We want to make sure that it's not just black people who are suffering at the hands of white supremacy, that if we can bring a little bit of the pain that we feel to white communities, then maybe they'll have a vested interest in… and disrupting these systems that kill our people. They can't simply turn their heads and retreat from what we're experiencing.
Following in her mother's footsteps, Abdullah's 16-year-old daughter, Thandiwe, is also an organizer for Black Lives Matter, co-founding its youth group, the Black Lives Matter Youth Vanguard. Mentored by Patrisse Cullors, among others, Thandiwe, too, supports BDS. (See: Thandiwe in a video promoting BDS falsehoods.)
Regarding the riot in the Jewish neighborhood, Thandiwe, like her mother, explained:
It was by design for us to meet in Pan Pacific Park [which lies in the center of the Jewish neighborhood], a rich, predominately white area. The folks who live there, they don't have to face the reality that black folks face every day. … We chose this place to disrupt that and bring this fight to them…
Similar examples of anti-Israel and anti-Jewish graffiti on or near synagogues during BLM protests have also been documented elsehwere.
"Day of Rage" demonstrations that took place at the beginning of July included anti-Israel and anti-Jewish hate rhetoric along with "Black Lives Matter" chants, but it is not at all clear that these were initiated and organized by leaders of the BLM movement, rather than by BDS/Palestinian activists latching on to the trendy protest movement. Regarding the manifestations of antisemitism at the "Day of Rage" protests, the ADL noted that
in addition to expressions of support for Palestinians, anti-racist activism was a secondary theme at a number of the rallies. Many participants condemned systemic racism in the United States; one rally, convened in San Diego on July 1, was endorsed by a Black Lives Matter group unaffiliated with the official Black Lives Matter organization. We are not aware of any other Black Lives Matter groups sponsoring or endorsing any other Day of Rage rallies.
On the other hand, given the ADL's recent history of running interference for the BLM movement by distancing it from anti-Zionist activism or other manifestations of antisemitism, it is difficult to determine what role, if any, was played by BLM activists.
BLM's Toxic Affiliation with Antisemitic BDS-Proponent Jewish Voice for Peace (JVP)
The BLM-affiliated Dream Defenders teamed up with a fellow BDS group, Jewish Voice for Peace (JVP) early on. Co-founder Ahmed Aznaid was a featured speaker at JVP's 2015 annual conference and the two groups collaborated on a solidarity video. Both groups engaged in outreach to students and young adults to adopt BDS and link the Palestinian cause to racism in the U.S.
Unlike progressive Jewish groups that had condemned the inflammatory anti-Israel language in the Movement for Black Lives manifesto, JVP, by contrast, immediately endorsed the platform in its entirety, calling it "inspiring" and attacked as racist the Jewish organizations that opposed the platform's designation of Israel as genocidal and apartheid. JVP further attacked the platform's critics through its hastily assembled "Jews of Color Caucus", accusing Jews who objected to the platform's anti-Zionist elements of being racists and "part of a white supremacist power structure."
In fact, the M4BL platform and other attempts to piggyback the delegitimization of the Jewish state on campaigns for racial justice in America have paled in comparison to the outright antisemitic "Deadly Exchange" campaign concocted and unleashed by JVP in 2017. It was this campaign that became the model and basis for holding Israel and Jews responsible for police brutality, racism and inequality in the US—a campaign that was readily embraced by the notorious antisemite, Louis Farrakhan, and by his acolytes in the Black Lives Matter movement.
The UK branch of BLM similarly retweets JVP's anti-Zionist hate rhetoric. For example:
The fast-growing US organisation Jewish Voice for Peace on Zionism: 'Palestinian dispossession and occupation are by design. Zionism has meant profound trauma for generations, systematically separating Palestinians from their homes, land, and each other.'
That BLM branch also parrots JVP's BDS propaganda, as in this tweet:
As Israel moves forward with the annexation of the West Bank, and mainstream British politics is gagged of the right to critique Zionism, and Israel's settler colonial pursuits, we loudly and clearly stand beside our Palestinian comrades. FREE PALESTINE.
And it retweets JVP's attacks on those calling out institutional antisemitism, with the false accusation that opponents of antisemitism are simply trying to quash any criticism of Israeli policies:
More than 40 Jewish groups around the world in 2018 opposed "cynical and false accusations of antisemitism that dangerously conflate anti-Jewish racism with opposition to Israel's policies and system of occupation and apartheid". https://jewishvoiceforpeace.org/first-ever-40-jewish-groups-worldwide-oppose-equating-antisemitism-with-criticism-of-israel/
Funding
With the BLM Global Network Foundation and Grassroots Organizing network encompassing many different entities that ally with the Movement for Black Lives and adhere to its policy platform, it is not easy to understand the organization and hierarchy of the Black Lives Matter movement. The funding of these various BLM organizations and affiliates is similarly complex and confusing, as the following graphic from the Capital Research Center demonstrates:
The Black Lives Matter Global Network is incorporated in the State of Delaware but is not yet registered as a tax-exempt non-profit organization under Internal Revenue Code Section 501(c)(3). It has therefore partnered with fiscal sponsors. From 2016-2020, Thousand Currents, a left-wing grantmaking organization served as the fiscal sponsor for the Black Lives Matter Global Network Project. (Serving as Vice Chair of Thousand Currents' board is Susan Rosenberg, a former member of the radical 1960-70's Weather Underground, previously known as the Weathermen, as well as the May 19th Communist Organization.)
In July 2020, the Tides Foundation, another major left-wing donor-advised grantmaking organization, whose supporters/funders include George Soros' Open Democracies Foundation and the Ford Foundation, took over fiscal sponsorship from Thousand Currents. According to the Tides Foundation, "BLM formalized its relationship with Tides Foundation, after BLM's prior fiscal sponsor, Thousand Currents, made the strategic decision to sunset fiscal sponsorships in order to focus on its core grantmaking work."
As mentioned above, the BLM Global Network has been criticized for its lack of transparency regarding its financial receipts and how they are used.
Conclusion
Patrisse Cullors has described herself and BLM co-founder Alicia Garza as "trained Marxists' and "trained organizers"(see from 7:05). Their "What We Believe" page of the BLM website includes such revolutionary positions as "disrupting the Western-prescribed nuclear family structure," "dismantling cisgender privilege," and "freeing ourselves from heteronormative thinking" — i.e. positions that are more about disrupting and dismantling the mainstream than about achieving racial justice and equality.
But as more and more people question the radical nature of the movement's leadership and positions, and as patronage and support for the movement continues to decline, some of the more controversial pages ("What We Believe," for example) have been stealthily removed from the BLM website. Still, journalist David French contends, "Black Lives Matter has been playing a double game," with its radical leaders "tak[ing] extreme positions, retreat[ing] to moderation to bolster credibility, then go[ing] right back when the pressure eases."
These extreme positions include the movement leadership's support for BDS advocacy and anti-Zionist actions and rhetoric. While some Jewish organizations look away from or minimize this, others believe these positions should be called out and condemned, and that the movement's leaders should be pressured to renounce and retreat from them.