Last updated 8/17/2022
"First verdict is pronounced; then the jury weighs the evidence and finally the parties are supposed to present their respective cases." That is how renowned law professor Yoram Dinstein described the backwards process by which the United Nations (UN) created its "investigatory" bodies against Israel all the way back in June 1972. It's a process not designed to learn the facts, but a process by which a political entity can deem the Jewish state guilty and come up with the reason why later.
The consequence is that when media personalities or news agencies rely on the UN for factual or legal claims, consumers must treat these claims with a great deal of skepticism.
Open hostility to impartiality and objectivity seems to be a feature, not a flaw, when it comes to the UN. Such is the case with the UN Commission of Inquiry ("COI"), created after the May 2021 conflict with an unprecedented mandate. As elaborated below, the histories of all three members are antithetical to the ideas of impartiality and objectivity.
But those three commissioners are not the only examples.
Just recently, the Office for the Coordination of Humanitarian Affairs ("OCHA"), which has a reputation for lacking transparency, removed a senior official from her post simply for stating: "Such indiscriminate rocket fire of Islamic Jihad provoking Israeli retaliation is condemned."
Similarly, just last year, the United Nations Relief and Works Agency ("UNRWA") Gaza Director, Matthias Schmale, was removed from his post after saying "he would not dispute" that the Israeli strikes during Operation Guardians of the Wall were "precise" in aiming for terrorist targets and mostly avoiding civilian targets. Schmale was promptly replaced by an individual who called his remarks "indefensible" during a meeting with Yahya Sinwar, leader of the internationally-designated terrorist organization Hamas.
Meanwhile, individuals like the COI members, with lengthy histories of hostility toward Jews and the Jewish state, remain in their positions. Consider just these two incidents in recent weeks: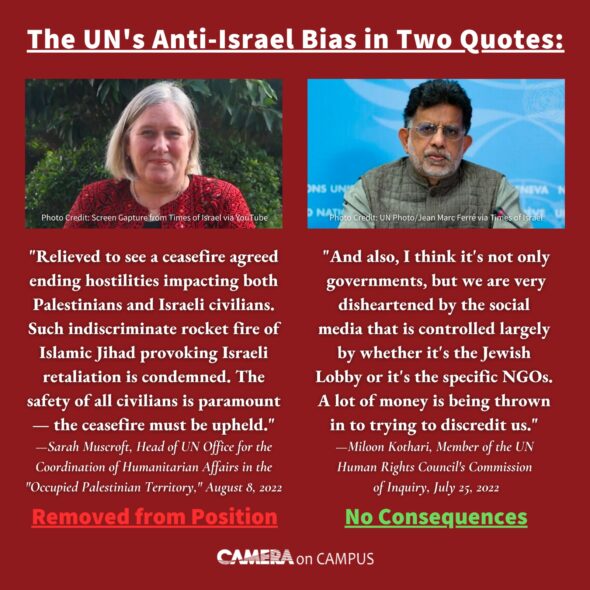 Below is an outline of the transparent animosity of the three members of the COI, followed by an elaboration of the UN's own rules and standards.
Finally, other examples of UN officials with responsibilities relating to the Israeli-Palestinian conflict are provided. Far from showing the COI members are outliers, they evidence that rather than seeking impartiality and objectivity, there is a pattern at the UN of selecting those with a demonstrable enmity towards the Jewish state.
The Inquisitors of the UN Commission of Inquiry
Much has also been written about the three individuals who were appointed to serve on the COI. Human Rights Voices has detailed the histories of the three commissioners, including how their past statements "make a mockery of the most elementary preconditions of fairness and legitimacy." Other organizations, like NGO Monitor, have similarly provided ample evidence relating to their connections with anti-Israel organizations.
There is a particular abundance of material on the unfitness of the COI's chairperson, Navi Pillay. Human Rights Voices has comprehensively documented the nefarious role Pillay played in whitewashing and promoting the antisemitic scandal that was the 2001 Durban "Anti-Racism" Conference and its follow-ups. In February 2022, UN Watch submitted a request for Pillay to recuse herself, comprehensively detailing her lack of impartiality and objectivity.
More recently, the COI has taken center stage due to the overtly antisemitic remarks of the commissioners over the summer. In June 2022, during the presentation of the COI's first report to the Human Rights Council, Chris Sidoti accused Jewish nonprofit organizations of being "GONGOs," that is, entities of the State of Israel. It's a classic example of the antisemitic dual loyalty trope.
Unsatisfied with just one antisemitic trope, during the same speech Sidoti also insidiously mocked the Jewish community's concerns over rising antisemitism, stating:
"It seems that accusations of antisemitism are thrown around like rice at a wedding. That legitimizes antisemitism. Trivialises antisemitism."
Then, in an interview published on July 25, 2022, Sidoti's fellow commissioner Miloon Kothari promoted another antisemitic trope, the "Jews have too much power" trope as the Anti-Defamation League puts it, claiming:
"We are very disheartened by the social media that is controlled largely by whether it's the Jewish lobby or it's the specific NGOs. A lot of money is being thrown into trying to discredit us."
Also unsatisfied with just one simple antisemitic trope, Kothari continued:
"I would go so far as to raise the question as why are they even a member of the United Nations."
It should go without saying that uniquely suggesting that the Jewish state doesn't belong among the community of nations is a double standard no matter what way you slice it.
With her own lengthy history of attacking what she calls "propaganda" (i.e., outrage at overt antisemitism) of the "Jewish lobby" that she thinks is too "focused on single issues" (i.e., Jews are too concerned about the hatred they personally face), Pillay roared into overdrive to not only defend the bigoted remarks of her co-commissioners, but even portray one of the comments as virtuous.
In a letter penned by Pillay on July 28, 2022, she accused the outraged Jewish community of "deliberately" taking "out of context" Kothari's remarks from three days earlier. Then, in a moment that exposed the entire Pillay game, she highlighted the COI's "position in the clearest terms on anti-Semitism" by quoting Sidoti's "like rice at a wedding" line. It's a position that doesn't actually condemn antisemitism, it just blames the victims for "trivializing" and "legitimizing" the hatred of them.
These are the three individuals placed in charge of investigating the Jewish state.
The UN's Own Rules
The character of UN actors, particularly those in investigatory roles, matters. Fairness, and the perception of fairness, is critical for the rule of law and for public confidence in the conclusions of any investigatory or adjudicatory body. United States Judges, for example, are instructed to "act at all times in a manner that promotes public confidence in the integrity and impartiality of the judiciary."
The UN has itself acknowledged the importance of standards relating to fairness and credibility in such roles. In June 2007, the Human Rights Council adopted resolution 5/1 and the annexed "Institution-Building Package," paragraph 39 of which included the following instructions:
"The following general criteria will be of paramount importance while nominating, selecting and appointing mandate-holders: (a) expertise; (b) experience in the field of the mandate; (c) independence; (d) impartiality; (e) personal integrity; and (f) objectivity."
In resolution 5/2, the Human Rights Council also adopted a "Code of Conduct" for mandate holders, which instructed that mandate holders shall:
"Act in an independent capacity, and exercise their functions in accordance with their mandate, through a professional, impartial assessment of facts…" (Article 3(a))

"Uphold the highest standards of efficiency, competence and integrity, meaning, in particular, though not exclusively, probity, impartiality, equity, honesty and good faith;" (Article 3(e))

"Be aware of the importance of their duties and responsibilities, taking the particular nature of their mandate into consideration and behaving in such a way as to maintain and reinforce the trust they enjoy of all stakeholders;" (Article 3(h))

"Bear in mind the need to ensure that their personal political opinions are without prejudice to the execution of their mission, and base their conclusions and recommendations on objective assessments of human rights situations" (Article 12(a))

"In implementing their mandate, therefore, show restraint, moderation and discretion so as not to undermine the recognition of the independent nature of their mandate or the environment necessary to properly discharge the said mandate." (Article 12(b))
While some, like Pillay, have attempted to depict criticism of their fitness for their roles as "personal attacks," common sense, international practice, and the UN's own resolutions argue otherwise. The character, impartiality, objectivity, independence, and integrity of the mandate holder is exactly what is supposed to give the mandate's conclusions and recommendations credibility.
Indeed, it was these very rules cited by the Human Rights Council president, Federico Villegas, in a letter responding to Kothari's remarks.
Despite this, and in contrast with the example of Sarah Muscroft, all three commissioners remain in their posts.
Other Hostile UN Actors
Two other prominent UN officials with responsibilities regarding the Israeli-Palestinian conflict have similarly demonstrated a complete lack of impartiality. Below is a running list of their statements evidencing this reality.
Media consumers must bear this background in mind when the UN is cited as a source during reporting on the conflict. While information coming out of the UN on the topic of the Israeli-Palestinian conflict is not always inaccurate, all too often it is, and all too often it is coming from actors who are not shy about their hostility to the Jewish state.
Francesca Albanese, UN Special Rapporteur
Background: The Special Rapporteur "on the situation of human rights in the Palestinian territory occupied since 1967" was created in 1993 with a uniquely indefinite mandate to "investigate Israel's violations" only, not those of Palestinian actors.
In her application for the position, Albanese responded with only one word, "no," when asked if she held any views or opinions could prejudice her discharge of the mandate.

Notably, her answer is contradicted by an earlier statement she made in February 2021, when Albanese told a panel, in reference to her "research" on the Israeli-Palestinian conflict:
"Also, deep down, perhaps I feared that embarking on research in a matter which I had deeply held personal views would compromise my objectivity…"
As detailed by the examples below, Albanese's "deeply held personal views," without a doubt, prejudice the manner in which she carries out her mandate.
On August 16, 2022, Albanese claimed Salah Hammouri is a "human rights defender" and not a terrorist, notwithstanding he is a member of the internationally-designated terrorist organization Popular Front for the Liberation of Palestine and served seven years in prison for his role in the attempted assassination of Chief Rabbi Ovadia Yosef. (h/t Gnasher Jew)
In August 2022, Albanese quote tweeted a notorious antisemite and Holocaust denier, Sarah Wilkinson.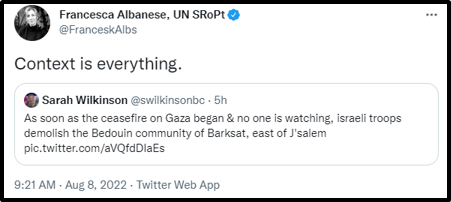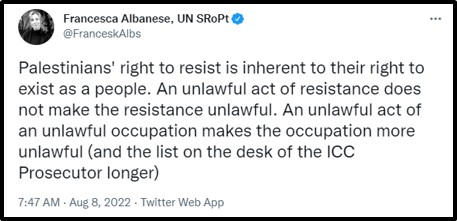 In August 2022, she "liked" a reply tweet arguing the "occupation" began in 1948 instead of 1967. In other words, arguing that all of Israel is occupied territory.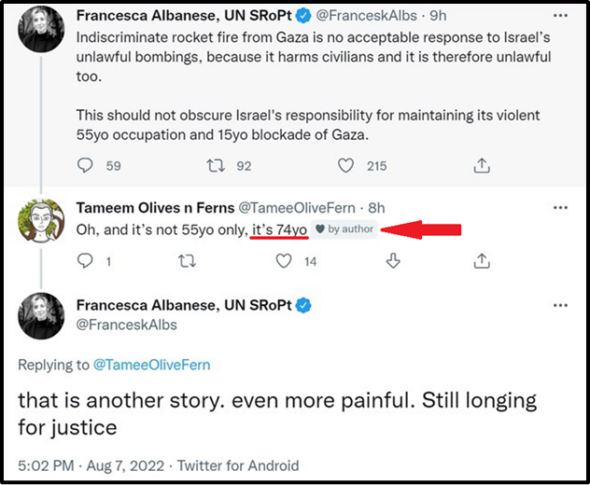 On August 7, 2022, as Palestinian rockets were still indiscriminately raining down on Israeli civilians, Albanese expressed "disappointment" that the Gaza Strip, controlled by an internationally-designated terrorist organization, did not have more advanced military equipment.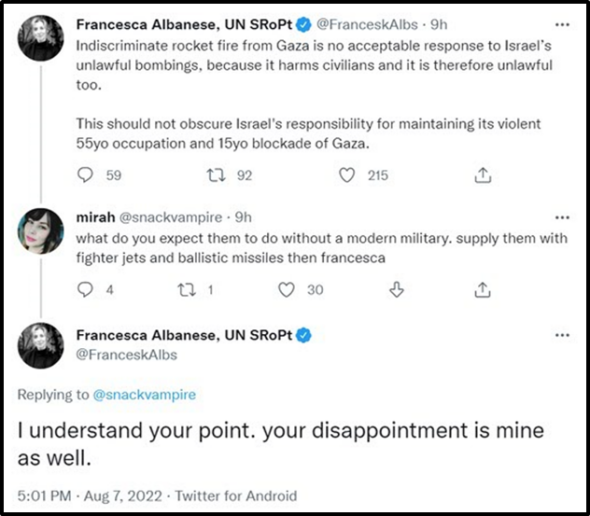 In August 2022, Albanese "liked" a post comparing the Russian massacre of some 1,300 Ukrainians in Bucha with Israel's Operation Breaking Dawn, during which an estimated 47 Palestinians were killed, at least 14 of them by Islamic Jihad rockets, and at least 20 of the rest being known terrorist operatives.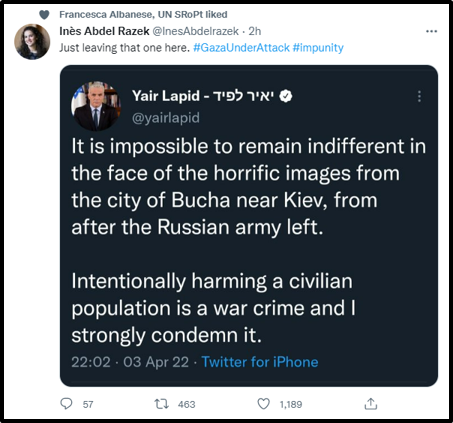 On August 6, 2022, Albanese suggested Israel's strike against an Islamic Jihad commander and an Islamic Jihad anti-tank terrorist cell in response to an "immediate concrete threat by the PIJ to Israeli communities," amidst threats that had been ongoing for a week, were not self-defense and were "illegal" and "immoral."
On July 29, 2022, Albanese expressed solidarity with the UN Commission of Inquiry following the overtly antisemitic remarks of Miloon Kothari (see above) and deemed the justified outrage at Kothari's bigoted remarks as "preposterous allegations of antisemitism" and a "smear campaign."
On July 29, 2022, Albanese described the overtly antisemitic remarks of UN commissioner Miloon Kothari (see above) as being "fully and disingenuously mischaracterized."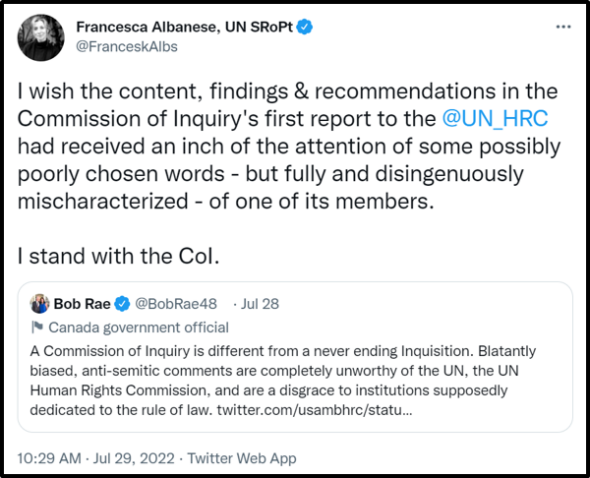 In a June 9, 2022 interview, Albanese argued "Palestinians have no other room for dissent than violence" and that "Palestinian violence is inevitable because the right to exist of the Palestinian people has been denied for 55 years—almost three generations."
On June 3, 2022, in response to criticism of a tweet Albanese had posted and then deleted, which condemned the killing of a Palestinian terrorist who was attempting to stab Israelis and who Albanese described only as a "journalist," stated: "Evil is in the eye of the beholder."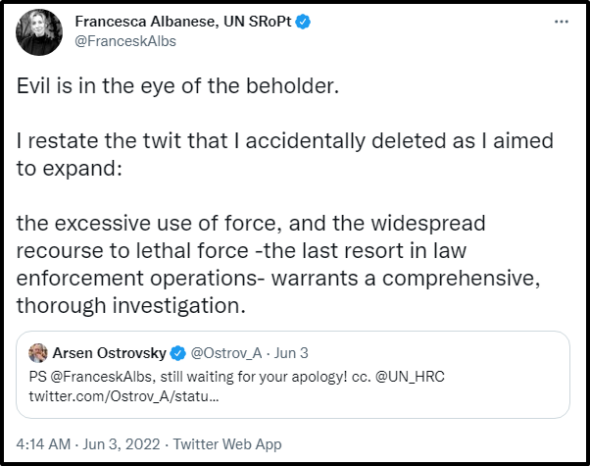 In June 2022, Albanese condemned the killing of, and describing solely as a "journalist," a Palestinian who was shot while attempting to stab Israelis.
In a May 20, 2022 interview with Middle East Monitor, Albanese gave a blatantly one-sided and factually inaccurate (Jews had long maintained their presence, and the migration of the diaspora back to Israel began long before the Ottoman Empire collapsed) explanation for how the "question of Palestine" began by pointing to alleged "discrimination against the Arabs" since the "beginning" of "Jewish migration," stating:
"The question of Palestine certainly doesn't start in 1948. There has been an element of discrimination against the Arabs of Palestine since the very beginning of the Jewish migration (to) Palestine, which started at the end of the Ottoman Empire."
On May 5, 2022, Albanese accused Israel of being an "apartheid" state.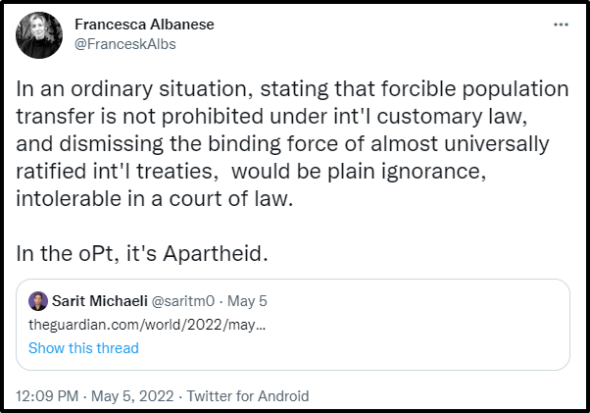 In a video exposed by UN Watch in January 2022, Albanese engaged in Holocaust minimization by offensively comparing the Holocaust to what the Palestinians refer to as the "Nakba," stating:
"Without wanting to make simple equations, which often cause me many problems, just as tragic, terrible, unspeakable is the tragedy that befell the Jewish people with the Shoah, so for the Palestinians the Nakba represents the crumbling of the connective tissue of a people and the physical and institutional crumbling, breaking down of family relationships."
In an October 2021 interview, Albanese claimed that the terrorism "ongoing in the oPt ("occupied Palestinian territory")" is being committed by Israel, suggesting that Israeli practices of "terrorism" should be investigated and prosecuted, without mentioning Palestinian terrorism:
"Indeed, I fully agree that terrorism is ongoing in the oPt, as Amira Hass denounced in her last piece: where defenseless civilians are exposed to the fear and brutality of masked Israeli soldiers raiding Palestinian homes and villages, often in the middle of the night; where there isa complete lack of accountability for the frequent loss of civilian lives, unjustified demolitions of Palestinian houses; confiscation of civilian structures and livelihood, including to shepherds and farmers; the torching of century-old orchards and olive trees; the countless daily humiliations Palestinians are exposed to under the yoke of the occupation. In this respect, I agree that practices amounting to terrorism in the oPt must be investigated and those responsible prosecuted."
In May 2021, Albanese criticized the Oslo Accords, a set of agreements which saw a Palestinian entity gain autonomy for the first time in history, because it attempted to "pulverize" Palestinian "resistance/identity."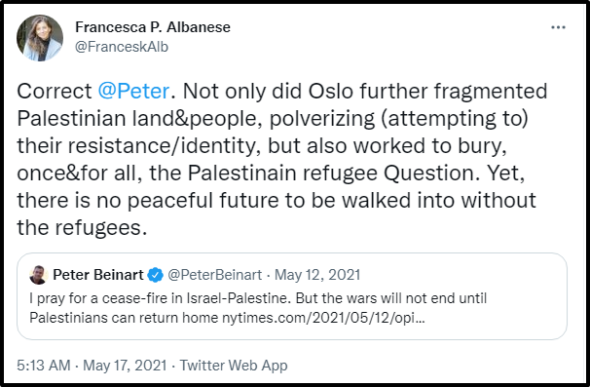 Tor Wennesland, UN Special Coordinator
Background: Though not an investigatory position, the UN Special Coordinator for the Middle East Peace Process is involved in the political and diplomatic efforts of the conflict and often provides statements on the conflict.
In an August 5, 2022 statement, Wennesland, referencing an Israeli strike that killed two Islamic Jihad terrorists, but which tragically also killed a 5-year-old (the daughter of one of the terrorists), depicted the strike as an "attack against civilians."
In February 2022, after a Palestinian teenager was shot in the act of throwing firebombs at Israeli civilian vehicles, Wennesland expressed concern only for the Palestinian without mentioning the attack on Israeli civilians, nor the practice of Palestinian incitement that has led to dozens of terror attacks being carried out by Palestinian children in recent years.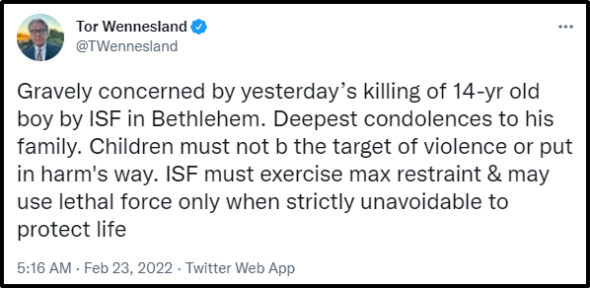 In a May 11, 2021 tweet, after nearly 1,000 rockets had already been fired at Israel by Hamas and Islamic Jihad, Wennesland ignored the terror attacks and referenced only the "cost of war in Gaza."