CAMERA's Israel office today prompted improved Associated Press coverage on Palestinian fighters killed earlier this month in the Gaza Strip, along with three more combatants killed early this morning in the West Bank's Balata refugee camp.
Regarding today's fatalities near Nablus, in both the headline and the lead, AP buried the fact that the three were confirmed members of the Al Aqsa Martyrs Brigade, a fact which the designated terror organization itself confirmed. The uninformative headline, "3 Palestinians killed in Israeli raid in occupied West Bank; U.S. slams latest settlement expansion," fails to give any indication of the fact that those killed were combatants belonging to a designated terror organization. The lead likewise conceals this essential information, stating only:"Three Palestinians were killed in an Israeli army raid in a West Bank refugee camp early on Monday, Palestinian health officials said . . . "
Buried deep in the 12th paragraph, where all but the most committed readers would never see it, AP's Laurie Kellman finally admitted:
The Al Aqsa Martyrs Brigades, a militant group with connections to Palestinian President Mahmoud Abbas' Fatah party, identified the men killed in Balata as its members. It gave their names as Fathi Jihad Rizk, 30, Abdullah Yousef Abu Hamdan, 24, and Muhammad Bilal Zaytoun, 32.
Al-Aqsa Martyrs Brigades says three fighters belonging to the militant group died in clashes against Israeli forces in the Balata camp overnight. pic.twitter.com/dk5fltp83C

— Joe Truzman (@JoeTruzman) May 22, 2023
Reuters, in contrast, ran the clear headline: "Three Palestinian militants killed in Israeli raid . . . " It also opens with this key information, stating: "Israeli security forces killed three Palestinian militants . . ." (Separately, CAMERA has contacted Reuters to request clarification of its reporting which only clearly identified two of the fatalities as Al Aqsa Martyrs Brigade members.)
In response to communication from CAMERA's Israel office, AP commendably added the following basic fact to the article's second paragraph:
The Al Aqsa Martyrs Brigades, a militant group with connections to Palestinian President Mahmoud Abbas' Fatah party, identified the men killed as its members.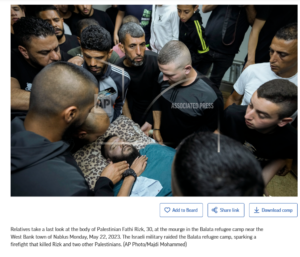 While the identity of three combatants surely belongs in the headline and lead, its appearance in the second paragraph is a significant improvement over the 12th. CAMERA has also requested that AP amend numerous photo captions today which fail to note that those killed in Balata were confirmed members of a designated terror organization.
About Gaza fatalities from Israel's Operation Shield and Arrow against Islamic Jihad terrorists in the Gaza Strip, today's article had initially inaccurately reported: "Earlier this month, fighting also erupted between Israel and militants in the Gaza Strip. Israeli strikes killed 33, many of them militants but also women and children."
First, according to the Meir Amit Intelligence and Terrorism Information Center, three of the 33 fatalities which AP had attributed to "Israeli strikes" where actually caused by malfunctioning Islamic Jihad rockets. The three Gazans who died May 10 in bungled Islamic Jihad rocket attacks were: Ahmed Muhammad Ghanmi al-Shubaki (Abu Abdallah, 51 years old), Layan Bilal Madouh (10 years old) and Yazen Jawdat Fathi Alian (17 or 20).
Second, it's inaccurate to say that "many" were militants. In fact, most were militants. According to the Meir Amit details, the combatant to non-combatant fatality rate was 2:1, an almost unheard of achievement compared to other instances of urban asymmetric warfare around the world.
AP was also receptive to CAMERA's feedback on the Gaza fatalities, with editors amending to the text to more accurately report:
In that escalation, Israeli fire killed 18 militants and 10 civilians, while three civilians were hit by misfired rockets, according to a Palestinian rights group. Two other people were killed and Israel claims they were militants, but that could not be independently verified.
CAMERA's timely action vis-à-vis today's AP article underscores the value of the organization's work monitoring and responding to wire stories in the same news cycle as they appear. With this preemptive work CAMERA helps prevent misinformation from appearing in media outlets around the world.
May 22 Update: Reuters Clarifies That All Three Balata Fatalities Were Al Aqsa Martyrs Brigade Members
Several hours after the publication of this post, and in response to communication from CAMERA, Reuters commendably clarified its original claim, in both English and Arabic, that the affiliation of one of the three Balata fatalities was unclear. The article had originally stated:
Sources in Palestinian President Mahmoud Abbas' Fatah party said two of the fatalities in the ensuing fire exchange belonged to Fatah's Al Aqsa Martyr's Brigades armed group, while it was unclear whether the third person had taken part in the fighting.
The updated article now states:
The Al-Aqsa Martyrs Brigade, an armed group associated with Palestinian President Mahmoud Abbas' Fatah party, claimed the three men as members. A statement from Fatah named them as Fathi Jihad Rizq, 30, Abdullah Yousef Abu Hamdan, 24, and Mohammad Bilal Zeitoun, 32.