In yet another recent installment of The New York Times' relentless crusade maligning Israel, the paper recently published a news story which embraced earlier patterns of coverage: reporting unverified Palestinian claims as fact and obscuring Palestinian violence ("Life Under Occupation: The Misery at the Heart of the Conflict"). What made this story stand out in particular was that The Times also published it in Hebrew, a highly unusual step.
In their article, previous Times Jerusalem bureau chief David M. Halbfinger and correspondent Adam Rasgon featured ordinary Palestinians facing hardships imposed by Israeli authorities: one built his house illegally in East Jerusalem on a territory designated for a national park, and was forced to demolish it; another wastes hours waiting at a checkpoint; a third lost work Israel when his permit was revoked; and a few others.
The paper's handling of the story of Sondos Mleitat of Ramallah exemplifies how the "paper of record" uncritically reports claims from Palestinian interviewees without cross-checking additional sources, including even those which ought to be most accessible to the reporters: the paper's own archive.
Of the 30-year-old Palestinian woman who makes a living from running a website that provides psychological services, Halbfinger and Rasgon focus on her view about Palestinians escape their "lingering wounds" from Israeli-imposed trauma. To illustrate her report, they report:
After her uncle was killed by Israeli soldiers at a protest, she said, his younger brother was pushed into marriage at 18 "to protect him from going down the same path."

But a nation of people who reach adulthood thinking only about settling down, she said, is not a nation that will achieve independence. (Emphasis added.)
Times readers would reasonably understand from this reporting that Mleitats uncle was killed by vicious Israeli soldiers who opened fire on peaceful Palestinian protesters who did nothing more than wave flags and chant anti-Israel slogans. Is that really what happened?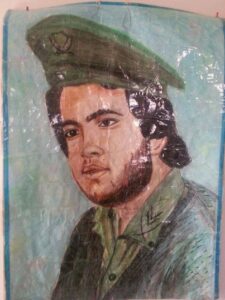 Sondos Mleitat's uncle, Tayseer Hussein Odeh Mleitat, was killed on Friday, June 17, 1988, in the Palestinian town of Beit Furik, near Nablus. In a Facebook post written in his memory, he appears wearing military-like uniform (at left).
A review of coverage from that time uncovered multiple reports in the foreign and Israeli press about the incident. Haaretz, for instance, reported on June 19, 1988:
On Friday morning, a large military force arrived at Beit Furik to demolish the house of Ahmad Hanani, who took part in the murders of Jews and Arabs, including the mayor of Nablus, Zafer Al Masri.

The soldiers found the village blocked, and masses of rioters threw Molotov cocktails, blocks and stones at them. Two officers were injured by the stones, and the force commander – who felt that his soldiers' lives were in danger – ordered to open fire. Tayseer Mleitat was killed from the shooting, and 4 other residents were injured.
Similarly, the Associated Press had reported that a Palestinian witness described the "protest" as a crowd of some 700 Palestinians throwing rocks at about 100 Israeli soldiers ("Israeli soldiers attacked by mob; Arab slain as troops raze home," Chicago Tribune, June 18, 1988):
Israeli troops killed a Palestinian and wounded 18 others Friday when a mob of rock-hurling Arabs tried to stop soldiers from blowing up a house in the occupied West Bank, a hospital official said.

Army officials confirmed one Palestinian was killed and four wounded in Beit Furik, five miles southeast of Nablus. The army said two Israeli officers were injured by stones. . .

Defense Minister Yitzhak Rabin said on Israel Radio that the army considered firebombs lethal weapons and that soldiers and civilians could respond with gunfire when firebombs were thrown.

In Beit Furik, soldiers opened fire when Palestinians attacked with rocks and bottles, said an official at Ittihad Hospital in Nablus. The official said the troops later blew up an Arab home.

The soldiers entered the village before dawn to destroy the home of Ahmed Hanani, allegedly a member of a gang that killed Nablus Mayor Zafer Masri in March, 1986, and carried out attacks against Israelis, the army said. Palestinians saw the approaching soldiers and alerted villagers, and about 700 Arabs gathered in the streets and began throwing stones as about 100 soldiers entered, said a villager, Rafaq Yusef Masmoud, 25.

The soldiers opened fire and the street battle lasted for about four hours, Masmoud said from a bed in Nablus' Al Ittihad Hospital, where he was being treated for gunshot wound to his left leg.

Masmoud said he saw about 20 villagers being detained, but the army put the arrests at five.

In addition to the wounded Arabs, two Israeli officers were injured, the army spokesman said, adding that their condition was not immediately known.

The force opened fire "when it was in a life-threatening situation," the spokesman said.

The dead man, identified as Tayseer Mlaitat, 24, was shot in the chest, said the hospital official.
But The Times did not need to venture as far as Haaretz's Hebrew report or even to the closer-to-home English-language Associated Press article to find out that Mlaitat took part in a violent riot. Indeed, its own reporters covered the incident in which
Tayseer Mleitat was killed ("Israeli troops Kill Arab Protesting Razing of Home on the West Bank," June 18, 1988):
The clash began when troops arrived in Beit Furik this morning to tear down the home of Ahmed Said Hanani, who the army spokesman said "was involved in a series of murders" over the last several years, including the 1986 slaying of the mayor of Nablus, Zafer al-Masri.

Soldiers found roadblocks set up at the entrance to the village, and villagers attacked them with stones, blocks and firebombs, injuring the two officers, the army said.

"When the force was in a life-threatening situation, they opened fire," the spokesman said.
In conclusion, Tayseer Mleitat was killed in June 1988 when he took part in a violent riot in which hundreds of Palestinians endangered the lives of Israeli soldiers by throwing rocks and Molotov cocktails. More than three decades later, his niece told The New York Times that the soldiers killed him "at a protest."
As The Times has done so often in the past, it egregiously uncritically reported a dubious claim from a Palestinian source and depicted a dangerous, violent Palestinian riot as merely a protest, ignoring its own archival information in the process.
As CAMERA's Tamar Sternthal previously observed: "It's as if even its own editors no longer believe that The New York Times is still 'The Paper of Record.'" Indeed, The Times has proven once again it willfully ignores its own record when the facts don't align with the desired narrative on behalf of the Palestinians.
With research by CAMERA staff
For the Hebrew version of this post, please visit Presspectiva.
See also "Ethan Bronner and Facts Too Good to Check"