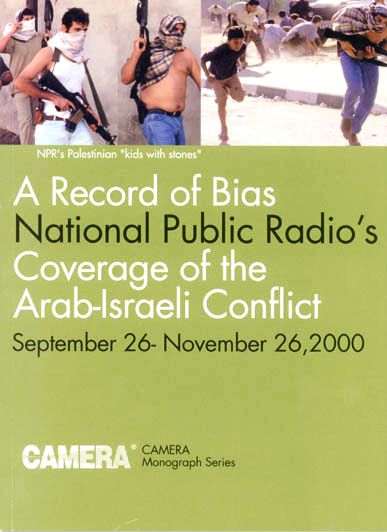 National Public Radio has an Israel problem. The tax-supported network's coverage of the Arab-Israeli conflict has long been marred by a striking anti-Israel tilt, with severe bias, error and lack of balance commonplace. A rigorous analysis of NPR's broadcasts over a recent two-month period dramatically underscores the network's skewed approach to covering Israel. Beginning with the outbreak of violence in Israel and the Palestinian Authority areas on September 26, 2000, the analysis examined all of NPR's major news and interview programs. Although there were, in this period, occasional NPR segments that presented information in a straightforward and balanced way, distorted, erroneous, and biased reports were broadcast on virtually a daily basis, continuing the pattern documented in previous CAMERA studies of the network's output.
NPR's partisanship was evident, first of all, in the disproportionate reliance on Arab/Palestinian and pro-Arab speakers compared to Israeli and pro-Israeli speakers. During the two months of study more than 56 percent of the guests were Palestinian/Arab or pro-Arab, and those guests were afforded 77 percent more words than the Israeli/pro-Israeli guests.
NPR bias is apparent also in the chronic amplifying of Palestinian grievances and perspectives in story focus and reporters' language and in the de-emphasizing or omitting of Israeli concerns. It is evident as well in frequent factual errors portraying Israel in a negative light. Many of these errors were material and egregious, and none were corrected.
Entirely one-sided programs were commonplace, whether devoted to assailing Ariel Sharon as a "war criminal," to characterizing Israel as a "Jim Crow" nation which should be done away with in its "apartheid" form, or to blaming Israel for excessive violence, anti-American riots in Arab capitals and erosion of a supposed Arab commitment to peace. There was little for which Israel was not held culpable.
At the same time, key information was sharply downplayed or omitted entirely. Never reported was the drumbeat of virulent war-mongering and anti-Israel/anti-Jewish incitement by official Palestinian media that stoked hatred and anger among the Palestinian populace in the weeks preceding the visit by Ariel Sharon to the Temple Mount/Haram al-Sharif. Incitement occurring during the outbreak of rioting was reported briefly and without conveying its continuous ferocity and its central role in the violence.
The unabashed partisanship of NPR reporters was striking, especially on the part of Jennifer Ludden and Kate Seelye, who often presented information as though acting in the service of the Palestinian cause. Notably, as well, Foreign Editor Loren Jenkins has expressed hostile attitudes toward Israel, terming it a colonizer in Jerusalem. He has also, in his own writing, linked Israelis to Nazis. Significantly, Jenkins has regularly appeared at events sponsored by the stridently anti-Israel American-Arab Anti- Discrimination Committee (ADC), and Kate Seelye was for a number of years beginning in the late 1980's the ADC's Manager of Media Relations.
In recent years Seelye has written for the Washington Report on Middle East Affairs, in one article accusing Israel of engaging in state-sponsored terrorism. The Washington Report is an extremist magazine which has referred to Jewish supporters of Israel as a "cancer" and as "Israel-firsters," and has carried ads for Roger Garaudy's notorious book, The Founding Myths of Israeli Policy, which denies the Holocaust. That NPR would hire a contributor to such a magazine, that it would welcome such extreme partisans, is testament to the network's own highly partisan agenda.
NPR's misrepresentation of events is not only a serious violation of ordinary journalistic standards but also of specific criteria under which the Corporation for Public Broadcasting (CPB) dispenses tax dollars to networks such as NPR. Federal statute enjoins CPB to grant funds on the condition that National Public Radio provides "strict adherence to objectivity and balance in all programs or series of programs of a controversial nature."
NPR is demonstrably not offering "strict adherence to objectivity and balance" in its coverage of the "controversial" and contentious events and issues related to the Arab- Israeli crisis. This breach of the terms under which taxpayer funds are provided should be a matter of concern both to listeners and to Members of Congress.
Quantitative Bias – Disproportionate Weight to Arab/pro-Arab Speakers
In the past, NPR has sought to deflect CAMERA's criticism of its coverage with the claim that only a few, occasional stories have elicited objections. Although this assertion is false – CAMERA has lodged many detailed complaints about an ongoing pattern of erroneous and distorted reporting – the following quantitative data drawn from CAMERA's study should dispel any doubt about the pervasiveness and gravity of bias in NPR's coverage.
Tallying bias: speakers, word count, skewed language
A survey of 188 National Public Radio transcripts of major news and interview programs, covering all such programs that touch on the Israeli/Palestinian conflict or directly relevant subjects from September 26, 2000 through November 26, 2000 and drawn from the NEXIS news database, underscores the network's sharp tilt toward Palestinian/Arab perspectives. The programs reviewed include Morning Edition, All Things Considered, Talk of the Nation, Fresh Air, Weekend All Things Considered, Weekend Edition Saturday and Weekend Edition Sunday.
• More speakers and far more air time for Arab/pro-Arab views
Of a total of 350 speakers appearing on the network in these segments during the period of the study, not including NPR's own journalists, 197 were Palestinian/Arab or pro-Arab while only 153 were Israeli or pro-Israeli.
The Palestinian/Arab and pro-Arab speakers were also given substantially more opportunity to express their views. They were afforded 36,272 words spoken while Israeli or pro-Israeli perspectives were given only 20,476.
That is to say, Palestinian/Arab and pro-Arab speakers enjoyed 77% more prominence.
It should be noted that although a number of the Israeli speakers heard on NPR in the period of this study are known to be harsh critics of Israel, their views sometimes mirroring those of the Palestinians, all were included under the "Israeli" category. (One exception was American-born Allegra Pacheco, an Israeli citizen who campaigns for the dissolution of Israel as a Jewish state. She was included among the pro-Arab count.) Aside from Bassam Eid, there were no Palestinian critics of the Palestinian Authority comparable to the numerous Israeli critics of Israel.
• More "Arab-only" than "Israeli-only" programs; more time for Arab speakers
There was significant imbalance in the number of programs in which only Palestinian/Arab or pro-Arab speakers were presented as compared to those including only Israeli or pro-Israeli speakers.
There were 41 segments in which only Palestinian/Arab or pro-Arab speakers were heard and just 24 programs in which only Israeli or pro-Israeli speakers were heard.
More striking still, in these 65 segments the Palestinian/Arab and pro-Arab speakers were afforded 18,321 words spoken on the air, while the Israeli and pro-Israel speakers were given just 4,934.
That is, there were nearly twice as many segments that included only Palestinian/Arab or pro-Arab speakers as compared to Israeli or pro-Israeli-only segments, and the Arab-only speakers were given almost four times as many words (371% more).
Quantitative bias matched by qualitative bias
• Pejorative language applied disproportionately to Israelis
Ariel Sharon was labeled "hard-line" or "right-wing" 24 times, and others associated with the Israeli opposition were similarly labeled another 11 times. But Yasir Arafat was never labeled hard-line or right-wing, nor was Hamas leader Sheik Ahmed Yassin. Yassin, the head of an organization avowedly opposed to the existence of Israel and responsible for terrorist bombings against Israeli civilians, was identified simply as a "spiritual leader."
Marwan Barghouti, head of the Palestinian Tanzim gunmen who has orchestrated much of the violence, is never once labeled "hard-line" for his admitted fomenting of attacks on Israelis. NPR calls him the "main organizer of the street protests."
• Palestinians/Arabs more "frustrated" than Israelis
Palestinians or other Arabs were described by NPR reporters or guest speakers as "frustrated" 16 times, while Israelis were only said to have such feelings 4 times.
Factual Errors – Examples
Perhaps the most dramatic evidence of National Public Radio's anti-Israel bias is seen in the inaccurate stories and assertions that are a frequent element of its coverage. Unlike other media outlets which regularly correct their errors in Middle East coverage – such as the New York Times and the Boston Globe – NPR rarely does so.
• On October 9, NPR's Jennifer Ludden reported at face value and in detail the claims of Palestinians that Jewish settlers had tortured, murdered and mutilated a Palestinian (click here for the full transcript). Ludden presents Osama Nizar, then embellishes his account:
Nizar: ..And the settlers killed one of the Palestinian young men there and amputated his hand and leg. Then they burned him and threw him away in the street.
Ludden: The man had broken bones and a smashed skull. Israeli police suggested he'd been killed by Israeli soldiers, but eyewitnesses said it was Jewish settlers. The torture and murder outraged Palestinian leaders.
Ludden's statement that "Israeli police" identified "Israeli soldiers" as the perpetrators of the alleged atrocity is nonsensical and false. Israeli military officials said the man, Issam Judeh Hamed, was killed in a car accident north of Ramallah.
Israel Defense Force Colonel Gal Hirsh was further quoted in the Guardian newspaper (10/10) saying the Palestinian murder/torture charge "is a lie like so many lies. This is part of the cynical behavior of the Palestinian side." He said he had "asked the Palestinians to join us and to make a combined investigation, and to send the body to one of our pathologists to check whether their claims are right. But they did not allow us to see the body… They took it to Ramallah."
Other reporters noted that the Palestinians chose to exploit the condition of the victim's body. Larry Kaplow in the Austin American-Statesman (10/10) wrote:
Palestinian television repeatedly showed pictures of the charred and mutilated body, which drove more [Palestinians] into the streets. This catapulted a large crowd toward a confrontation with the Israeli troops at a junction between Israeli and Palestinian territories.
While other media outlets made clear the Palestinian claims were unconfirmed, Ludden adopted them outright, adding that: "The torture and murder outraged Palestinian leaders."
FACT: Physicians for Human Rights, a group often critical of Israel, investigated the Judeh death in detail and publicly concluded that it was the result of a car accident and there was no evidence of torture or mutilation.
NPR never corrected the incendiary false story.
In the same October 9 program, Ludden made brief mention of the discovery of the body of a rabbi, saying only: "Police said he'd been shot Saturday by Palestinians." The murdered rabbi, Hillel Lieberman, had, in fact, been kidnaped on the way to rescue Torah scrolls at Joseph's Tomb and his bullet-riddled body was found in a cave.
Biased use of language is apparent in the segment's referring to Palestinians who "lob stones at an Israeli military outpost," while characterizing Jews as engaged in "mob-style aggression" when they throw rocks and damage Arab property. The daily rock-throwing by Palestinians is never characterized as "mob-style aggression." Similarly, Ludden refers to Palestinians reacting to the alleged murder of Issam Judeh with "intensified emotions," while Jews are said to react to the murder of Rabbi Lieberman with "attitudes" that "hardened."
• On October 1, Ludden stated:
You've got this Goliath of an Israeli army with guns. In some places yesterday they used armored tanks. There were battle helicopters buzzing overhead. At one point in the Gaza Strip yesterday, Israeli soldiers fired an anti-tank missile. All this directed at young kids with stones.
FACT: None of the Israeli weaponry cited had been "directed at young kids with stones." At that point, the tanks had not fired a shot at anyone, but were positioned as a deterrent. The helicopters had been brought to help rescue an Israeli who had been shot by Palestinians during their assault on Joseph's Tomb in Nablus and was trapped and bleeding to death. The anti-tank missile was used against Palestinian snipers firing at Israelis from high-rise buildings at the Netzarim junction in Gaza.
Ludden's inaccurate statements were contradicted by fellow reporter Linda Gradstein in an October 4 report in which Gradstein describes Israel firing helicopter gunships at buildings harboring Palestinian gunmen, not at "young kids with stones."
On October 5, Ludden herself states: "Armored tanks have moved into key hot spots, though spokesmen say they're meant to intimidate and have not opened fire. Perhaps most controversial, helicopter gunships have repeatedly shot guided rockets next to the besieged Israeli army post at Netzarim junction in the Gaza Strip."
On October 8, Gradstein reported, "And for the first time since the latest clashes began, in the West Bank town of Ramallah, Israel fired machine guns mounted on tanks."
NPR has not corrected the inaccurate October 1 report.
• In another segment on October 1, Ludden stated that "helicopter gunships fired on crowds in the Gaza Strip."
FACT: This is inaccurate. If helicopter gunships had fired on crowds, there would have been hundreds of casualties. The gunships, as noted, were firing at snipers in multi-story buildings.
NPR has not corrected this additional October 1 error.
• On October 31, Ludden reported that "nearly all those killed in the past month have been Palestinian civilians armed only with stones." She made the same assertion on November 17, when she said of the victims, "most have been civilians armed only with stones."
FACT: Ludden has no way of knowing what percentage of those killed were "armed only with stones." Among the rioters have also been men shooting guns and hurling fire bombs. Nor does she report that Palestinian gunmen shoot from within the ranks of unarmed youth, drawing return fire from Israelis.
NPR has not corrected these errors from October 31 and November 17.
• On November 27, Linda Gradstein reported: "Israel today eased restrictions on Gaza as good will gesture for Ramadan, allowing food and gasoline to enter the area for the first time in more than a week."
FACT: Israel had not prevented food (or medicine) from reaching Gaza. The Associated Press also investigated this question and stated that Israel did not prevent food deliveries. Nevertheless, NPR claims their sources corroborate the report.
NPR has not corrected this error.
• On October 9, in a commonplace NPR distortion, reporter Kate Seelye misrepresented the facts about the Chebaa Farms area on the Lebanon/Golan border, where three Israeli soldiers were kidnaped by Hezbollah. She and a guest speaker say:
Seelye: Israel refused to hand over the Chebaa Farms when it withdrew its forces from the rest of Southern Lebanon last May, but Lebanon insists the area is an integral part of its territory.
Nizar Hamzeh: … basically Chebaa Farm is an occupied territory, and there is a right, basically, for them, and it's a legitimate right, from their views, to launch operations into the Chebaa Farm…
• On November 26, NPR's Linda Gradstein repeated the distortion, referring to the Chebaa Farms as "a disputed border area" and stating:
Israel says it captured the Chebaa Farms from Syria in the 1967 War, but Lebanon claims the territory and says that therefore Israel's withdrawal from South Lebanon is incomplete.
FACT: The United Nations, hardly a pro-Israel partisan, monitored closely Israel's withdrawal from southern Lebanon, including the Chebaa Farms area, and certified it as complete. NPR, however, repeatedly omits the UN verification of Israel's position, presenting the issue as open to legal debate.
NPR has not corrected these distortions.
• On September 28, Ludden erroneously stated that, "Sharon's orchestrated tour challenges a delicate status quo that's held since Israel seized control of East Jerusalem's holy sites in 1967."
FACT: The "status quo" permits Jews and Israelis to visit the Mount. Sharon's visit did not challenge the status quo; it conformed to it. Moreover, Sharon had visited on numerous occasions previously.
NPR has never corrected this misinformation regarding the Temple Mount.
• On October 2, Linda Gradstein said, "Palestinian official Faisal Husseini says it's up to Israel to fulfill agreements it has signed and that means withdrawing from almost all of the occupied West Bank."
FACT: Israel has not signed an agreement stipulating "withdrawing from almost all of the occupied West Bank."
NPR has not corrected this misrepresentation.
• On October 15, NPR's Mike Shuster in a Talk of the Nation segment made numerous inaccurate and misleading statements about the Temple Mount. It is notable that his garbled explanation was broadcast not in the first hours or days of the crisis, but two weeks after the visit of Ariel Sharon. Jennifer Ludden had made a similar error about policies regarding Jewish access to the Temple Mount on September 28. Shuster said:
…when [Ariel Sharon] decided that he would go and put his feet on the Temple Mount, he was also breaking a tradition.
Since 1967, when the Israeli army seized the Temple Mount during the Six-Day War, despite the fact that it is in Israeli hands, the Israeli government has allowed Muslim clergy and a Muslim administration to take care of things for the Temple Mount, and there has been a tacit agreement among Israeli politicians not to go up there… When Israeli leaders go there, it challenges the Muslim view of this and it challenges a kind of uneasy coexistence that has prevailed there for 33 years. And Sharon broke that at a very tense moment…
FACT: Shuster's assertions are wrong. When Ariel Sharon "put his feet on the Temple Mount" he was reaffirming, not breaking, a tradition. He, like many others, had visited before.
The "tacit agreement" has been that the Waqf has a free hand to administer Muslim religious sites and activity without Israeli interference, but that Israelis, including politicians, have the right to visit the Temple Mount. What Shuster fails to convey too is the singular forbearance evinced by the Jews in this policy toward the Temple Mount. They have, in effect, foregone active religious presence at the holiest site in Judaism in order to preserve peaceful relations with the Muslims whose shrines are built atop the ancient temples.
In the same October 15 segment, Shuster makes additional inaccurate statements. He tells listeners:
…The plaza itself is the site of two very important ancient mosques. And at the base, there's the Western Wall, which is one of the holiest of Jewish holy sites. The Jews believe that – the Jews say that the Temple Mount was the site of two ancient temples in the Jewish tradition that had been destroyed at various stages in ancient Jewish history.
FACT: There is one mosque, not two, on the Mount. (The Dome of the Rock, sometimes inaccurately referred to as the Mosque of Omar, is a Mashhad, a shrine for pilgrims, rather than a mosque.) Shuster's language in characterizing Jewish claims is also notable: "Jews say" and "Jews believe" that the temples existed in "Jewish tradition."
Again on October 15, Shuster stated inaccurately:
[The Temple Mount/Haram al-Sharif are] … at the center of both the Jewish faith and the Muslim faith.
FACT: The Temple Mount is at the center of Judaism, but Mecca is at the center of the Muslim faith, evidenced most dramatically by its being the site of Islamic pilgrimage. Jerusalem is only the site of Jewish and Christian pilgrimage. Noteworthy in this regard is that from 1948 to 1967, when the Temple Mount was controlled by Jordan, not one foreign Arab head of state visited it.
NPR has not corrected these erroneous assertions.
One-sided, pro-Palestinian segments
Beyond the issue of factual errors is the problem of NPR's frequent broadcast of egregiously one-sided, biased segments essentially advocating Palestinian/Arab positions. NPR has continuously blurred Arab responsibility for the violence, failing to report that "clashes" have erupted because Arab mobs seek out Israeli soldiers and civilians and assault them. Instead, the focus has been on Arab complaints against Israel for "excessive force." NPR interviews Arab shopkeepers, doctors, professors, protesters and others who denounce Israel as brutal and inhuman. In many such segments Israeli voices are excluded entirely. To list but a few examples from the CAMERA study:
1) The network reported only once at the beginning of the recent rioting in September that stepped-up violence against Israelis had actually preceded Ariel Sharon's visit to the Temple Mount. Reports thereafter blamed Sharon continuously, with one entire segment devoted to Rashid Khalidi's excoriating the Israeli general without any balancing view (October 2). The network never reported the official Israeli position, stated emphatically by Prime Minister Ehud Barak and Foreign Minister Shlomo Ben Ami, that Sharon was entitled to visit the Temple Mount and that this was no cause for violence.
2) On October 7, Kate Seelye reported from Lebanon on the ferment in the Arab world over the Israeli-Palestinian violence. The segment was entirely one-sided, presenting the views of Arabs such as Khalil Nasserin who said the Israelis "don't have a heart. They kill young people who are 11 and 12." A "Lebanese political analyst" deplored Israel's allegedly "eating away at what's left of Palestinian territories in the West Bank particularly, and Gaza, and a year to year, month by month treatment of the Palestinian population in inhuman ways and denying them their dignity and the rights of human beings." Seelye does not mention that Palestinians have gained, not lost, territory, nor does she provide any response to the litany of other distorted charges. No Israeli voice was included.
3) October 8 was emblematic of the extreme bias by NPR. On the eve of Yom Kippur, eight separate stories on the crisis were broadcast:
From Lebanon, Kate Seelye interviewed Hezbollah chief Hassan Nasrallah, who justified kidnaping Israeli soldiers by insisting that he merely wanted his "people" to be "liberated" from Israeli prisons. An Arab mother lamented the loss of her son but said he had "died on the path to Jerusalem." No Israeli voice was included.
Jennifer Ludden reported from Hebron, where Arabs described being "frustrated" and an Arab doctor accused Israel of "a massacre of Palestinians." No Israeli voice was included.
NPR'S Jacki Lyden, reporting from Washington, D.C., interviewed Arabs at an anti-Israel rally. They warn Jews, "not to transmit (sic) your suffering into torture and harassment and oppression for others." Lyden asked one demonstrator what she would tell Jews on Yom Kippur. She responded: "I tell them to have conscience and to leave the Arab people in peace in their own homes and not to give them hard time and kick them and kill them, kill the innocent people." No Israeli or Jewish voice was included.
Rami Khoury reported from Amman, Jordan. He rationalized the ransacking of Joseph's Tomb saying "… It's not fair to take an incident like that, isolated, and try to give it political implications, but you have to see this in a wider context that the Palestinians were so outraged by what had happened to them at the hands of the Israeli army over the last 10 days…" No Israeli voice was included.
4) An October 9 exchange between NPR host Bob Edwards and Ghassan Khatib, a Palestinian "political analyst" much favored and frequently heard on NPR, offers a representative instance of the indulgent interview treatment Arab speakers receive. Edwards asked, among other things: "The Palestinians say Israel has used excessive force against the rioters. Today Barak said he'd use all available means against Palestinians. What effect is that likely to have?" Edwards then gave his guest a further chance to denounce Israel, asking: "…the UN Security Council approved a resolution citing Israel for the excessive use of force. The United States abstained from that vote. Has there been any reaction from Palestinians?" Khatib replied to the "questions" by accusing Israel of "continuous killing," and of "brutal reaction" and more. There was not a hint in the broadcast of Palestinian responsibility for the violence. No Israeli voice was included.
5) On October 12, the day of the lynching of two Israeli reserve soldiers in Ramallah, Jennifer Ludden interviewed Palestinians in Khan Yunis refugee camp. She allowed a Palestinian woman named Mariam to make unsubstantiated claims that her father was murdered in 1967 by Israel and her grandfather by a soldier in 1956. The charges were unquestioned by the NPR reporter. No Israeli voice was included.
6) The day after the lynching, Friday the 13th, NPR aired stories which included Israelis, as well as three Arab-only segments. One with Rami Khouri denounced America for how it "has behaved over the last 30 years" with regard to the Middle East conflict and attacked Israel for its "encirclement and bombardment" and "humiliation" of the Palestinians. No Israeli voice was included.
In another segment, NPR host Robert Siegel lobbed softball questions to Salameh Nematt about the difficulties of Arab states in the face of events in Israel. Nematt agreed that it's difficult for Jordan because of "Israeli violence against the Palestinians." No Israeli voice was included.
A story that opened with a Palestinian funeral presented a variety of accusations against Israel. PA official Imad Falouji denounced Israel for allegedly not negotiating "in good faith." When an Arab child showed admiration for Hamas and Islamic Jihad, Falouji blamed Israel, declaring, "Israel has lost another generation of Palestinians." NPR reporter Jennifer Ludden did not remind listeners that it is the Palestinians themselves who are indoctrinating new generations, deliberately and systematically teaching hatred of Jews and rejection of Israel – in schools, summer camps and official media. No Israeli voice was included.
7) An October 19th report underscored the extreme partisanship, even propagandistic tendencies, of some NPR reporters. It included an interview with Palestinians Jonathan Kuttab and Ghassan Khatib who deplored Israeli policy and conduct. Jennifer Ludden elaborated on their charges, using extreme anti-Israel rhetoric. She claimed "an ever-expanding network of bypass roads to access the settlements has carved the West Bank into disconnected Bantustans." No Israeli voices were included.
8) An October 22nd segment with NPR's Kate Seelye was representative of the network's chronic whitewashing of anti-Israel terrorist groups. Reporting on the increased popularity of Hezbollah in the wake of the violence in Israel and the PA areas, Seelye said "frustrated" Palestinians were "turning for inspiration to the resistance group" that had ejected Israel from Lebanon. She interviewed an Arab who spoke repeatedly of the "frustration" of the Arabs, and of Hezbollah recruiting "for the cause of Jerusalem." Seelye never reported that Hezbollah is on the State Department's list of terrorist groups, nor did she explain what Hezbollah leader Hassan Nasrallah means by the "cause of Jerusalem." He has made his goals abundantly clear, as he did, for example, in January 2000:
When we speak about Jerusalem, we don't want anyone to misunderstand. We do not mean East Jerusalem. We do not mean Holy Jerusalem…We do not mean Jerusalem, the city. When we say Jerusalem, we speak of it as a symbol of all Palestine and the entire nation that is under assault by the scheme of global arrogance and Zionism that throughout the past 50 years has been implemented on our land…. Israel is a cancerous, usurping entity without legitimacy or legal character.
No Israeli voices were included in the report.
9) On October 23, Jennifer Ludden reported from the Arab neighborhood of Beit Jala about the anxiety of residents there facing retaliatory fire from Israel in response to Palestinian gunman shooting at the Jewish neighborhood of Gilo. Cast almost entirely from the personal view of the Arabs, the segment gave only cursory reference to the Arabs' provocation. Repeating as fact Arab terminology for Gilo, Ludden called the neighborhood "a settlement built in occupied East Jerusalem." She did not tell listeners that most of the land on which Gilo is built was seized by the Jordanians in 1948 for an army camp because of its strategic heights. After Jordan attacked Israel in 1967, Israel captured the camp and the uninhabitated Jordanian state land became Israeli state land. (Israel Kimhi, Jerusalem Institute for Israel Studies)
10) On October 29th NPR presented an uninterrupted, unchallenged monologue with Allegra Pacheco, a "human rights" activist who speaks of Israel as a Jim Crow, Apartheid nation and who advocates its disappearance as a Jewish state. Pacheco is an activist in the campaign to "return" millions of Palestinians to Israel and was a speaker at the September 16, 2000 "Right of Return" rally in Washington.
No one countered the defamatory allegations.
This egregious segment prompted a supportive letter-writing campaign by the Islamic Association for Palestine. NPR aired three letters supportive of Pacheco and two critical (November 5).
11) In another October 29th segment, reporter Linda Gradstein discussed the possibility of Prime Minister Ehud Barak forming an emergency government with his opposition, headed by Ariel Sharon. Like virtually all the coverage mentioning Sharon in this period this report referred to him as "hard-line" and viewed by the Arabs as "a war criminal." Jibril Rajoub, head of a Palestinian security group and known as a ruthless strongman, was interviewed saying "Mr. Sharon will be a disaster, a catastrophe for the Israelis, a disaster for the Palestinian people. Mr. Sharon is a big lie." The contrasting treatment of Israeli and PA leadership is stark here, with Sharon pejoratively labeled and criticized, and Rajoub presented without any negative reference.
12) An October 30th segment typifies the romanticizing of Palestinian figures in contrast to the harsh characterization of Israelis. Marwan Barghouti, leader of Arafat's armed Tanzim militia responsible for much of the intense violence causing casualties to Arabs and Jews alike, was presented as a dashing leader in a "black leather bomber jacket" who "maintains good humor" in the face of a "beseeching" reporter. In this admiring puff peace and elsewhere, Ludden appeared to be personally enamored of the Palestinian cause. The segment was totally unbalanced, offering no counterpoint at all to Barghouti's charges that Israel "backed us in a corner" and "didn't implement more than 10 percent of these agreements." (Click here for the full transcript.) No Israeli voices were included.
13) On November 1, 2000 NPR aired a completely one-sided segment on Hebron, with correspondent Linda Gradstein presenting only Arab views. In a story about the difficulties of living under a curfew, Gradstein omits any explanation for its imposition. She does not report that the small Jewish enclave in Hebron has been shot at almost daily – or nightly – from the surrounding Palestinian neighborhoods. No Israeli voices were included.
14) A November 1st Terry Gross interview with Karen Armstrong was one of several appearances of this sharply anti-Israel writer on NPR in the period of the study. In this segment Armstrong conveyed her view that Israel is bullying the Palestinians for whom she has sympathy because "nobody cares about [them.]" She said of suicide bombers that she couldn't imagine "an expression of greater despair and hopelessness than that."
15) On November 2nd NPR broadcast a completely one-sided segment from Gaza with Anne Garrels giving only Arab views. Without any pretense of balance, she presented unsubstantiated charges against Israel. She claimed "Israeli forces reduced nearby Palestinian dwellings to rubble." She did not report that the "dwellings" included two multi-storey buildings from which snipers had been firing on Israelis and a structure called the "factory" where the Palestinians stored ammunition. No Israeli voices were presented. (Click here for the full transcript.)
16) On November 6th, within the space of less than a week, NPR did another entirely one-sided report on the feelings of the Arabs of Hebron. The only nod toward Jewish concerns was a brief reference to Arab gunmen who "may have provoked Israeli fire." In fact, Jews in Hebron were experiencing nightly shooting on their homes and were themselves suffering the effects of fear and anxiety in their families. Reporter Anne Garrels also again continuously repeated Arab accusations, regardless of their validity, and uttered generalizations about Arab opinion. No Israeli voices were included.
NPR aired a letter from a listener complimenting the Garrels piece, but did not air any critical of the report.
Distortion, concealment of Palestinian culpability and false moral equivalence
1) The October 12 lynching of two Israeli reservists in Ramallah was marred by NPR's reluctance to report a story that lays straightforward blame on the Palestinians. Reporter Linda Gradstein accused Israel of increasing "tensions" with its media coverage of the murders and she termed Israel's missile strikes (against empty buildings) harsh. Reporter Mike Shuster declared that "clearly neither side is finished with this kind of violence or this kind of response-counter-response…" He equated Palestinian attacks with Israeli reaction, but Israel was not launching unprovoked attacks – the Palestinians were.
2) An October 19th segment reflected the chronic concealment of Palestinian aggression and moral equating of Palestinian and Israeli actions. It referred deceptively to Palestinians having "damaged" Joseph's Tomb in Nablus, when in reality they had left it in ruin. On the other hand, correspondent Mike Shuster described in detail Ariel Sharon's Temple Mount visit (which caused no harm whatsoever to the Muslim shrines), saying it was seen as a "provocation by Muslims."
Similarly, in the same segment NPR host Noah Adams claims that at the Camp David negotiations when Israelis and Palestinians discussed the future of Jerusalem "this was the first time that issue was put on the negotiating table and it proved traumatic, especially for Muslims." The baseless assertion that Muslims were "especially" traumatized by discussions of Jerusalem is typical of a knee-jerk espousal of Arab views and denigrating of Jewish perspectives. Such an observation, of course, also omits any hint of Arafat using violence for his own political ends.
Shuster reported that Adnan Husseini, Director General of the Muslim Waqf, "like many Palestinians…questions whether [the Temple Mount] really is a Jewish holy site." Then the NPR reporter hastened to declare that "There are a few Jews who deny that the Temple Mount is a Muslim holy place…" Thus while the segment presented key information about the denial by Arafat's clerical appointee of Jewish religious ties to the Temple Mount, NPR promptly sought to alleviate any unique onus by suggesting an equal disregard for Islamic claims by Jews. The equation is false. Israeli public and official views overwhelmingly accept Muslim claims and presence on the Temple Mount/Haram al Sharif, while Palestinian/Islamic views largely reject Jewish religious and historical connections. There is no symmetry.
In another part of the report, Israeli Rabbi David Hartman said explicitly, "I have no difficulty with Islam being on the Temple Mount. I have difficulty with Islam claiming that we were never there, that the Jewish Temple wasn't there, that I have no history, that it's a fabrication. It is that which, in some way, is very painful for me to digest."
To this observation, Shuster responded: "It is this gap the Palestinians and Israelis must now bridge…It is so great that neither side can even hear the other over the din of shots and shells and gunfire." While Hartman had just made clear his willingness to accept Islam, Shuster insisted on the presence of a mutual "gap" that "is so great that neither side can even hear…"
The refusal of NPR to report candidly on Muslim and Palestinian rejection of Jewish ties to Judaism's holiest sites is symptomatic of the network's refusal to report honestly about all the elements of Arab denial of Israel's legitimacy.
3) Jennifer Ludden's November 2nd report on the terrorist attack near the Mahane Yehuda market that killed Ayelet Levy and Hanan Levy was emblematic of NPR's reticence to present the true face of terrorism. Coverage of the attack was perfunctory, with several Jewish teenagers shown to be angry at Arabs. Despite the brevity of the report, a Palestinian was given a platform to rationalize the attack and accuse Israel of being the true aggressor. He said: "We don't want to shoot. We don't want violence, but we want to prove our right and there can be no peace without the ending of occupation. The reality is that Israel is occupying the Palestinian people and it is the one that is practicing aggression."
4) A November 4th Anne Garrels piece revealed again the reporter's superficial knowledge and particular tendency for bald editorial pronouncements. She declared that "many Palestinians have been radicalized by the events of the past five weeks. Having seen so many victims, many say they will not heed calls for a cease-fire." The radicalization of the Palestinians was not simply a result of seeing "so many victims" – that is of losses suffered in clashes with Israelis. Rather, the PA's amplified propaganda campaigns in the media alleging all manner of false charges against Israel fueled intense anti-Israel and anti-Jewish fervor – and radicalization. The hate-engendering education and religious systems did the same. But these are subjects NPR has chosen virtually to ignore.
Key stories omitted
As mentioned above, another facet of NPR's anti-Israel bias concerns stories the network virtually ignores entirely, including:
1) The virulent anti-Israel warmongering and anti-Semitism which are a staple of Palestinian media. This incitement to violence and hatred is certainly a violation of Oslo agreements that explicitly prohibit such propaganda, and is believed by Israelis to have been a key factor in triggering and sustaining the recent rioting, shooting and bombing. Despite the crucial importance of this topic, it has been mentioned by NPR only occasionally and briefly. There has never been an in-depth examination of this essential subject.
2) Evidence of PA plans to unleash violence in the wake of Arafat's dissatisfaction with and rejection of Prime Minister Barak's offers toward a final settlement agreement and President Clinton's support for Barak's offers at the Camp David summit has likewise been essentially unreported by NPR.
3) Evidence of PA officials choreographing the violence, including the shooting of motorists and planting of roadside bombs, has been barely reported by NPR.
4) Evidence of PA officials enlisting children for "demonstrations," and verbal attacks on and threats against parents who attempt to keep their children out of harm's way, has also been barely reported by NPR.
Representative Transcripts
1. October 9, 2000 All Things Considered
VIOLENCE CONTINUES BETWEEN PALESTINIANS AND ISRAELIS
From NPR News, this is ALL THINGS CONSIDERED. I'm Linda Wertheimer.
United Nations Secretary-General Kofi Annan is in the Mideast trying to find ways to end the latest round of violence between Israelis and Palestinians. Annan will meet with both the Israeli Prime Minister Ehud Barak and PLO Chairman Yasser Arafat. Barak had given Arafat a 48-hour deadline to stop the fighting or face forceful action by Israel. That deadline passed, but a government spokesman now says it has been extended indefinitely. Violence has been less intense over the past two days, but has not ended. NPR's Jennifer Ludden reports.
JENNIFER LUDDEN reporting:
In the West Bank city of Ramallah, the day started with what is now a morbid ritual: the funeral of a young man killed yesterday. During the ceremony, members of a political party that opposes peace with Israel handed out flyers calling on people to protest last night's killing of two Israeli Arabs in Nazareth. Twenty-five-year-old student Osama Nizar(ph) says the crowd gathered.
Mr. OSAMA NIZAR (Student): Then a news item reached us about crimes against our people in Um Safa(ph), an area near Bir Zeit. And the settlers killed one of the Palestinian young men there and amputated his hand and leg. Then they burned him and threw him away in the street.
LUDDEN: The man had broken bones and a smashed skull. Israeli police suggested he'd been killed by Israeli soldiers, but eyewitnesses said it was Jewish settlers. The torture and murder outraged Palestinian leaders. Senior peace negotiator Hasan Asfor(ph) called on Palestinians to 'uproot the settlers from our occupied lands.' In Ramallah, word of the crime intensified emotions, and by the end of the afternoon, the scene was the same as it has been for the past 10 days.
(Soundbite of muffled voices, stones being thrown)
LUDDEN: Dozens of Palestinians lob stones at an Israeli military post. Soldiers fired back. Forty-five people were reported injured. Watching the now familiar scene, a young man who gave his name only as Joseph dismissed Barak's ultimatum that Arafat stop the violence. 'Barak must order his army and Jewish settlers to stop shooting at us,' he said. He criticized Barak's threat of more forceful action as dangerously counterproductive.
JOSEPH: When there is a fire, you don't drop oil on it. You drop water to make it turn off. OK? And what Barak did is just throwing oil on the fire.
LUDDEN: Israeli attitudes also hardened with the discovery of the body of an American rabbi. Police said he'd been shot Saturday by Palestinians. But Israeli officials tonight found themselves mostly trying to rein in mob-style aggression by Israeli citizens. In Nazareth last night, several hundred Jews marched into the Israeli Arab part of town and attacked homes and cars. Witnesses say police only intervened when those under assault tried to defend themselves. Two Israeli Arabs were killed. Government spokesman Nachman Shai told Israeli Radio, 'Such acts must stop.'
Mr. NACHMAN SHAI (Israeli Government Spokesman): It is something very severe–I repeat, very severe. And I think that both Jews and Arabs would understand right away that here at stake is the fate of our coexistence, Jews and Arab in one Israeli state. And we have to do every effort in order to return immediately to normal life.
LUDDEN: But Israel and the Palestinian territories look increasingly less normal and more like a war zone. Along one West Bank road north of Jerusalem tonight, Israeli armored tanks were stationed between rocky hills. Israeli soldiers were creating a new defensive post, piling up sand bags. Meanwhile, armed scuffles seem to multiple each night so that both Israelis and Palestinians are afraid to leave their homes.
(Soundbite of children playing)
LUDDEN: The Shuafat refugee camp in East Jerusalem looks out on the Jewish settlement of Pisgat Zeev. Residents say last night around 11:00, hundreds of Jewish settlers converged on the camp and began shooting. Fifteen-year-old Umjad Hasway(ph) was out on the street watching.
UMJAD HASWAY: (Foreign language spoken)
LUDDEN: 'When people saw the settlers coming, they started throwing stones at them,' he says. Residents here say four Palestinians were wounded. Israeli media reported a different story; that the residents of Shu Effet had simply rioted and police had intervened with tear gas to disperse the crowd. Israeli Radio also reported that rocks had been thrown at the Jewish settlement of Pizgad Za'ev. As night fell, security forces on both sides were bracing for a fresh round of revenge attacks. Jennifer Ludden, NPR News, Jerusalem.
2. October 19, 2000 Morning Edition
PALESTINIANS' HOPES FOR A PEACE AGREEMENT FRUSTRATED
This is MORNING EDITION from NPR News. I'm Bob Edwards.
Israel and the Palestinian Authority slowly are implementing the cease-fire agreement reached this week in Sharm el-Sheikh, Egypt. For the second day, only sporadic violence has been reported. The cease-fire agreement leaves open the possibility that talks leading to a permanent peace settlement could resume, but many Palestinians consider the peace process that began seven years ago in Oslo a failure and a humiliation. They want the uprising to continue. NPR's Jennifer Ludden reports.
JENNIFER LUDDEN reporting:
Halib Abuasi(ph) remembers the photograph of the famous handshake on the White House lawn. In September 1993, when the Oslo peace process was launched, Abuasi was 19 and serving his second jail term for taking part in the Palestinian uprising, or intifada. The photo was in all the papers, he says, Arabic, Hebrew and English. Oslo was born out of the intifada, and Abuasi felt a fleeting sense of victory that it would, at last, bring independence. But today in Gaza's squalid Khan Yunis refugee camp, Abuasi is again throwing stones at Israeli soldiers.
Mr. HALIB ABUASI (Palestinian): (Foreign language spoken)
LUDDEN: 'Nothing's changed,' he says. 'We're still occupied. Israel still controls our lives.' His mother Miriam nods in agreement and says, 'We've never felt peace.'
(Soundbite of demonstrators)
LUDDEN: The rallies and rioting over the past three weeks have been hard for many Israelis to understand. The Camp David peace summit in July delved into the toughest issues of a final settlement for the first time, and Prime Minister Ehud Barak offered more than any Israeli leader before. Peace seemed a matter of time. So when what erupted instead looked like war, Israelis asked, 'How could Palestinians be so unreasonable?' But Palestinian human rights lawyer Jonathan Kuttab says Palestinians have been extremely patient. He says when the Camp David talks failed over the fate of Jerusalem, Palestinians read it as final proof of Israel's intentions. He says over the past seven years Israel has allowed Palestinians to acquire symbols of statehood, but ensured they are meaningless.
Mr. JONATHAN KUTTAB (Human Rights Attorney): They can have an airport, but they cannot fly in or out of it without Israeli permission; how they can have a passport which doesn't become valid until it's entered into the Israeli computer and they obtain permission to use it; how they can fly the flag, but it means nothing because real, ultimate authority continues to be in the hands of Israelis.
LUDDEN: Israel even maintains veto power over the Palestinian parliament. Since Oslo began, Israel has sealed off the West Bank and Gaza when it sees fit, citing its own security concerns. Israel controls Palestinians' water supply and electricity and rations them at will. It also controls all exports and imports, often holding items in harbor for months at a time, crushing efforts to build an emerging Palestinian economy. And then there are the settlements.
(Soundbite of saw)
LUDDEN: Even as Israeli peace negotiators hammered out one interim deal after another, Israel's government built fortified compounds on more land Palestinians said belonged to them. Since Oslo began, 80,000 more Jewish settlers have moved into the West Bank and Gaza Strip. An ever expanding network of bypass roads to access the settlements has carved the West Bank into disconnected Bantustans. Political analyst Hassan Hateeb(ph) says Israel never changed its mentality of occupier.
Mr. HASSAN HATEEB (Political Analyst): The Israelis are coming to the peace process from the concept that they won all the wars and the peace process is about a political realization of their victories, so the other side has to accept their dictation.
LUDDEN: When Palestinians complained, they ran up against a network of Palestinian security agencies, also created by the Oslo accords. The agencies cooperate with Israel to arrest members of terror organizations, but even legislators and journalists who've criticized Oslo have been detained for inciting against the peace process. Lawyer Jonathan Kuttab says it looked to Palestinians as if Israel was turning Yasser Arafat into a puppet.
Mr. KUTTAB: And as the years went by and Arafat tried very hard to control his own population, they said, 'He's doing a fine job. We don't have to give him anything. We have domesticated him. We have basically turned him to play our game and he'd better listen to our orders.'
LUDDEN: Kuttab blames the international community for supporting a peace process that fell so short of ensuring equal rights. Now, he says, the world must grapple with the explosion of frustration. Back in Gaza's Khan Yunis refugee camp, Halib Abuasi, and his mother, Miriam, see little alternative to a continuation of the Palestinians' uprising.
MIRIAM: (Foreign language spoken)
LUDDEN: 'If they stop this intifada and go back to the peace process,' Miriam says, 'it means they don't know anything. They don't understand what this is all about.' Jennifer Ludden, NPR News, the Gaza Strip.
3. October 30, 2000 All Things Considered
FATAH PARTY LEADER MARWAN BARGHOUTI
LINDA WERTHEIMER, host:
Palestinian leaders say they have no intention of ending their uprising, now in its second month. The main organizer of the street protests in the West Bank is Marwan Barghouti. He's the local head of Yasser Arafat's political party, Fatah. Barghouti has a large grass-roots following, and he may be key to how the uprising plays out. NPR's Jennifer Ludden reports from Ramallah.
JENNIFER LUDDEN reporting:
A few weeks ago, Marwan Barghouti answered his own cell phone and gave interviews on the spot, which was inevitably out in the thick of things, the boom of Israeli rubber-coated bullets in the background. These days, duty ties him to the sparse offices of the Fatah Party, where he must be snagged between a seemingly endless series of meetings. Slouching at his desk in a black leather bomber jacket, Barghouti maintains good humor under the strain of being in demand from yet another beseeching BBC reporter.
Unidentified Woman #1: …a little bit more of your time. We can set up our lights and do the…
Mr. MARWAN BARGHOUTI (Local Head of Fatah): Interview for?
Unidentified Woman #1: For the BBC program, "Correspondent." It's a 45-minute documentary program, which is looking at recent events.
Mr. BARGHOUTI: How many programs you have in BBC?
Unidentified Woman #1: Too many programs.
Mr. BARGHOUTI: Every day I have three interviews with BBC.
Unidentified Woman #1: I know. They will tell you that, right?
Mr. BARGHOUTI: OK.
LUDDEN: This is the second intifada Barghouti has led. In the late 1980s, he was elected head of the student body at nearby Bir Zeit University, the epicenter of Palestinian nationalism. It was one of the most influential positions of the day and, as a result, Israel arrested Barghouti numerous times. He passed jail terms reading about the French Revolution. In 1988, soon after the intifada began, Israel deported him. But from neighboring Jordan and then Tunisia, Barghouti continued to organize protests. After 1993, he was a big supporter of the Oslo peace accords, but today he says they've produced achievements on paper only, and he blames Israel.
Mr. BARGHOUTI: During 10 years of talks, we have more than seven agreements, but on the ground, they didn't implement more than 10 percent of these agreements. So the Palestinians wait, wait, wait, and they are very patient, and we used to be patient people. But, finally, I think we exploded because they backed us in the corner.
(Soundbite of altercation)
LUDDEN: The deadly drama of this uprising plays out a short drive from Barghouti's office. In the crowd of young men looking on, there is spontaneous admiration for the man they say is afraid of nothing.
Mr. MUHAMMAD ZIAD: (Foreign language spoken)
LUDDEN: 'Barghouti is so straight,' says 23-year-old Muhammad Ziad(ph). 'He gives everything he has for the cause. No other official helps us like he does.' Barghouti's supporters also include hundreds, some say thousands, of armed Palestinians, a loose-knit militia that's come to be known as the Tanzim, or organization. Israel accuses the Tanzim of carrying out nightly shootings on Jewish settlements. Barghouti denies there are any such orders and blames errant individuals. Armed contingents are a routine feature at Fatah demonstrations and funerals, firing angrily in the air. Political analyst Ghassan Khatib says the show of force is a smart move. He says Barghouti and his Fatah Party have not so much encouraged armed elements as they have co-opted them.
Mr. GHASSAN KHATIB (Political Analyst): They spoke the language of the street as extreme as the street needs. They said and did what the angry public is expecting from its leadership at these times.
LUDDEN: And then, Khatib says, he's seen Barghouti tell young fighters to go home and put down their guns. Barghouti is trying to exert the same authority over militant groups like Hamas and Islamic Jihad, organizers of a series of suicide bombings in recent years. Both groups now take part in evening meetings with Fatah leaders and other factions, planning the next day's demonstrations. But Barghouti and his aides say the militants must understand renewing terrorist bombings will not help the Palestinian cause. Not all Fatah leaders say the same, and it's not clear how much control Barghouti has. Marwan Barghouti says this intifada is not meant to replace the Oslo peace process, but, rather, to advance it.
Mr. BARGHOUTI: Of course, absolutely. I think this intifada is for peace and will create better conditions for the talks and for the peace.
LUDDEN: Israel insists violence and peace talks cannot go on at the same time. Barghouti admits it's tricky for a popular uprising to co-exist with Yasser Arafat's Palestinian Authority, born out of the peace process. Inherently, each challenges the other. For one to succeed, the other must be weakened. But Barghouti says, 'I think we'll find a way to cooperate.' Jennifer Ludden, NPR News, Ramallah.
4. November 2, 2000 All Things Considered
PALESTINIANS SKEPTICAL OF ANY TRUCE
LINDA WERTHEIMER, host:
There is skepticism in the Middle East about the latest plan to end the violence. Mistrust is especially widespread among Palestinians in the Gaza Strip, which has been the scene of some of the deadliest clashes. NPR's Anne Garrels reports few Gazans see an early end to the bloodshed.
ANNE GARRELS reporting:
When clashes broke out by the access road to the Israeli settlement of Netzarim a couple of weeks ago, Israeli forces reduced nearby Palestinian dwellings to rubble. Acres of olive and fruit trees up to a half mile from the Israeli agricultural complex were leveled, because they could provide shelter for snipers.
Palestinian property means nothing if the security of the settlements is at stake. Fifty-six-year-old Hassan Abdira(ph), who ekes out a living from the local groves, says Israeli tanks also destroyed his community's well.
Mr. HASSAN ABDIRA (Palestinian Farmer): (Through Translator) This is what we were living on, this water, and you can see, we have all the tubes coming out of here and coming to our houses, and our land, we watered our lands from it, trees and land, all kind of agriculture now is finished here.
GARRELS: The quiet evening was broken by gunshots from the heavily fortified Israeli guard post. Hassan Abdira says he's afraid to harvest what is left of the olive groves.
Mr. ABDIRA: (Through Translator) I couldn't go there. I'm afraid to go to check the other areas because of the Israeli post here. Look, you heard when we came, the bullets. You heard they were shooting. Is very dangerous here.
GARRELS: He and his neighbors see only one solution.
Mr. ABDIRA: (Through Translator) What relation? I mean, we are talking about enemies. You know, this is the relation. What else? What do you expect?
GARRELS: Their faith in Yasser Arafat and the Palestinian Authority to end the occupation is shaky.
Mr. ABDIRA: (Through Translator) When they came here to implement peace, they are not here to fight.
(Soundbite of shouting, crowd murmuring)
GARRELS: Crowds at another flash point try to find out who the latest victim is.
Unidentified Man: (Through Translator) He was 16 years old, 15, 16 years old, a bullet in the chest, a young kid.
GARRELS: There were Palestinian gunmen in the area, but this kid from the hellish refugee camps, was just one of the rock throwers.
(Soundbite of gunfire)
GARRELS: Accompanied by gunmen, thousands of mourners have poured into the streets each day. The crowds shout revenge as the bodies of the dead, draped with Palestinian flags, are carried aloft to the cemetery. There are signs Palestinians are preparing to shift tactics towards a more conventional guerrilla war. Demonstrators carry flags from militant Islamic movements–Hamas, Islamic Jihad and the Iranian-backed Lebanese group, Hezbollah, which did much to force Israel out of southern Lebanon. Hamas spokesman Ismail Abu Shanab says Palestinians must follow Hezbollah's example by making Israel pay so high a price it will leave the occupied territories, too. He warns settlers they are military targets. He says Israel's actions over the past five and a half weeks justify taking the war to civilian areas.
Mr. ISMAIL ABU SHANAB (Hamas Spokesman): Let's speak about the rule of the game. If the war between soldier and soldier, then the rule of the game to avoid attacking civilian targets, and any side who break the rule should expect that his opponent will also break the rule.
GARRELS: He predicts Yasser Arafat will not be able to end this intifada.
Anne Garrels, NPR News, Gaza.